Together making Cork the
best place for business
| | | |
| --- | --- | --- |
| Empowering you | Growing your Business | Transforming Cork |
Dear Chamber Member,

I hope you, your families and colleagues are keeping safe and well and that you were not impacted by Storm Barra over the last few days.

As we are once again weathering a reintroduction of restrictions, it is clear that the anticipated scenario that underpinned Government recovery planning and Budget 2022 has not materialised, and many businesses are still experiencing high levels of disruption, reduced revenue and continued uncertainty.

Government must afford a level of certainty, and together with our national network of Chambers in Ireland, we have continued to call on Government to..

Read more ›
| | |
| --- | --- |
| Empowering You | |
Cork Chamber Christmas Cracker
Thurs 16th Dec | 12pm | Online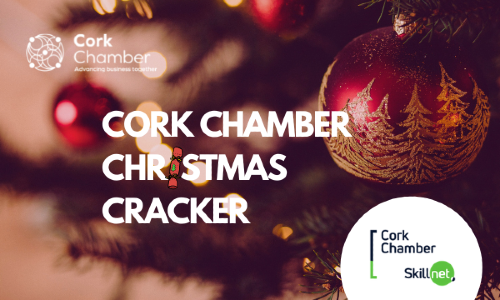 Grab your colleagues for some festive fun, games, prizes and much more all from the comfort of your home or office! We will be joined by Zoom Party's Steve Cummins, headliner in every major comedy club in Ireland and has regularly performed on BBC, RTE, Channel 4 and TG4. Steve will keep everyone entertained with his great line up of interactive games with minor challenges and major laughs!
As well as fun and games you can be sure you will be making a real difference.This year Cork Chamber will donate €10 for each attendee that tunes in on the day, with all proceeds going to a Chamber member charity randomly selected on the day.
Register FREE Here
Maximise Your Membership

Wed 15th Dec | 10am | Online

Join Cork Chamber's 'Maximise Your Membership' virtual workshop to learn how to maximise your membership through our many promotional channels, particularly focusing on the Member's Area.

This virtual session is open to anyone within your organisation, to both new and long standing members who would like a refresher on how to best utilise the Chamber platforms to continue to promote your brand, stay connected and be informed.

Register FREE Here
Dale Carnegie Programme – High Impact Presentations


Member Price €950

Wed 26 Jan | 9.30am-12.30pm | 3 mornings

The experience in this programme is as close as you can get to having a personal coach. You begin presenting from almost the moment you begin session 1. You present at least six times over the course of 3 full half-days. Your presentations are recorded and evaluated. You get expert, one-on-one coaching privately at the end of each presentation.

More Details & Booking

Practical Productivity using MS Outlook


Member Price €90

Wed 26 Jan | 11.30am-1pm | 3 mornings

This Practical Productivity training course will provide you with a totally practical and workable solution to managing your workload and time more effectively. Do not let e-mail control your day - instead, you can take control through the customisation of MS Outlook and by using various features & tools within Outlook.

More Details & Booking
| | |
| --- | --- |
| Growing your Business | |
UK SPS Border Controls

The UK Government has issued an update on its new phased approach to import controls for products of animal origin and animal by-products from the European Union.

A six-page briefing note on this is available and includes key dates with associated changes in requirements. It also includes a list of FAQs, resources and upcoming webinars on this subject. Read Report <HERE>
HMRC - Moving Goods from EU to Great Britain

The UK's HMRC has published an eight-page document with information for hauliers, intermediaries and drivers using the short straits to move goods from the European Union to Great Britain from 1 January 2022.

The document outlines procedures that must be complied with at different stages (pre-departure, at the border, during the crossing and on arrival) to move goods from the EU to GB without issue. Read Document <HERE>


New legislation and Codes of Practice – what HR Practitioners should know

As we close out what has been another unprecedented year for employers and employees, Adare Human Resource Management highlights some key legislation and Codes of Practice, some of which was introduced in 2021 and others anticipated in 2022, that HR Practitioners need to be aware of as they plan for 2022.

Gender Pay Gap reporting, Sick Leave provisions for employees as well as the Code of Practice for Employers and Employees on the Right to Disconnect are just some of the items that are covered in this article from the expert-led team at Adare Human Resource Management.

Find out more
| | |
| --- | --- |
| Members Area | |
Member Christmas Gift Guide

It's that time of year again! We would like to encourage our Cork Chamber members to support local businesses and jobs when doing their Christmas shopping this year. Here is our weekly one-stop Christmas Gift Guide of offers, services and events available to you to shop local.

See All Gift Ideas
Cork International Hotel Aims to take Stress out of Christmas
The Cork International Hotel is aiming to take the stress out of gift ideas this Christmas with its gift cards
Gift vouchers for Cork International Hotel are valid for five years and can be redeemed for a wide range of experiences such as 'Family Date Night' staycations, dining in the New Yorker Restaurant or afternoon tea.
The Family Date Night package includes a one-night stay in a spacious family room, two-course early bird dinner in the New Yorker Bar & Restaurant with dedicated children's menu, complimentary family movie in the private cinema room and the hotel's award-winning breakfast the following morning.
Our child-friendly hotel creates a fun environment for the whole family so you can enjoy a family break in a luxury hotel. Our spacious, yet cosy, family-friendly rooms are perfect for your stay.
Gift cards are presented in a luxury gift box and can be used in any of Trigon hotels.
Order online here
Published by Cork Chamber
© 2021 All rights reserved.