Together making Cork the
best place for business
| | | |
| --- | --- | --- |
| Empowering you | Growing your Business | Transforming Cork |
Sustainable Cork Fund Awardees Announced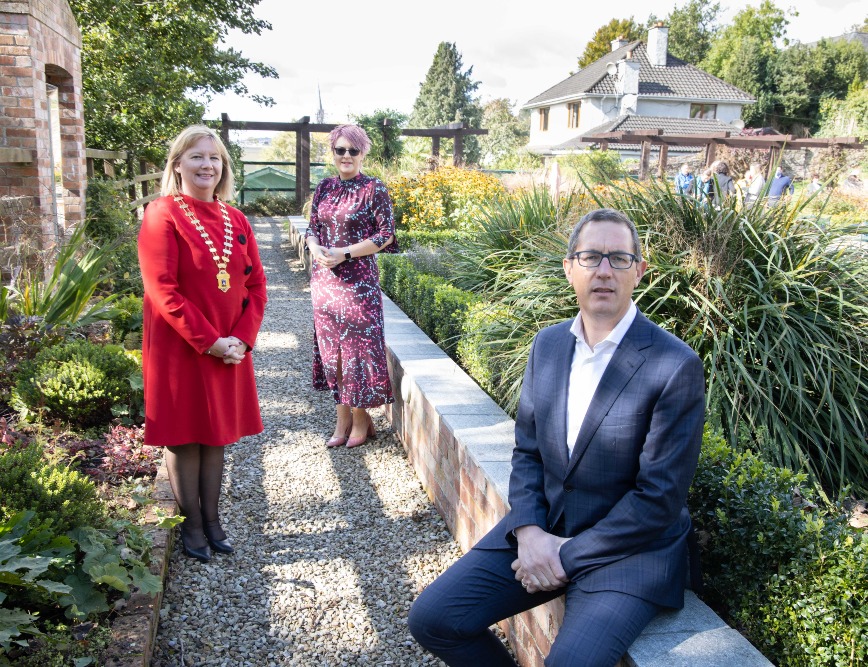 Three projects promoting sustainability in Cork have been awarded supports to the value of €200,000 from our Sustainable Cork Fund. The fund created during our 200th anniversary year with Rethink Ireland and the Department of Rural and Community Development was designed to increase the sustainability of Corks urban and rural communities through environmental awareness, community inclusion and employment.
Commending Chamber members for their donations to the Fund, Paula Cogan, President of Cork Chamber, said:
"When we initiated the call-to-action across the business community as part of the Chamber 200 celebrations in 2019 we never expected such a response. Individuals and businesses across Cork pledged to the Fund, showing what a strong business community can achieve together.

"This fund was the cornerstone of our anniversary programme, as we were determined to create a legacy for Cork. We believe it will have a lasting impact on our community and it will be truly transformational for the awardees. Their work shows us all what fresh thinking, creativity, and resilience can achieve and what is being done to make Cork a better place to live and work."

Read on

Awardees of Sustainable Cork Fund
| | | | | |
| --- | --- | --- | --- | --- |
| Refill.ie | | Nasc | | NCE Outreach |
| | |
| --- | --- |
| Empowering You | |
Networking at Noon Live @ Grant Thornton

Thur 5 Nov | 12pm-1pm

Join us for this interactive networking session online where you will meet other Cork Chamber members, make vital connections and enjoy an exclusive sneak peek of Grant Thornton's brand-new office space at Penrose Dock.

Register free here

Sustainable Cork Programme with Dr. Tara Shine and Madeleine Murray of Change by Degrees

Fri 6 Nov | 11am-12pm | Online

Our third webinar of the series titled 'Business Resilience in an Uncertain World: How Sustainability Can Help' will feature Dr. Tara Shine, Environmental Scientist and recently appointed as co-facilitator of the Structured Expert Dialogue under the United Nations Framework Convention on Climate Change (UNFCCC) and Madeleine Murray, Media Strategist, bringing a wealth of experience in creating and curating engaging, impactful content for businesses that reflects their values and vision.

Register free here
| | | |
| --- | --- | --- |
| | | |
| | | |
SMEs & Bioeconomy - Emerging opportunities to 'build back better'

Tues 10 Nov | 11-12pm

Join us for this session run by the Enterprise Europe Network where SMEs will learn more about a shift towards bioeconomy and potential opportunities to participate in the bioeconomy value chain. Companies who need to service these new value chains such as engineering, transport and packaging can find out more on how to find their place in this emerging set of business opportunities.

Register free here

November Business Breakfast Live featuring Ann Doherty, Chief Executive of Cork City Council

Tues 24 Nov | 8am-8.45am

Join Ann Doherty, Chief Executive of Cork City Council who will speak to members on the current and future direction of our City. As a key influencer and decision-maker at regional, national and international levels, Ann has a wealth of stakeholder engagement experience across the public and the private sector which is leveraged for the economic growth benefit of Cork City, in line with the Councils statutory mandate for economic development.

Register free here

CIT Diploma in Project Management


Member Price €2,695

Fri 13 Nov | part time - online

Level 8 Special Purpose Award

With the emergence of Project Management as a standalone profession, international accreditation that is accepted across industries is becoming increasingly important. This course is suitable for individuals who may have practical experience of either being involved in projects or managing and leading projects but need to supplement this with the necessary education. This course is aimed at those who seek to employ professional project management methodologies in the Initiation, Planning, Execution, Control and Close-Out of their Projects.

More Details

MS Excel Intermediate


Member Price €150

Wed 04 Nov | 11:30am-1pm | 5 mornings

This course is suitable for those who are currently using MS Excel regularly but may not have attended formal training recently or may never have attended the training.

This online course is for those with a busy schedule and is adaptable to the challenges of every lifestyle.

More Details & Booking

Cork Business Listing

Shop Local

Looking for Cork-based suppliers? If you are one of the many prioritising shop local, the Cork Chamber membership listing will help you.

The businesses are categorised so you can search easily to find what you need.

If you wish to update your own membership listing and need assistance, or if you wish to share news and offers from your business please get in touch and our membership team will guide you: <email Annette> or <email Helena>

Browse the Business Listing
| | |
| --- | --- |
| Growing your Business | |
Meet the Expert

12 November 2.00-4.00pm

Enterprise Europe Network Cork, in conjunction with the EEN Ireland partners, Local Enterprise Offices (LEO), is bringing up to 50 Brexit experts direct to your screens in their first 1:1 Meet the Expert virtual event. Both exporters and non-exporters, are encouraged to register to get the best possible advice for the changes that will take place post transition period.

Register Here
Brexit Readiness Checker

Enterprise Ireland, backed by Getting Ireland Brexit Ready, have created a Brexit readiness checker. Complete the form to receive a personalised report on your current readiness status and how to prioritise your actions before Dec 31st.

Complete Form Here
| | |
| --- | --- |
| Transforming Cork | |
An Taoiseach Micheál Martin TD Addresses Cork Chamber Members

At Thursday morning's Cork Chamber Business Breakfast in partnership with Ronan Daly Jermyn and media partner the Irish Examiner, An Taoiseach addressed the most significant issues that define the environment in which business operates.

Chamber President Paula Cogan spoke of An Taoiseach's vision for Cork:

"In particular, by setting out his vision for the future of Cork and Ireland, An Taoiseach strongly emphasised his belief in providing a better environment for young people to grow up in, to climate and biodiversity, to education and to quality of life. These are characteristics that we believe will be increasingly important in defining the competitiveness of Cork in the years to come. As ever, the focus must remain on ...

Read more ›
Sustainable Cork Programme

by Cork Chamber

The Sustainable Cork Programme was initiated in May 2020, a hugely challenging time for businesses, and across all of society.

The programme is designed to set a vision for a more sustainable and resilient Cork, empowered by a thriving business community and framed through the powerful lens of the UN Sustainable Development Goals. The research focused on exploring the sectoral challenges and the opportunities for a sustainable, strong recovery, in parallel with a discussion of the vision for Cork.

In June, the Chamber hosted 10 sectoral Think Tank discussions which highlighted the following:

Read on
Important Update Regarding Essential Retail

Following a Retail Forum meeting on Wednesday 21 October, the Department of Business, Enterprise and Innovation have supplied a follow-up note for retailers operating in Level 5. This offers some clarification on around essential / non-essential retail.

Find out more
Public Consultations on City Centre Pedestrianisations

The following consultations will close to submissions on Mon 2 Nov at 5pm and relate to pedestrianisation of each of the following streets:

Tuckey Street;

The Marina;

St. Peter and Paul's Place & part of Paul Street;

Emmett Place;

Oliver Plunkett Street and Connected Streets

Little Cross Street;

Little Ann Street, Cork City.

Cork Chamber welcome your feedback and please forward this by close of business Thursday 29 November.

For more information and to make direct submissions to this process please see https://consult.corkcity.ie/browse. A direct submission to consultations can be as long and as short as you deem appropriate.
| | |
| --- | --- |
| Members Area | |
Murphy Geospatial

Murphy Geospatial (formerly known as Murphy Surveys) captures, collates, verifies and governs geospatial data, providing critical surveys and data our clients need to work with confidence and maximise efficiencies across the project lifecycle.

We provide certainty through a combination of three core strengths namely; people, process and technology. In an increasingly complex and ever changing world, we provide geospatial certainty you can trust.

Find out more
Published by Cork Chamber
© 2020 All rights reserved.