Together making Cork the
best place for business
| | | |
| --- | --- | --- |
| Empowering you | Growing your Business | Transforming Cork |
Dear Chamber Member,

As we enter the festive season, I hope you, your families and colleagues are keeping safe and well. We are entering what is a defining trading period for many businesses, our support of our local economy is more important than ever, in both our business and personal purchase decisions. Shop locally where you can, and help to keep our city region thriving.

The new restrictions, though necessary, are challenging and it is clear that certain sectors are more impacted than others. A review of supports for those most affected is necessary to ensure continuity of business and readiness to recover. We are working daily with Government and local/national stakeholders representing your voice and lobbying on your behalf. Your experiences and perspectives are...

Read more ›
| | |
| --- | --- |
| Empowering You | |
Cork Chamber Christmas Cracker
Thurs 16th Dec | 12pm | Online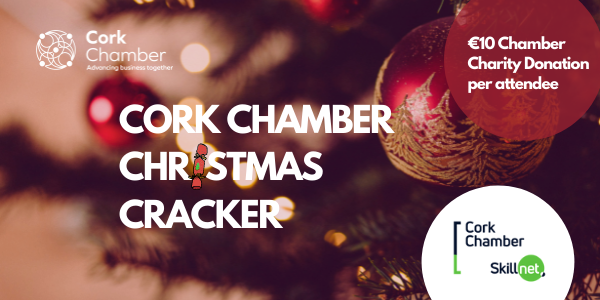 With plenty of festive fun, games, prizes and much more, this is the perfect seasonal event for you and your colleagues to attend, all from the comfort of your home or office! We will be joined by Zoom Party's Steve Cummins, headliner in every major comedy club in Ireland and has regularly performed on BBC, RTE, Channel 4 and TG4. Steve will keep everyone entertained with his great line up of interactive games with minor challenges and major laughs!
As well as fun and games you can be sure you will be making a real difference.This year Cork Chamber will donate €10 for each attendee that tunes in on the day, with all proceeds going to a Chamber member charity randomly selected on the day.
Register FREE Here
Business Breakfast Live with Niall MacCarthy, Managing Director, Cork Airport


Wed 8th Dec | 8am | Online

Join us for this timely Business Breakfast Live to find out what the future holds for Cork's international connectivity following a pandemic that has devastated the international aviation sector.

Niall MacCarthy will discuss how Cork Airport used the Covid downturn to invest over €40 million in its business and leave it poised for strong recovery and address the challenge of how sustainable the sector can become.

Register FREE Here

BusConnects: Sustainable Transport For a Better City


Tue 7th Dec | 3.30pm | Online

Join us for this informative session on BusConnects: Sustainable Transport For a Better City, the National Transport Authority's plan to transform bus services throughout the city and suburbs.

Hear about the plan from Michelle Poyourow, Principal Associate, Jarret Walker & Associates, Hugh Creegan, Director of Transport Planning & Investment and Deputy CEO at the National Transport Authority and Edward Rhys Thomas, Transport Planner at the National Transport Authority.

Register FREE Here

Practical Productivity using MS Outlook


Member Price €90

Wed 26 Jan | 11.30am-1pm | 3 mornings

This Practical Productivity training course will provide you with a totally practical and workable solution to managing your workload and time more effectively. Do not let e-mail control your day - instead, you can take control through the customisation of MS Outlook and by using various features & tools within Outlook.

More Details & Booking

Dale Carnegie Programme – High Impact Presentations


Member Price €950

Wed 26 Jan | 9.30am-12.30pm | 3 mornings

The experience in this programme is as close as you can get to having a personal coach. You begin presenting from almost the moment you begin session 1. You present at least six times over the course of 3 full half-days. Your presentations are recorded and evaluated. You get expert, one-on-one coaching privately at the end of each presentation.

More Details & Booking
Sustainable Product Initiative Webinar

Political explanations, business perspectives

Tues 7 Dec, 9.30am (Irish time)

The European Commission is currently drafting a proposal for a new legal framework to promote product sustainability aimed at boosting the durability, reparability and reusability of different products.

This webinar will discuss the potential detail of the legislative proposal and possible changes or new requirements that business might expect. Speakers will include representatives of the Commission and the European Parliament.

More info here
| | |
| --- | --- |
| Growing your Business | |
UK SPS Border Controls

The UK Government has issued an update on its new phased approach to import controls for products of animal origin and animal by-products from the European Union.

A six-page briefing note on this is available and includes key dates with associated changes in requirements. It also includes a list of FAQs, resources and upcoming webinars on this subject. Read Report <HERE>
HMRC - Moving Goods from EU to Great Britain

The UK's HMRC has published an eight-page document with information for hauliers, intermediaries and drivers using the short straits to move goods from the European Union to Great Britain from 1 January 2022.

The document outlines procedures that must be complied with at different stages (pre-departure, at the border, during the crossing and on arrival) to move goods from the EU to GB without issue. Read Document <HERE>


| | |
| --- | --- |
| Members Area | |
Castlemartyr Resort

Give the Gift of Castlemartyr Resort this Christmas

The ideal gift for a loved one or team member, the 5-Star Castlemartyr Resort has a selection of gift vouchers to suit all tastes this Christmas. With a variety of Luxury Breaks, Spa Days, Golf, Afternoon Tea and more, all gift vouchers are valid for 5 years and available in both e-voucher and traditional gift-wrapped styles.

For more details, or to view our range visit
Published by Cork Chamber
© 2021 All rights reserved.