Cork Digital Marketing Awards 2022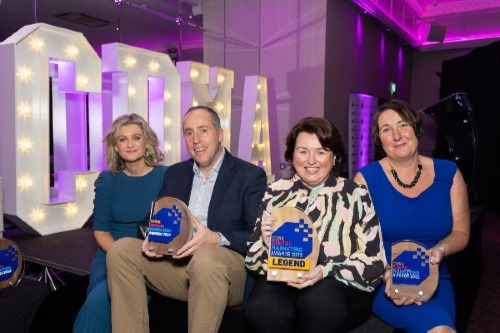 Annie FitzGibbon. Director of Member Services. Alan Craughwell, Director Mixed Abilities Sports Ireland, Shelia Kellleher, Fuller Marketing and Annette Cullen, IMART 2022
Last Friday night we announced IMART and Fuller Marketing as our Overall Digital Marketing Legend at the Cork Digital Marketing Awards.
Presented by Sinead Kennedy, the awards recognised the unique and valuable contributions made by digital marketing to brands and businesses.
View the full list of winners here.
Check out our photo gallery of the night here.
View full list of winners here
Cork Chamber Dublin Dinner 2022

Tues 22nd Nov | 7pm-11pm | Clayton Hotel Burlington Road, Dublin

In association with EY

Join over 600 business leaders, key political decision makers and stakeholders as we gather to celebrate the relationship between Ireland's two largest city regions, Dublin and Cork. This year's guest of honour and keynote speech will be delivered by Minister for Public Expenditure and Reform, Mr. Michael McGrath T.D.

Also on the night, we will honour Cathy Kearney, Apple VP of Operations for Europe, Middle East, India & Africa with our Outstanding Contribution to Business Award for 2022.

This event offers an exclusive opportunity for members and guests to network with Ireland's most influential leaders and policy makers.

More Details & Booking
Networking at Noon at Iconic Offices


Tues 8th Nov | 12pm-1.30pm | Iconic Offices

Our next Networking at Noon will take place at the newly opened Iconic Offices at Navigation Square. This is the ideal opportunity to break away from your desk to visit Iconic's impressive office space in the City while networking with fellow Cork Chamber members. Catch-up with those you already know, meet new faces and create long-lasting connections.

Register FREE Here

Exploring Entrepreneurship


Wed 2nd Nov | 6pm-8pm | AIB, 66 South Mall

In partnership with Network Cork

We are delighted to partner with Network Cork for this event focusing on Entrepreneurship, taking place at AIB, 66 South Mall.

We will be joined by Loretta Kennedy, Founder and Managaing Director of the healthy food business, MamaBear Foods Ltd and Andy Mackin, CEO of Mackin Group.

More Details & Booking
Keeping Diversity, Inclusion and Equity on Track in a Hybrid Workplace


Fri 11th Nov | 11am-12.15pm | Online

In association with Cork Chamber Skillnet; Gas Networks Ireland; Matheson

This session will enable a robust discussion with expert speakers on DEI. They will share strategies and case studies focused on setting up for success as well as issues to be confronted with hybrid working such as proximity bias, advancement opportunities and promotion, employee engagement and retention, unconscious bias, unintended consequences in processes and the benefits of remote and hybrid working to some demographics more than others.

Speakers will include Geraldine Carr, Matheson Partner in the Employment, Pensions and Benefits Group, Joanne Mangan, Employers Lead, Grow Remote and Terri Maloney, Non-Executive Director/Independent Consultant - Employee success.

Register FREE Here

Business Breakfast with Eoin McGettigan, Chief Executive Officer, Port of Cork


Wed 16th Nov | 7.30am-9am | Cork International Hotel

In association with RDJ and Media Partner Irish Examiner

Join us for our next Business Breakfast with Eoin McGettigan, Chief Executive Officer, Port of Cork. Born in Kerry, Eoin has been a leading business figure in Ireland over the last three decades with experience as a Senior Executive in Retail, Wholesale and Property businesses.

Since joining the Port of Cork Company, Eoin has overseen the development of several large scale projects including the launch of the new €89 million Cork Container Terminal and is leading the next phase of growth for the Port as it develops as a key global port of the future.

More Details & Booking

Christmas Lunch 2022

Fri 2nd Dec | 12.30pm-3.30pm | Vienna Woods Hotel

In association with Osborne and in partnership with Marketing Institute Cork

This event has always been a social highlight of the festive season attracting over 300 attendees annually and we are delighted to be back in-person and joined by the hilarious Reggie from the Blackrock Road!

With plenty of festive food and drink, music, raffle prizes and much more, it is the perfect seasonal event for entertaining clients and colleagues.

More Details & Booking

TRAINING & DEVELOPMENT
Cert. in Supervisory Management - QQI Level 6

Member Price €650

Tue 1 Nov | 9.30am - 5.30pm | 4 sessions | Online

Participants will acquire a range of supervisory and management skills, in addition to improving their interpersonal and communication skills. The programme combines proven leadership techniques with practical advice on how to maximise your team's performance and engagement.

More details & booking
Getting Grants Ready

Member Price Free

Tues 1 Nov | 10am-11am | Online

This unique webinar is ideal for any business interested in finding out more about how to apply for a Business Grant. This webinar will educate you how you can prepare for future grants funding – what funding exists and how you can use it to support your business.

More details & booking
Certificate in Training Delivery & Evaluation – QQI Level 6

Member Price €650

Wed 9 Nov | 9.30am-4pm | 5 sessions | Online

The purpose of this Certificate in Training Delivery & Evaluation Programme (new Train the Trainer) is to provide you with the tools and techniques to effectively deliver, assess and evaluate your training programmes. You will gain practical experience and recognised certification as a trainer.

More details & booking
Can Ireland keep the lights on and homes warm?

By Brian Ó'Gallachóir

The Russian war in Ukraine and Ireland's dependence on imported fossil fuels has brought energy security into sharp focus. In our latest Chamberlink Magazine, Brian Ó'Gallachóir, Professor of Energy Engineering at UCC and Director of MaREI, discusses the current energy crisis, how we got here and what we can do to overcome these challenges.

Read Here
Irish Water - Water Stewardship Programme

Irish Water is calling on the business community to apply for its Water Stewardship Programme. Over the course of two months participants can virtually learn how to understand and lower your organisation's water usage, reduce operating costs and protect the environment.

Find out more
New - Chamber Podcast

On Point, Unscripted.

The new Cork Chamber podcast series that goes beyond commerce.

Hear inspiring stories from people behind some of our well known brands and services.

Listen in as we go off script and talk with high profile business people and politicians.

Listen in here
Enterprise Europe Network

Making connections is a key part to helping businesses grow. At a recent Cork Chamber New Members Breakfast, our Enterprise Europe Network (EEN) colleague Grace got the opportunity to share how the EEN can help SME's make international connections through our European and global partners. This is a free service open to Chamber members as well as the wider Cork business community. EEN is a European Commission-funded programme, with over 600 contact points in 65 countries across the EU and internationally.

Find out more!
Iconic Offices

Introducing NSQ2

Iconic Offices' newly opened flexible workspace, NSQ2, is situated in the centre of Navigation Square overlooking Cork's South Docklands.

Designed to meet Gold LEED standard, NSQ2 offers a premium working environment where both indigenous and global businesses can thrive. With private offices, coworking space, podcast lounge & meeting rooms, this workspace provides flexible options within a vibrant community.

Whether you're looking for workspace for a day, a week, a month or a year, Iconic can find the solution for you.

Further details can be found here
Published by Cork Chamber
© 2022 All rights reserved.