Together making Cork the
best place for business
| | | |
| --- | --- | --- |
| Empowering you | Growing your Business | Transforming Cork |
| | |
| --- | --- |
| Empowering You | |
Golf Classic 2021 in association with Lexus Cork
Thurs 2nd Sept | 7am | Lee Valley Golf & Country Club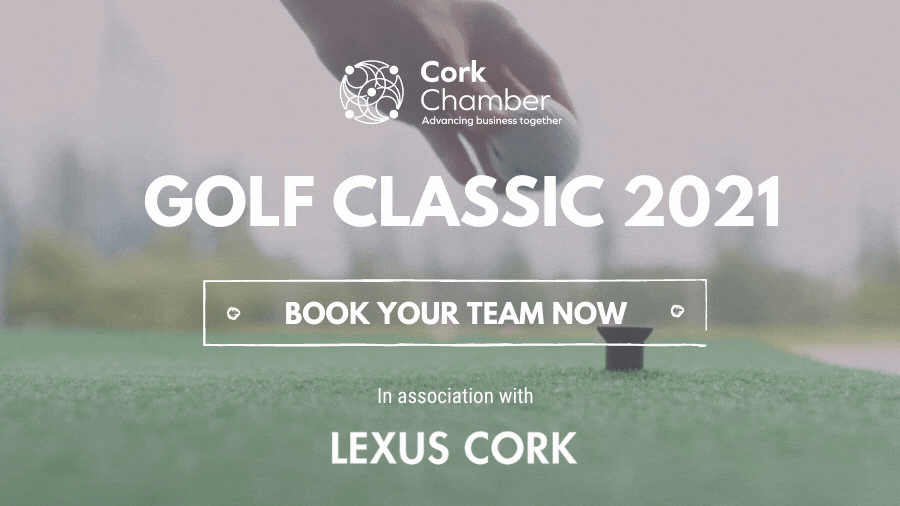 Limited Tee Times Remaining
Chamber's Golf Classic will be held at the picturesque, championship golf course Lee Valley Golf and Country Club, located only 15 minutes from Cork City. We are delighted to have Lexus Cork continue as the title sponsor.
The format for the day will be a 4 Person Champagne Scramble. This event is always a fun, exciting day out - perfect for socially distanced team-building, informal networking, corporate entertainment or just a really enjoyable round of golf. Register your team now to avoid disappointment and to secure your preferred tee time.
4 Person Champagne Scramble: €400
More Details & Booking
Project Management Essentials

Member Price €330

Wed 8 Sept | 9am-12.45pm | 4 mornings

This course provides you with a foundation in professional project management principles. Based on the Project Management Institute's Guide to the Project Management Body of Knowledge, you will be taken through the entire project lifecycle and will be introduced to the knowledge areas needed to manage any project effectively
Re-Energise Your Workday

Member Price Free

Tues 7 Sept | 9.30am-11am

This 90 minute webinar aims to give you the relevant information and tools to re-energise your workday. You will leave with a fresh perspective and renewed focus, allowing you to be more productive while always supporting your wellbeing.

More Details & Booking
UnCorking the News

Chamberlink - Issue 2 2021

We uncork the news in the most recent issue of ChamberLink - from member news and new appointments to visionary views on Cork's bright future.

Stay connected and informed with Cork's best business magazine.

Browse Magazine
| | |
| --- | --- |
| Transforming Cork | |
Enhancing Your Environment
Cork Bike Week 12-18 September

Support for Community, Club, Workplace, Organisation Events

Clubs, Workplaces, Community Groups are invited to apply for funding to organise their own FREE Bike Week event during National Bike Week, co-ordinated in 2021 by the National Transport Authority to promote cycling throughout Ireland.

Support for a limited number of cycling events is available. Apply HERE by 5pm on Friday 27th August.
Cork City Development Plan launched

The draft Cork City Development Plan 'Our City, Our Future' was launched by Cork City Council. It aims to provide a transformative blueprint for Cork as the city embarks upon an exciting phase of growth and change – with sustainability, quality of life, social inclusion, and climate resilience aiming to be at the plan's core.

Key to this will be housing, economic development, public realm renewal, transport, more amenity spaces and community services in existing built-up areas, using the internationally-recognised 15-minute city model

Read more ›
| | |
| --- | --- |
| Growing your Business | |
Smart Agrifood Summit 2021 B2B Meetings

Since 2018, as a professional forum, Smart Agrifood Summit has been committed to digitalization, innovation and the promotion of a sector without which our modern life models will be unsustainable. This new edition will involve discussions about all the related topics and you will find the most disruptive technologies and services of the moment.

Join this virtual event where you have the opportunity to find partners, increase financing and internationalisation channels as well as publicize new products, services and innovative projects.

Register Here
Webinar Series on Importing to the UK

The UK Department of Agriculture, Food and Rural Affairs will host a series of webinars through August and September for those importing to the UK.

These will focus on what will be needed to continue importing animal products, for both human consumption and non-human consumption, from the European Union into Great Britain.

Register Here
| | |
| --- | --- |
| Members Area | |
Keep Discovering Cork

We continue to support our members in the hospitality, tourism, leisure and retail sectors over the coming months by enjoying staycations, relishing new gastro experiences, soaking up the atmosphere in the city, exploring the great outdoors and supporting local.

Check out the official tourism website for Cork - www.purecork.ie

Here are some members' news and offers in this sector
Cork Chamber Spotlight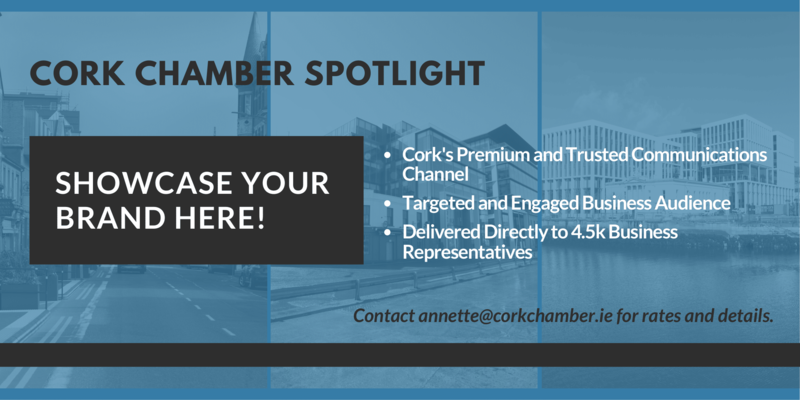 Published by Cork Chamber
© 2021 All rights reserved.