CORK DIGITAL MARKETING AWARDS 2022
SEMI-FINALISTS OUT NOW!
Finalists will be announced on Wednesday 5th October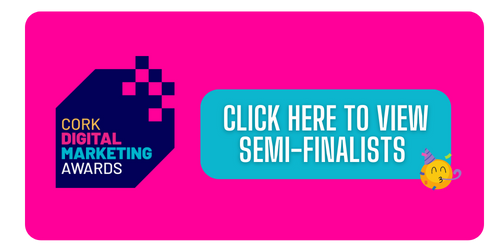 Congratulations to all Semi-finalists! Share the good news using #DigitalCork22.
Don't forget to book your tickets for the awards ceremony taking place on the 21st October at Carrigaline Court Hotel - BOOK YOUR TICKETS HERE
In association with
AB Sales, ClickDimensions, Cork Chamber Skillnet, Grant Thornton, Munster Technological University
Osborne, Radius Technologies, Velo Coffee Roasters
Media Partner
Irish Examiner
More Details & Booking
MS Excel Intermediate

Member Price: €150

Tues 11 Oct | 2:30pm-4pm | 5 sessions | Online

Suitable for those who are currently using MS Excel regularly but may not have attended formal training recently or may never have attended the training. This online course is for those with a busy schedule and is adaptable to the challenges of every lifestyle.

Register FREE here
Business Breakfast with Norman Crowley, Group CEO, CoolPlanet

Tues 4 Oct | 7.30am-9am | The Metropole Hotel

In association with RDJ & Media Partner Irish Examiner

With energy, inflation and climate crises creating a perfect storm of challenges, Norman Crowley will discuss how businesses can navigate this new world, how it's a win-win for businesses to transform their operations on to a climate-friendly path, and how harnessing innovation, efficiency, and clean energy can put them at the leading edge of their industry.

More Details & Booking
Networking at Noon at Grant Thornton

Thurs 6 Oct | 12pm-1.30pm | Grant Thornton

Join us at Grant Thornton's new office at Penrose Dock for the ideal opportunity to break away from the desk to see Grant Thornton's impressive office space in the City while networking with fellow Cork Chamber members. Catch-up with those you already know, meet new faces and create long-lasting connections.

Register FREE Here
Cork Chamber Dublin Dinner 2022

Tues 22nd Nov | 7pm-11pm | Clayton Hotel Burlington Road, Dublin

In association with EY

Join over 600 business leaders, key political decision makers and stakeholders as we gather to celebrate the relationship between Ireland's two largest city regions, Dublin and Cork.

This year's guest of honour and keynote speech will be delivered by Minister for Public Expenditure and Reform, Mr. Michael McGrath T.D and on the night, we will announce the winner of our Outstanding Contribution to Business Award for 2022. This award is recognition of an individual's exceptional career and their instrumental role, not just in their organisation, but in their industry, region and beyond.

More Details & Booking
Cork Culture Night

Sept 23rd

The annual, all-island Culture Night is back this Friday the 23rd Sept. Cork is rich in culture, heritage, arts, and creativity. In 2018 Lonely Planet said, "all that is good about Ireland can be found in Cork". The richness of our arts and culture can mark out Cork as different and a destination of choice to live, work, invest and do business. Check out the diverse array of events taking place this Friday to witness what makes our region truly unique.

Details & events here
Representing You

At a critical time for business, with mounting financial and operational pressures, Cork Chamber continues constructive engagement with government. This week we held a meeting with Michael McGrath TD, Minister for Public Expenditure & Reform to discuss the opportunities to support regional growth, to harness our strengths and overcome challenges within our economy.

Browse our full pre-budget submission
Sustainable Development Goals Week

This week is Ireland's first Sustainable Development Goals Week.

Chamber's Ireland toolkit for Business is a practical guide is for businesses of all sizes across Ireland who wish to begin incorporating the Goals into their company or are looking for inspiration on how to expand on their engagement with the SDGs. See how your business can commit to making changes that benefit our future and enhance our towns, cities, communities and industries.

More details here
B2B Matchmaking session

BaltTechnika

The EEN network is delighted to share the details for the upcoming Industry 4.0 event. Organised by Vilnius Chamber of Commerce, Industry and Craft, Lithuanian Engineering and Technology Industry Association and INFOBALT, it is the ideal opportunity to connect with European manufacturers, enterprises, SMEs and engage with potential buyers and suppliers in this sector.

Read More
Spotlight

Antaris Consulting

Environment Ireland is the main conference in the Irish environment sector calendar. It is a two-day, multi-stream conference that allows scope for focused sessions and is the optimal structure for maximum discussion and debate. The conference is all-island in its context and seeks to examine the latest developments across all the sectors within the Irish environment – including climate, biodiversity, circular economy, public health, planning, and water. Antaris Consulting is sponsoring the event and will be present at an exhibition stand too.

Bruce Harper, Environmental Consultant, Antaris Consulting will be presenting the topic - Circular Economy: From theory to practice on the first day.

Geoff Dooley, Head of Sustainability Services, Antaris Consulting will be speaking on the second day about EU Taxonomy - Achieving net zero.

More information about the event and agenda can be found here.

Further details can be found here
Published by Cork Chamber
© 2022 All rights reserved.