Together making Cork the
best place for business
| | | |
| --- | --- | --- |
| Empowering you | Growing your Business | Transforming Cork |
Inclusion Matters

Dear Chamber Member,

This week is Cork Pride Week, a week which encourages us all to consider how we can foster greater diversity, equality and inclusion in our workplaces.

For Cork to grow and to thrive, our city region must be a genuinely warm and welcoming place of equal opportunity for people of all backgrounds, beliefs, and identities.

At Cork Chamber, we are committed to championing diversity in our team, in our governance, our operations and in advocacy, events and engagements. We are committed to UN SDG 5 Gender Equality and wish to push the wider diversity agenda forwards in parallel. We are pro diversity, and with equal vigour we are anti-racist and anti-discrimination.

This year, we have..

Read more ›
| | |
| --- | --- |
| Transforming Cork | |
Work with Pride
Cork Chamber Proud to Sponsor Cork Pride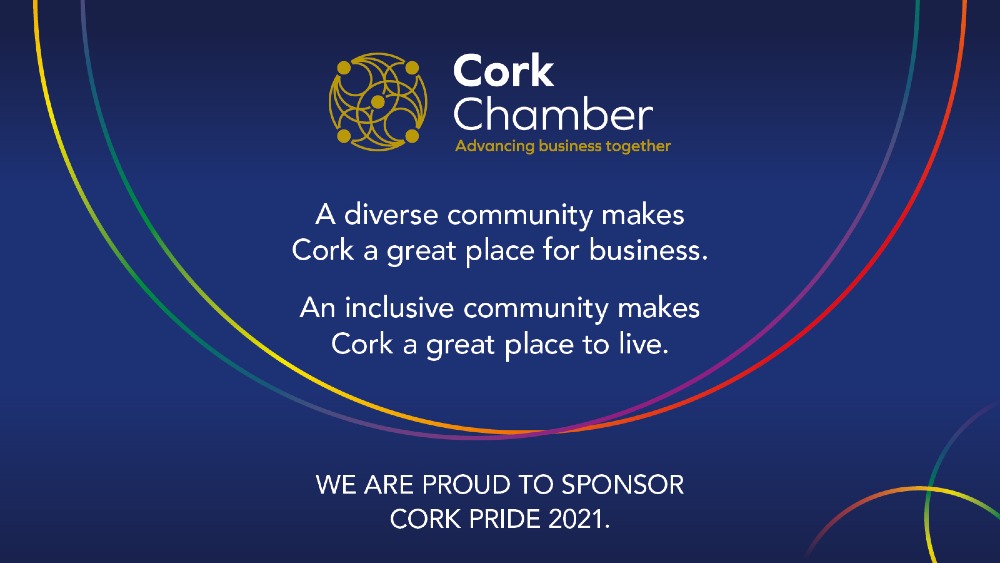 Cork Chamber is delighted to be a sponsor of Cork Pride Week and Sessions Sponsor of the Work With Pride Diversity & Inclusion conference which takes place Friday 30 July.
Register for the Conference
Inclusive Cork

Why is it important for Cork businesses to be part of the conversation around diversity, equality & inclusion?

Dr Naomi Masheti of the Cork Migrant Centre contributed to our recent Chamberlink magazine and outlines steps each business can take to foster more DEI in the workplace.

Read More
For an inclusive Workplace

As our city grows it is essential, that employers foster diversity, equality & inclusion (DEI) within their workplaces.

At Cork Chamber we are committed to doing just that. Find out what we have done so far, and what more we have committed to achieving.

Find out more
Your Chamber's Strategic Plan 2021-2023

In our Strategic Plan 2021-2023 we set out a clear vision to be a world-leading Chamber of Commerce delivering on a progressive economic, social and sustainability agenda at the heart of our business community.

Nothing short of a bold and ambitious plan will suffice for the Chamber representing you.

Browse our strategic plan
Cork City Development Plan launched

The draft Cork City Development Plan 'Our City, Our Future' was launched this week by Cork City Council. It aims to provide a transformative blueprint for Cork as the city embarks upon an exciting phase of growth and change – with sustainability, quality of life, social inclusion, and climate resilience aiming to be at the plan's core.

Key to this will be housing, economic development, public realm renewal, transport, more amenity spaces and community services in existing built-up areas, using the internationally-recognised 15-minute city model

Read more ›
| | |
| --- | --- |
| Empowering You | |
Golf Classic 2021 in association with Lexus Cork

Thurs 2nd Sept | 7am | Lee Valley Golf & Country Club

Limited Tee Times Remaining

Chamber's Golf Classic will be held at the picturesque, championship golf course Lee Valley Golf and Country Club, located only 15 minutes from Cork City. We are delighted to have Lexus Cork continue as the title sponsor.

The format for the day will be a 4 Person Champagne Scramble. This event is always a fun, exciting day out - perfect for socially distanced team-building, informal networking, corporate entertainment or just a really enjoyable round of golf. Register your team now to avoid disappointment and to secure your preferred tee time.

4 Person Champagne Scramble: €400

More Details & Booking
Cork Digital Marketing Awards - LAST CHANCE TO ENTER
Entries close TODAY at 4pm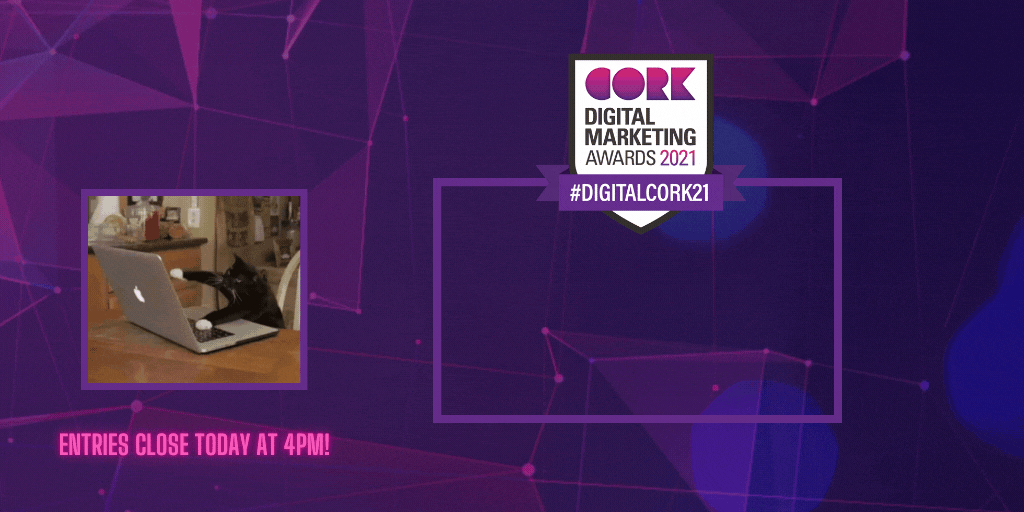 This year's Cork Digital Marketing Awards will celebrate the dedication demonstrated by businesses to tackle challenges head on, rise above and thrive through their digital innovations, legendary ideas, and brave decisions.
With 19 different categories spanning across all digital platforms including 'Best in Content Creation', 'Best Digital Marketing Team' and awards for individual channels from Website to Instagram, Cork businesses can showcase their digital innovations and achievements over the past 12 months while demonstrating the impact of digital marketing on business growth.
The Overall Digital Marketing Legend will win a Content Studio Package courtesy of the Irish Examiner. The Content Studio will work with the winner to bring their brand story to life across the Irish Examiner channels, reaching an extensive and engaged audience.
Media Partner:

ENTER NOW
Presentation Skills

Members Price: €180

Tues 10 Aug | 9.30am-11am | 3 mornings

This interactive presentation skills training course will give you the skills, knowledge and tools to plan, design and deliver effective memorable presentations. It will enable you to make fearless presentations in the future and have the confidence to equip you with the preparation techniques needed to set yourself up for successful presentations.

Find out more
Project Management Essentials

Member Price €330

Wed 8 Sept | 9am-12.45pm | 4 mornings

This course provides you with a foundation in professional project management principles. Based on the Project Management Institute's Guide to the Project Management Body of Knowledge, you will be taken through the entire project lifecycle and will be introduced to the knowledge areas needed to manage any project effectively

Find out more
Enhanced Restart Covid Restrictions Support Scheme

With the reopening of indoor dining, there will be more businesses reopening their doors. Those reopening can make a claim for an enhanced restart Covid Restrictions Support Scheme (CRSS) payment.

Under the scheme, businesses may claim for the restart payment within eight weeks of the date of re-opening. The maximum amount that may be claimed as the enhanced payment (restart) in respect of each of the weeks covered increased from €5,000 to €10,000 (total maximum payment is €30,000).

Revised CRSS guidelines
Government waives court fees and excise duties for vintners in 2021

A waiver of court fees in relation to the renewal of pubs and other liquor licences in 2021;and excise duties for vintners and other licenced premises has been approved for the second consecutive year.

This measure for pubs, bars, nightclubs and restaurants aims to stimulate economic activity and employment as the sector returns to activity in line with Government and public health recommendations.

Read More
| | |
| --- | --- |
| Growing your Business | |
Global Conversations

Our Connecting Cork 'Global Conversations' series launched on 30th June, with the first event focusing on Chicago.

The series will highlight cities and regions around the globe where there are strong Irish and Cork connections, providing an opportunity for attendees to hear from business and political leaders among the Irish diaspora who are positively impacting the places they now call home.

Read More
ATA Carnet - The Ins and Outs

ATA Carnets cut red tape by simplifying and unifying customs border crossing regulations for temporary import and export. They are an international Customs document that operate like a passport for your goods, allowing the temporary importation of goods in to countries that are part of the ATA Carnet system and avoid you having to pay unnecessary taxes or duties.

Find out more
| | |
| --- | --- |
| Members Area | |
Keep Discovering Cork

We continue to support our members in the hospitality, tourism, leisure and retail sectors over the coming months by enjoying staycations, relishing new gastro experiences, soaking up the atmosphere in the city, exploring the great outdoors and supporting local.

Check out the official tourism website for Cork - www.purecork.ie

Here are some members' news and offers in this sector
Careerchanger.ie

Enabling insight, unleashing potential

Have you ever asked yourself if you need coaching? Or what exactly is it?

Coaching provides a safe space for an individual to reflect, clarify goals, assess their own strengths and areas for development, and identify their own solutions for moving forward.

Increasing evidence shows coaching reduces stress & enhances performance.

A seasoned professional and qualified Coach, Mary Cummins, BSc, M.A. at Careerchanger.ie has now expanded into executive coaching. Call 087 8290207 or contact me via my website

Visit us here
Published by Cork Chamber
© 2021 All rights reserved.