The value of Budget 2023

Dear Chamber Member,

I hope you, your colleagues and families are keeping well.

The details of budget 2023 have been eagerly awaited by all sectors of business and society. The challenges facing businesses and households this coming year are very significant and the overall scale of the budget was reflective of this. This is an energy and inflation crisis that is unprecedented, and extraordinary measures are needed, and the detail of the measures announced will determine their true effectiveness in supporting businesses.

Read More
Cork Company of the Year Awards 2023 Open for Entries
In association with Vodafone Ireland & media partner the Irish Examiner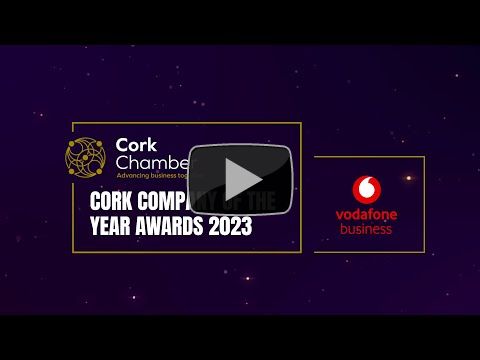 The Cork Company of the Year Awards 2023 are open for entries from now until Friday 14th October 2022. Brought to you by Cork Chamber, these awards recognise the diversity and vibrancy that exists in the Cork business community. These awards are highly competitive but offer entrants a valuable platform among peers, stakeholders, customers as well as employees.
More details and entry forms
MS Excel Intermediate

Member Price: €150

Tues 11 Oct | 2:30pm-4pm | 5 sessions | Online

Suitable for those who are currently using MS Excel regularly but may not have attended formal training recently or may never have attended the training. This online course is for those with a busy schedule and is adaptable to the challenges of every lifestyle.

Register FREE here
Business Breakfast with Norman Crowley, Founder & Chairman, CoolPlanet


Tues 4 Oct | 7.30am-9am | The Metropole Hotel

In association with RDJ & Media Partner Irish Examiner

With energy, inflation and climate crises creating a perfect storm of challenges, Norman Crowley will discuss how businesses can navigate this new world, how it's a win-win for businesses to transform their operations on to a climate-friendly path, and how harnessing innovation, efficiency, and clean energy can put them at the leading edge of their industry.

More Details & Booking

Cork Digital Marketing Awards Ceremony 2022


Fri 21st Oct | 6pm-11pm | Carrigaline Court Hotel

Finalists announced next Wednesday 5th October at 4pm!

Join host Sinead Kennedy to mark the very best in digital marketing in Cork as she announces the winners of each category along with the Overall Digital Marketing Legend 2022!

More Details & Booking
Sustainable Cork Programme: Fuelling Business - Opportunity in Crisis


Fri 14 Oct | 11am-12.15pm | Online

In association with Cork Chamber Skillnet, Gas Networks Ireland and Matheson

This session will practically elaborate on how this energy crisis should not go to waste and examine how businesses can seek to find opportunity in crisis and reduce their carbon footprint while making energy cost savings.

Speakers will include Harry O' Farrell, Chief Commercial Officer at ActionZero and Chair at Energy Cork, Conor Molloy, Energy Advisor, Trainer & Auditor, AEMS (Authentic Energy Management Services), Seán Sirr, Senior Consultant Energy and Sustainability, EM3.

Register free here

Cork Chamber Dublin Dinner 2022


Tues 22nd Nov | 7pm-11pm | Clayton Hotel Burlington Road, Dublin

In association with EY

Join over 600 business leaders, key political decision makers and stakeholders as we gather to celebrate the relationship between Ireland's two largest city regions, Dublin and Cork. This year's guest of honour and keynote speech will be delivered by Minister for Public Expenditure and Reform, Mr. Michael McGrath T.D and on the night, we will honour the winner of our Outstanding Contribution to Business Award for 2022.

More Details & Booking

Review of Ireland's Energy Security

Now open until 28th October

The Department of Environment, Climate and Communications is accepting submissions on the security of Ireland's electricity and natural gas systems. With the war on Ukraine highlighting the vulnerability of our energy systems, this consultation is critical to ensuring a secure and stable supply into the future. Cork Chamber will responding to this consultation on behalf of our members and encourage you to participate or send in your feedback <HERE>.

More Info
Age Friendly Ireland Business Recognition Training

Oct 11th

Age Friendly Ireland is hosting a free online Age Friendly Business Training session on 11th October 10am-12pm. Age friendly practices improve the experiences for all your customers & employees, ensuring diversity, inclusivity and equity remain at the heart of your business practices.

Register FREE here
Chem-Match: Corporates meet Startups 2022 "Green & Digital"

Enterprise Europe Network Cork are delighted to share an incredible opportunity for startups and corporate's from chemistry, biotechnology, bioelectronics, environment and digital/IT sector to the above matchmaking event to discuss topics such as process improvements, ecological and social responsibility and supply chains

Read More
Spotlight

ISM Training – the Leaders in Transport & Logistics Training

ISM Training Services specialise in Transport & Logistics, Working at Height, and Health & Safety Training. We are the leading provider of CPC Transport Manager and Dangerous Goods Safety Advisor training in Ireland.

CPC Transport Manager Course | January 2023 | Live Online with Expert Transport Trainers

CPC Transport Manager online course gives the knowledge and skills required to become qualified to operate a Road Haulage or Passenger Transport business within the EU.

Talk to the ISM Training Manager | Paul Kenny | 087 320 0222 | paulkenny@ism.ie

Learn more
Published by Cork Chamber
© 2022 All rights reserved.