Budget 2023 Submission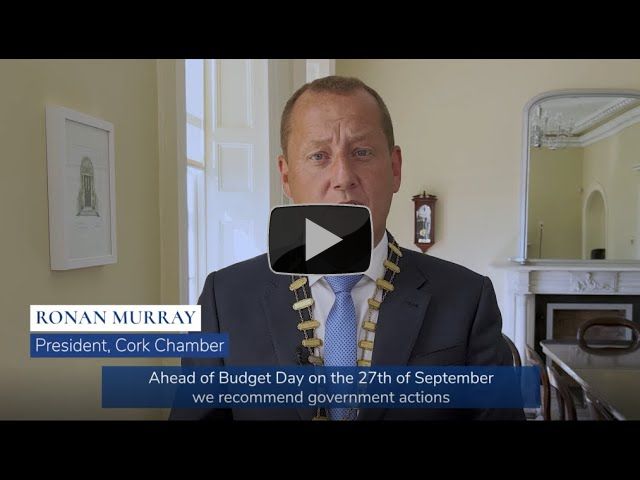 Cork Chamber President Ronan Murray talks about the main issues addressed by the Chamber's Budget 2023 submission.
Our 2023 Budget submission, launched today, calls for both continued investment and new measures in housing, strategic supports for balanced regional growth across the country, investment in the green energy transition, infrastructure, and transport to attract and retain the talent our companies need to succeed while generating a positive impact on business and communities.
Here are some of our key recommendations:
Mandate the Irish Strategic Investment Fund to set up a new Vienna-style urban housing investment fund to help tackle the housing crisis.

Make necessary changes in the government's Croí Cónaithe scheme and substantially increase the overall capital spend in the budget on affordable housing.

To tackle inflation implement automatic indexation across Personal Tax Allowances and credits and standard rate cut off bands, USC and PRSI thresholds etc.

Accelerate investment in Cork's urban and transport infrastructure required to meet the growth and climate neutral mission of the city region, including accelerated development of suburban rail, more rapid electrification of bus fleets, delivery of Bus Connects and light rail.

Designate Cork as a Hub for Renewable Energy to receive targeted investment, incentives and tax breaks to build out supporting infrastructure.

Continue to reform & simplify the work visa permit process while increasing funding for apprenticeships to meet skills shortages and create a tax break for upskilling staff.

Retain the 9% VAT rate for tourism businesses in line with European competitors.
Read the full submission here

Protecting Your Email & Social Media Accounts

Member Price Free

Friday 9th September | 10:00am-12:00pm | Online

Register today for this workshop that will show you how easy it is to protect your online presence from the criminals that are targeting small and medium businesses all across the country.

Register FREE here
IMI Essential Skills of Management

Member Price: €1250

Tuesday 4th October| 9:00am-5:00pm | 6 sessions, 2 per month from Oct - Dec | Online

Essential Skills of Management is one of IMI's most popular executive development programmes. This IMI highly interactive six-day programme is designed to enhance your existing management skills. We will help you develop new competencies within a framework of identified essential skills. It is comprised of 6 full days divided into 3 modules of 2 consecutive days each. Grant funding for this course is prioritised specifically for management development in SMEs with less than 250 employees.

More details & booking
MS Excel Advanced

Member price: €150

Wednesday 26th October| 11:30am-1:00pm | 5 sessions | Online

This course is designed to follow-on from MS Excel Intermediate. Having already familiarised yourself with the most efficient way of performing everyday tasks and now that you have mastered the more commonly used Intermediate topics, it is now time to build on that knowledge. A large proportion of the course is dedicated to managing and manipulating lists of information from working with tables & slicers up to creating and working with Pivot Tables.

More details & booking
Export Documentation

Our International team has years of experience supporting companies to ensure the safe passage of goods and produce across the world. The process of international trade can be difficult when it comes to paperwork and form filling.

Read More
SIDO Brokerage Event 2022

Enterprise Europe Network are delighted to invite all companies and R&D Institutions to connect with key players in IoT, AI, robotics & XR industry leaders and startups from Europe and abroad! Commencing the 14th-15th of September in Lyon and Online. This event is free of charge.

Learn More
Clock Out & Connect at Kearys Motor Group


Tues 6th Sept | 5pm-6.30pm | Kearys Renault Showroom

Our Clock Out & Connect networking event is back and offers members a unique opportunity to put their networking and motoring skills to the test at Kearys Renault Showroom, Kinsale Road.

Members will be able to avail of a test drive of a Kearys Electric Vehicle while also reigniting business relationships, sparking new connections and extending your range of business contacts.

Register FREE Here

Sustainable Cork Programme: Electric Mobility - Redefining our City


Fri 16th Sept | 11am-12.15pm | Online

This SCP Webinar will explore the untapped potential for urban sustainable mobility, sharing resources and the role of innovation and e-mobility in creating opportunities for cleaner and greener travel to help reduce congestion.

You will hear speakers from Smart Mobility for the City of Amsterdam, Future Mobility Campus Ireland (FMCI) and Oliver Wyman Automotive & Manufacturing practice

Register FREE Here
Lunch on Board the Brittany Ferries Pont Aven


Sat 17th Sept | 12pm-3pm | Ringaskiddy Port

Cork Chamber is delighted to announce our annual lunch aboard the Brittany Ferries flagship vessel the 'Pont-Aven'. This event will provide you with an exclusive opportunity to explore the fantastic facilities on board the luxury ferry as you enjoy a charming afternoon in Cork Harbour.

We will welcome representatives from the French Embassy, including H.E. Vincent Guérend, Ambassador of France to Ireland and a number of guests from Brittany Ferries and various diplomatic circles.

More Details & Booking

Employment Law Updates: Planning for Compliance, Preparing for Change


Wed 21st Sept | 10am | Online

With so many changes to the HR & Employment landscape in 2022, it has been difficult for employers to keep up. Don't miss this opportunity for a quick recap on the key changes to date in 2022 and a look ahead on further changes expected in 2023.

Join leading senior HR, IR and Employment Law specialist, Sarah Fagan, Managing Director, Adare Human Resource Management as she discusses this topic in detail exploring practical considerations, answer key questions and provide guidance for businesses in this area.

Register FREE Here

Green Transition Supports

Enterprise Ireland are offering a number of supports and grants to Irish businesses to aid in the digital and climate transition. Two streams of funding are available to accelerate decarbonisation efforts under Ireland's National Recovery and Resilience Plan.

More info
Local Property Tax Adjustment Factor Consultation

Consultation period now open until 30th August

Cork City Council will meet in September to consider setting a local adjustment factor. They are now accepting submissions, in written form or through a survey, from the public considering the potential effects of varying the basic rate of the Local Property Tax on businesses, individuals and on local authority services. We encourage our members to contribute to this important consultation.

Find out more
Adare Human Resource Management

Navigating Gender Pay Gap Reporting

Gender Pay Reporting is now a legal requirement for large organisations with those with 250+ employees obliged to publish their report by 31st December. The Government has issued a number of communications in recent months, with one just a couple of weeks ago. The purpose of this information was to address confusion over elements of the reporting requirements. Sarah Fagan, MD of Adare Human Resource Management gives a succinct overview of the main points from the latest Government guidance.

Read more
Spotlight

CHAMBERLINK

CHAMBERLINK is our long-running, premium, business-focused magazine which is distributed quarterly directly to the desks and screens of the region's business leaders, entrepreneurs, and decision makers.

The next edition will land during October and there are limited opportunities available so please get in contact with Annie Fitzgibbon to discuss the best options and package for your business. Content deadline Wednesday 21st September.

Further details can be found here
Published by Cork Chamber
© 2022 All rights reserved.