Cork Digital Marketing Awards are back!


Deadline for entries: Wednesday 5th July 2023

The Cork Digital Marketing Awards are back for 2023, and Cork Chamber is looking to celebrate the teams, projects and businesses that have delivered real impact through their use of digital media.

Now in their 10th year, these awards are designed to be accessible to a wide variety of entrants across the Cork region from small to large businesses and organisations, or from sole digital champions to teams of digital warriors.

#DigitalCork23 in association with: AB Sales, ClickDimensions, Cork Chamber Skillnet, Munster Technological University, Osborne, Radius Technologies.

Media Partner: Irish Examiner

ENTER HERE

Business Breakfast with Kenny Jacobs, Chief Executive, daa


Thurs 15th June | 7.30am-9am | Cork International Hotel

Join Cork native, Kenny Jacobs, Chief Executive, daa as he discusses his priorities since taking up the role, his views on the aviation industry and the pivotal role that daa's airports play in supporting Irish tourism and business.

He will also discuss his plans for the sustainable growth and development of the daa group and Cork Airport over the coming period.

More Details & Booking

Coaching Leadership Webinar

Member Price Free

Thurs 8 June | 10:00am-11:30am | Online

Rather than the traditional "top-down" management model, the model of coaching leadership helps individuals and teams to reach their greatest potential in the workplace. This webinar will give participants the opportunity to reflect on their current management/leadership style, as well as to learn and engage with the principles of coaching leadership.

More details & booking
Practical Productivity using MS Outlook   

Member Price €100

Mon 12 June | 11.30am - 1pm | 3 mornings | Online

This Practical Productivity training course will provide you with a totally practical and workable solution to managing your workload and time more effectively. Do not let e-mail control your day - instead, you can take control through the customisation of MS Outlook and by using various features & tools within Outlook.

More details & booking
MTU Diploma in Project Management – Level 8 Special Purpose Award

Member Price €3080

Fri 6 Oct | part time | 6 months | online

With the emergence of Project Management as a standalone profession, international accreditation that is accepted across industries is becoming increasingly important. This course is suitable for individuals who may have practical experience of either being involved in projects or managing and leading projects but need to supplement this with the necessary education. This course is aimed at those who seek to employ professional project management methodologies in the Initiation, Planning, Execution, Control and Close-Out of their Projects.

More details & booking
Cork Climate Conversations

Business sector engagement

Thurs 8 June | Clayton Hotel Cork City | 9am to 11:30am

Cork City Council is inviting stakeholders from multiple sectors in a series of Cork Climate Conversations to inform the development of a new Cork City Climate Action Plan. This particular conversation relates to Cork's business community.

Register here
UK Border Target Operating Model

The UK Government's Department for Environment, Food & Rural Affairs (DEFRA) recently held a series of webinars for EU companies exporting products into Great Britain on the Target Operating Model. The recordings are now available on its YouTube channel. For more information please click here.
Adare Human Resource Management

WRC Annual Report and Workplace Conflict

Conflict and disputes are unavoidable in the workplace but how conflicts are resolved is crucially important. When dealt with quickly, timely and respectfully, they can be resolved easily with little formal actions required. However, when conflicts are not addressed effectively and allowed to go unattended, employees involved suffer, productivity will be impacted and ultimately there will be significant disruption to the Organisation. Once formal procedures are triggered differences can often become more adversarial and issues more entrenched. Conflict management involves identifying and handling conflicts rationally, objectively and efficiently.

Read the report here
Spotlight
Showcase Your Brand Here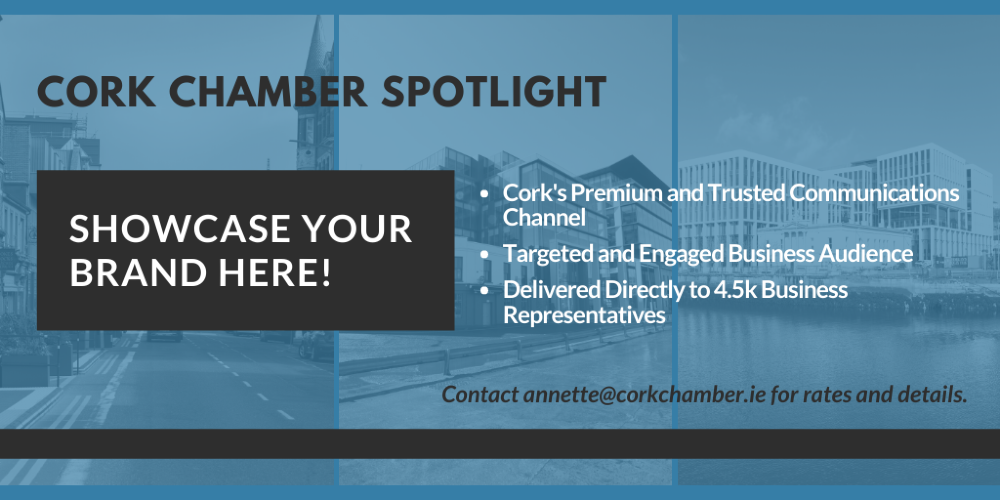 Published by Cork Chamber
© 2023 All rights reserved.