Cork Company of the Year Awards 2023
Finalist announcements start next week, Jan 11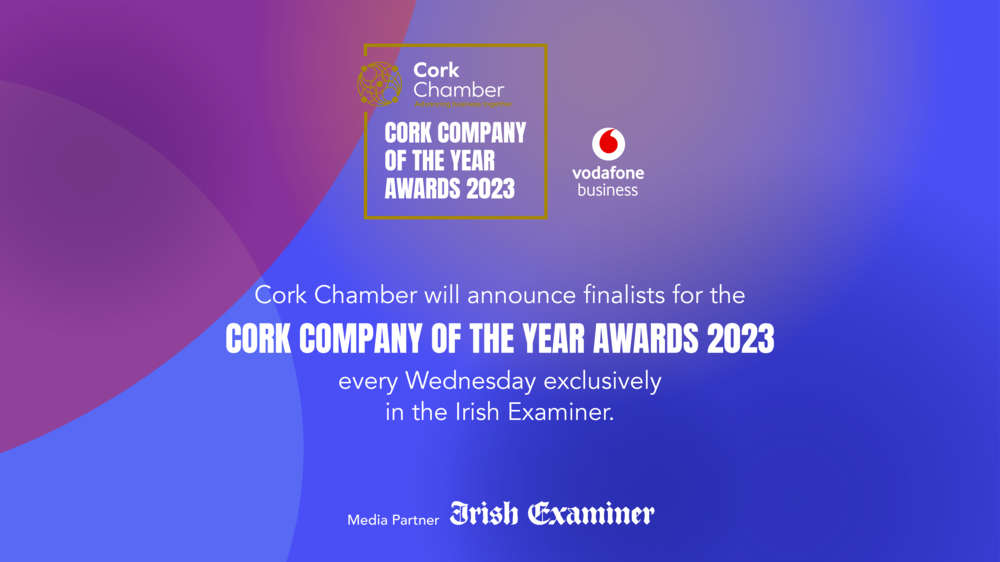 Cork Chamber & MII Cork: Putting Social Back into Social Media


Wed Jan 18th | 6.15pm-8pm | Clayton Hotel Cork City

Join us for this event in collaboration with the Marketing Institute Cork where we will welcome Cian Corbett, Digital and Innovation Marketing Manager, AIB.

Cian will detail these connection opportunities by showcasing some of AIB's Sustainability content examples from the past 12 months.

More Details & Booking

Annual Dinner 2023 (waiting list only)


Fri 3rd Feb 2023 | Cork City Hall

Proudly Sponsored by AIB

Cork Chamber Annual Dinner is the region's largest flagship event of the year, bringing together business leaders, political decision makers and influencers for this black tie corporate event.

Please add ticket requests to the waiting list.

Waiting List here

TRAINING & DEVELOPMENT
Workplace Change: Practice and Skills - Micro Credentials

Member Price €800

Wed 8th Feb | 6.30pm-9.30pm | Blended

Framed in the discipline of positive psychology, the core knowledge and skills developed on this micro credential programme are critical to empower organisations and their people through a positive change process, thus enabling business to become more agile and responsive to a changing world of workplace practice.

More details & booking
Empowering You: Empowerment from Within

Member Price €400

Wed 8 Feb | 10am-12pm | Blended

Empowerment starts with recognising that life is all about choices. We have a lot more choice than people realise. Our unique 3 part empowerment series starts with recognising that life is all about choices.

More details & booking
An Introduction to Design Thinking

Member Price Free

Thurs 9 Feb | 9.30am-11am | Online

This online masterclass introduces Design Thinking methodology. You will discover how to apply the principles of Design Thinking to address real world challenges in your own business or organisation.

More details & booking
Climate Action Plan 2023

The Climate Action Plan 2023 (CAP23) was launched on December 21st 2022, and its legally binding targets, increased ambition and action-oriented approach are to be welcomed. While it's anticipated that more detail will be delivered through 2023, CAP23 offers the opportunity to guide, incentivise and directly introduce the necessary system changes that will enable transformation to a low carbon economy.

Climate action and the transition to a carbon neutral society is laden with possibility and can be a key enabler to Ireland's economy, regional development and future competitiveness.

View Climate Action Plan 2023
Ukraine in the Dark - can you help?

At our meeting with the Ukrainian Ambassador H.E Larysa Gerasko she expressed the urgent need for generators to combat the energy crisis in Ukraine and we are sharing her request for help with you, our members.

Missiles and drones targeted Ukraine's power substations, the backbone of the energy system; the maneuverable power generation (heat powered power stations and hydro stations); and the power supply substations transmitting power from nuclear power plants (NPPs).

Please follow the link <HERE> for details on the types of generators that will be helpful. If you can help with this request, contact Cathal, International Relations Manager at Cork Chamber on cathal@corkchamber.ie.
Free Event: Horizon Europe Space Brokerage Event

The Enterprise Europe Network in partnership with Horizon Europe Cluster 4 Space invites you to participate in an international partnering event on Horizon Europe's space calls, 2nd February 2023. This is a FREE, 2-hour virtual event that will introduce SMEs to the Cluster 4 Space calls for proposals for the next two years, present insights and expectations from the European Commission whilst offering a unique networking opportunity to forge the winning partnerships of the future.

Find out More
Cork Chamber Gift Card

Operated by One4all

Did you receive a Cork Chamber Gift Card? Remember you can spend your gift card in over 400 stores across Cork. A list of stores where you can enjoy shopping is linked below.

Where to shop
Published by Cork Chamber
© 2022 All rights reserved.