Together making Cork the
best place for business
| | | |
| --- | --- | --- |
| Empowering you | Growing your Business | Transforming Cork |
Cork Chamber AGM: Looking Forward with Confidence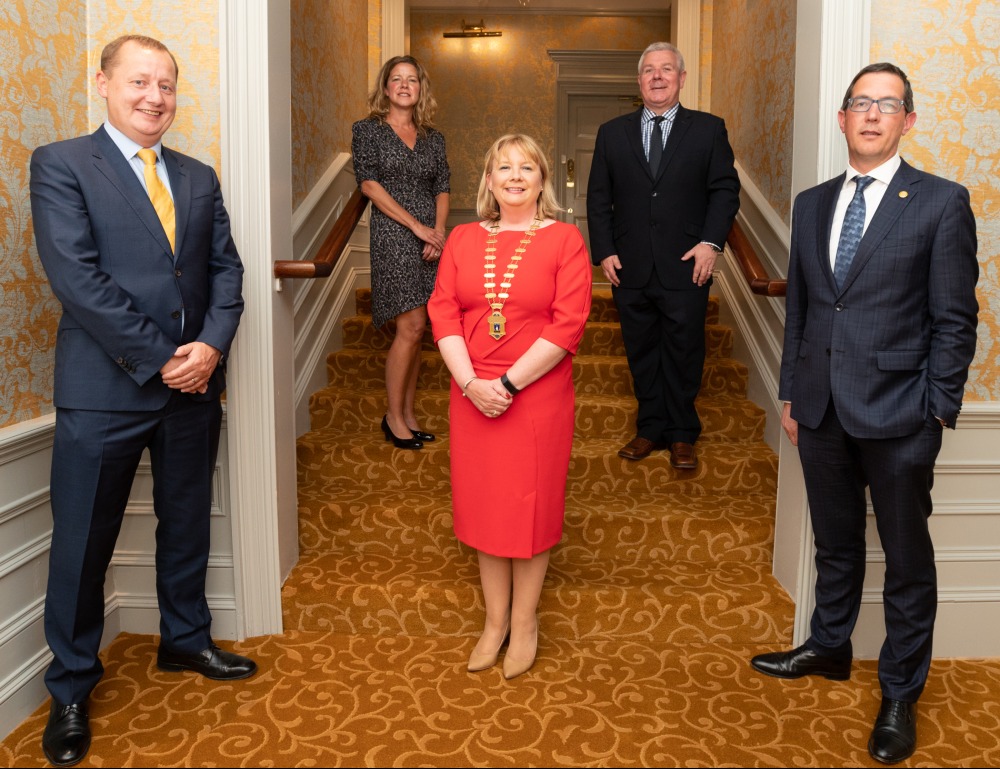 From Left to Right: Ronan Murray, Deloitte, Vice President, Thia Hennessy, Cork University Business School, Honorary Secretary, Paula Cogan, Doyle Collection, President, Gerard O'Donovan, CIT, Honorary Treasurer, Conor Healy, CEO, Cork Chamber.
Cork Chamber of Commerce held its AGM on July 27th. As a largely virtual event on this occasion it was a sign of the times but the focus was steadfastly on looking forward with confidence.

The AGM saw the re-election of Paula Cogan, Doyle Collection as President and the election and announcement of new officers, Ronan Murray of Deloitte as Vice President; Thia Hennessy, Cork University Business School as Honorary Secretary and Gerard O' Donovan, CIT as Honorary Treasurer. In addition...
Read more ›
Cork Digital Marketing Awards 2020 – OPEN NOW!

Closing date for entries is Friday, 14th August 2020, 4pm.

With 12 different categories, Cork businesses have ample opportunity to showcase their digital innovations and achievements over the past 12 months while demonstrating the impact of marketing through digital channels on business survival and growth. The theme for this year's CDMAs is Digital Titans. These Awards will recognise the persistent and innovative hard work that has been demonstrated in the last year.

#DigitalCork20

Enter Now
| | |
| --- | --- |
| Empowering You | |
Annual Golf Classic in association with Lexus Cork

Thurs 27 Aug | 7am | Lee Valley Golf & Country Club

This 4 Person Champagne Scramble golf event is always a great day out - perfect for socially distanced team-building, informal networking or corporate entertainment

There is also a new opportunity this year to promote your company brand by sponsoring a Tee Box.

More Details & Booking
Nothing But Canva

Tues 11 Aug | 9.30am-12.30pm | 2 Mornings

Member Price €100

This hands-on, interactive workshop will help participants navigate the new Canva 2.0 platform for the purpose of creating business and branding collateral.

More Details & Booking

Return To Work Training Webinar

Tues 18 Aug | 2pm-4.30pm

Member Price €25

This is a comprehensive COVID-19 Return to Work Webinar training program. The program is delivered online by the experienced Health and Safety professionals from Chris Mee Group.

More Details & Booking
Project Management Essentials

Tues 25 Aug | 9am-1pm | 4 Mornings

Member Price €330

Enter the world of project management by acquiring the core skills of the role. Become confident in managing a complex project by learning how to integrate its conflicting facets into a manageable entity.

More Details & Booking
Cork City Development Plan

Cork Our City Our Future | Addressing the Challenges Wed July 29 | 7pm

The focus of this webinar will be on some of the challenges the new City Development Plan will have to address.

Speakers will discuss climate change, transportation and creating successful neighbourhoods.

Register FREE Here
Cork City Council Launch Development Plan Survey

Cork City Council are carrying out a survey to find out what the people of Cork would like to prioritise in developing a vision for the future. The results of the survey will be taken account of in the preparation of the new City Development Plan. The survey will take you approximately 6-8 minutes to complete.


Results from the survey will be made publicly available and incorporated into the Pre-Plan Consultation Report.

Take Survey HERE
Iarnród Éireann COVID-19 Return to Work Survey

As Iarnród Éireann have moved into phase 4 of the government roadmap and restrictions have eased even further they are planning rail services for the weeks and months ahead.

They would appreciate your feedback on how you envisage using their services as a business.

This survey with help Iarnród Éireann to plan how they can deliver the best service to suit your needs.

Take Survey HERE
| | |
| --- | --- |
| Transforming Cork | |
Conor Healy, CEO and Paula Cogan, President, Cork Chamber

Quality of Life Infrastructure Will Define Cork

Despite confidence in the Irish economy resting at 48% among members of the business community, and not withstanding the pandemic, Brexit and climate change, sentiment remains high and businesses remain resolutely focussed on a positive future for Cork says a major report launched on the 28th of July by Cork Chamber of Commerce.


Almost 1,000 people engaged in a series of sectoral think tanks and an open survey to identify the best route to a resilient and sustainable recovery for Cork. Each discussion was guided by the Chambers commitment to the United Nations Sustainable Development Goals.

Read full Building Economic Resilience report HERE
| | |
| --- | --- |
| Growing your Business | |
BREXIT UPDATE

Revenue is rolling-out its second phase of direct engagement with trade in September, writing to the 60,000+ businesses who traded with the UK in 2019 or early 2020 to advise them on the steps to be ready for 1 January 2021.

Click here for more information

Round Six of Negotiations

Last week, EU and UK Negotiators attended the sixth round of negotiations, for a new partnership between the European Union and the United Kingdom, at the Europe House London. Chief EU Negotiator Michel Barnier released a full statement after negotiations had ended. Read full speech here

Brexit readiness at the end of the transition period: The European Commission has published guidance on getting ready for changes at the end of the transition period between the European Union and the United Kingdom. You can read the guidance here
Partnering Opportunities

The Enterprise Europe Network Partnership Opportunities Database contains up to 23,000 profiles and brings together commercial and innovation needs, and research and development excellence from across Europe.

The network's database is updated with new profiles on a weekly basis, search the database for suitable profiles for your business.

Below is a live sample profile of a Portuguese SME currently interested in exchanging ideas with Irish SMEs about potential collaboration or partnership.

Portuguese provider of smart furniture manufacturing management software is seeking to enter into a license agreement with partners that are looking for end-to-end production solutions.

View Profile offer HERE
| | |
| --- | --- |
| Members Area | |
Ulster Bank Ireland

"We understand that these are still in uncertain times and many of you may be worried.

We want to assure you that looking after our customers is our number one priority.

As the country recovers Ulster Bank is committed to listening to and working with our business customers.

We're here with supports and funding and we'll be there when they're ready to expand and grow."

Pat Horgan, Head of SME Banking, Ulster Bank.

Talk to us today, email businessmatters@ulsterbank.ie

Or visit, www.ulsterbank.ie/business and https://ulsterbank.contentlive.ie/
Published by Cork Chamber
© 2020 All rights reserved.