Together making Cork the
best place for business
| | | |
| --- | --- | --- |
| Empowering you | Growing your Business | Transforming Cork |
Vision for the Future

Dear Chamber Member,

This week we launched our Strategic Plan 2021-2023.

We set out a clear vision to be a world-leading Chamber of Commerce delivering on a progressive economic, social and sustainability agenda at the heart of our business community. After 202 years working for a business community with an international reputation for innovation and excellent track record for both indigenous and international business growth, nothing short of a bold and ambitious plan will suffice for the Chamber representing you.

As a Chamber we must stand shoulder to shoulder with the best Chambers in the world, doing everything in our power to champion Cork as a globally recognised place for business, innovation and quality of life. By working together, we can empower a successful, inclusive and thriving Cork.

If Cork is to succeed, Government and business will need to work harder and in a more collegiate manner to...

Read more ›
| | |
| --- | --- |
| Empowering You | |
Golf Classic 2021 in association with Lexus Cork

Thurs 2nd Sept | 7am | Lee Valley Golf & Country Club

Cork Chamber's Golf Classic will be held at the picturesque, championship golf course Lee Valley Golf and Country Club, located only 15 minutes from Cork City. We are delighted to have Lexus Cork continue as the title sponsor.

The format for the day will be a 4 Person Champagne Scramble. Register your team now to avoid disappointment and to secure your preferred tee time.

4 Person Champagne Scramble: €400
Sponsor a Tee Box: €150+VAT

SPONSOR A TEE BOX
Promote your company by sponsoring a Tee Box. Cost €150 + VAT.

€500 +VAT to sponsor three Tee Boxes and also receive a discounted Spotlight Advert in our weekly e-bulletin to the value of €200. Contact Deirdre@corkchamber.ie for more details.

More Details & Booking
Cork Digital Marketing Awards - 1 WEEK TO GO!
Closing date for entries is Wednesday, 28th July at 4pm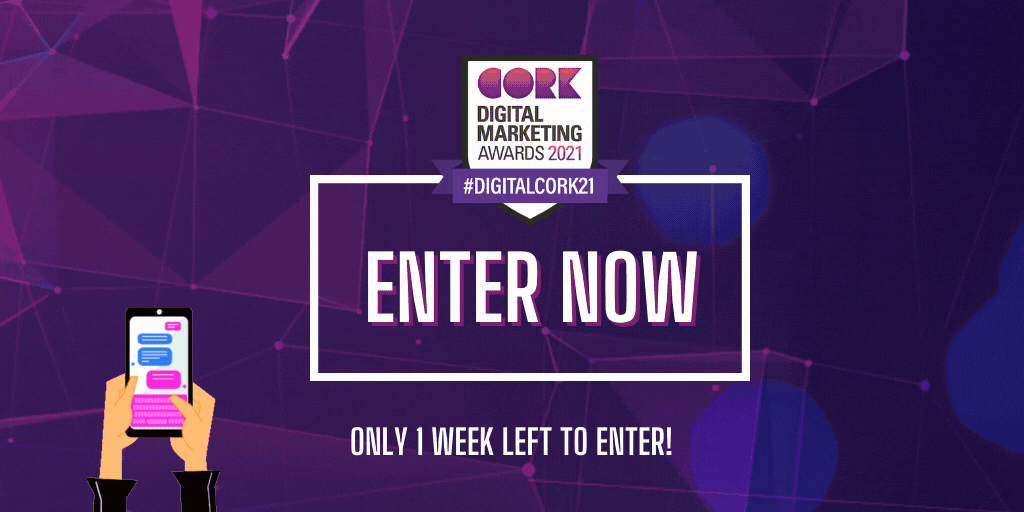 1 WEEK TO GO!
This year's Cork Digital Marketing Awards will celebrate the dedication demonstrated by businesses to tackle challenges head on, rise above and thrive through their digital innovations, legendary ideas, and brave decisions.
With 19 different categories spanning across all digital platforms including 'Best in Content Creation', 'Best Digital Marketing Team' and awards for individual channels from Website to Instagram, Cork businesses can showcase their digital innovations and achievements over the past 12 months while demonstrating the impact of digital marketing on business growth.
Media Partner:

ENTER NOW
Cyber Security Training for Business Owners

Member Price: Free

Tues 27 July | 9.30am-11.30am | 2 Hours

Are you concerned about the Ransomware incident that has affected the HSE? Do you know how you should respond if you were to be impacted by Ransomware?

In this high-level presentation for business owners, discover how to handle such an incident and also how to keep yourself safe and secure from other online threats.

Find out more
Presentation Skills

Members Price: €180

Tues 10 Aug | 9.30am-11.30am | 3 x 90 min sessions

Whether entry level or CEO, every role requires you to present yourself, and your work, in a professional and dynamic way.

This course will teach you the dos and don'ts of presenting, providing you with tangible, effective skills that will move your audience and help you reach your goals.

Find out more
We Need Your Help

Your opinion counts!

Cork Chamber Skillnet, with the support of Real Insights, are conducting research into Sustainability Training needs for SMEs.

By completing this 4-minute survey, you will help us analyse trends, identify obstacles that businesses face on their sustainability journey, and explore the sustainability training currently on offer.

Complete the survey
Chamberlink - Issue 2 2020

In this issue we celebrate the Cork business community. We meet Eli Lilly, our Cork Company of the Year, standing alongside category winners, Altada, Granite and Zyte. We have the valuable paradigm shift of doughnut economics, the game changing potential of offshore wind, and our Global Conversations series which kickstarts to life with Chicago as our first port of call.

Dr Naomi Masheti shares her thoughts on what diversity, equality and inclusion should mean to business in 2021. In this edition we also celebrate pride week and our own endeavours to create a meaningful DEI legacy. Browse our upcoming events, members' news and schedule and plan training needs of your team for the quarter ahead.

Browse Magazine
| | |
| --- | --- |
| Transforming Cork | |
Transforming Your Environment
TEST SITE

Cork Chamber delighted to sponsor Choill Bheag at TEST SITE

TEST SITE is a collaborative art & architecture project happening on Kyrl's Quay this July and August. There are numerous discussions, live music, performance and film events, workshops and more for you to join, watch or listen to.

Explore and uncover the built heritage and ecological diversity of this vacant site right in the heart of Cork City Centre. Cork Chamber is delighted to support TEST SITE through the sponsorship of the Choill Bheag, a small forest of 300+ native species which will be donated out to community groups once the project closes.

Browse the programme
Cork Pride Week

Cork Chamber Proud to Sponsor Cork Pride

Cork Pride Week is taking place from 24th July to 1st August. Cork Pride festival's Mission is to celebrate the diverse culture of Corks LGBT+ community, by providing the Cork community with various activities and functions to promote and engage in educational, civic and cultural activities in order to enrich the lives of LGBT+ people and the community as a whole, and to work together to achieve common goal. Cork Chamber is delighted to be a sponsor of Cork Pride Week and Sessions Sponsor of the Diversity & Inclusion conference which takes place Friday 30 July.

To grow and to thrive, Cork must be..

Read more ›
Design POP

Cork Chamber delighted to sponsor Design POP

Cork city's architecture, design and food festival, Design POP, is set to return to the streets of Cork and online this August 27th - 29th. Enjoy architecture, food, and design through a series of architectural pavilions, events, talks, exhibitions, and conversations.

Cork Chamber is delighted to sponsor Design Pop again this year and support the opening night talks with Kari Cahill, The Project Twins, and Director of The Glucksman Gallery, Fiona Kearney.

Browse the full schedule
| | |
| --- | --- |
| Growing your Business | |
Life Science and Engineering - new connections

Virtual B2B meetings - 15 September

Digital Supplier Days Life Science and Engineering 2021 is an exclusive Austrian-Irish digital B2B matchmaking event organized by ADVANTAGE AUSTRIA Ireland. Enterprise Europe Network Cork is one of the supporting partners. The event is centred on supply chain diversification in Ireland's life science and engineering sector.

Meet with Austrian companies specializing in the supply of medical technology, pharma, biotech, digital and engineering solutions for the life science and engineering sector. Discover Ireland's leading life sciences sector and connect with potential business partners through our virtual B2B meetings and expert presentations.

Participation is free but registration is required.

Register FREE here
European Innovation Procurement Award

The first edition of the European Innovation Procurement Awards recognises powerful cases of public and private buyers using innovation procurement practices across Europe and emphasises the importance of close buyer–supplier cooperation in bringing the innovative solutions to market.

The 2021 edition features three categories: Innovation procurement strategy; Facing societal challenges; Procurement leadership. Each category will reward a winner with €75,000 and one runner-up with €25,000. Closing date is 29th July 2021

Read More
Rescue framework for small and micro companies in final stages

The Rescue Process for Small and Micro Companies Bill 2021 amends the Companies Act 2014 to provide for a new dedicated rescue process for small and micro companies.

The framework - Small Company Administrative Rescue Process (SCARP) provides an alternative to examinership for viable small and micro companies which is more accessible and cost efficient and capable of conclusion within a shorter period of time.

Read More
Ready for Customs Grant

There is still time to apply for The Enterprise Ireland Ready for Customs Grant. This grant provides companies with financial assistance to cover the costs of taking on much needed additional customs clearance staff, which is required when Brexit became a reality on the 1st January 2021.

The grant is open to enterprises that are currently engaged in the movement of goods to, from, or through the UK and which will require new or increased customs clearance capacity.

Find Out More
| | |
| --- | --- |
| Members Area | |
Keep Discovering Cork

We continue to support our members in the hospitality, tourism, leisure and retail sectors over the coming months by enjoying staycations, relishing new gastro experiences, soaking up the atmosphere in the city, exploring the great outdoors and supporting local.

Check out the official tourism website for Cork - www.purecork.ie

Here are some members' news and offers in this sector
Glandore

Experience of the Past, Space for the Future

This year marks Glandore's 20th year in business as one of Ireland's leading providers of flexible workspace. Throughout this time, they have provided a space to land and expand in Dublin, Cork and Belfast for some of the most successful domestic and International businesses across the island of Ireland, and are extremely proud to have been a part of their success. Glandore would like to sincerely thank our members, alumni, business partners and suppliers for supporting their growth over the past 20 years and look forward to prosperous times ahead for all.

Visit us here
Published by Cork Chamber
© 2021 All rights reserved.