Together making Cork the
best place for business
| | | |
| --- | --- | --- |
| Empowering you | Growing your Business | Transforming Cork |
Viability and Affordability of Apartments Remains Unresolved by Government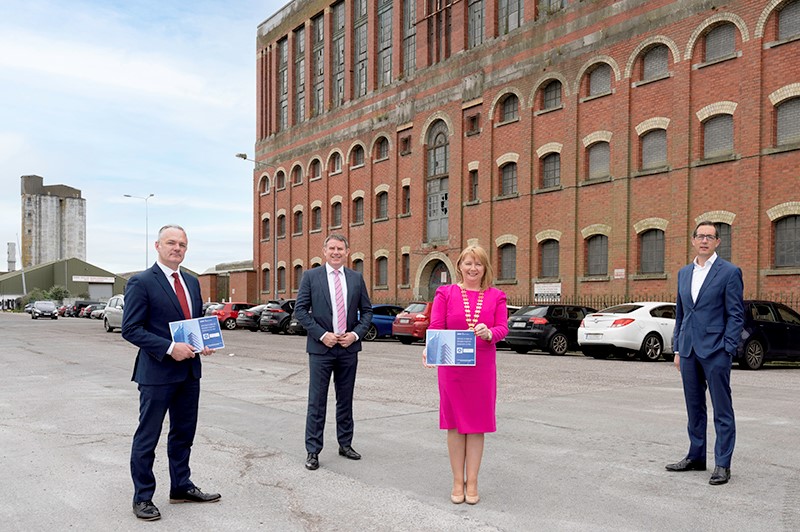 The housing crisis in Ireland requires immediate intervention with a focus on private development in parallel with social and affordable housing. In Cork no new private apartment schemes of scale have been completed since 2008. As long as viability and affordability of apartments remains unresolved by Government the delivery of new urban communities will remain a pipe dream.
Cork Chamber, the CIF Southern Region & KPMG-Future Analytics today publish research that identifies ways to make apartment development in urban areas viable and affordable.
At the launch of the report Paula Cogan, President of Cork Chamber said: "Our members have a vision for Cork as a thriving, welcoming, diverse and sustainable city region. If we do not deliver significant volumes of accommodation on brownfield sites in the heart of our city, then we are confining ourselves and future generation to replicating the 20th century model of sprawl. If we do not create a positive legacy in our built environment we are failing our future generations."

Read more on this story

| | |
| --- | --- |
| Empowering You | |
Golf Classic 2021 in association with Lexus Cork

Thurs 2nd Sept | 7am | Lee Valley Golf & Country Club

Cork Chamber's Golf Classic returns this September and will be held at the picturesque, championship golf course Lee Valley Golf and Country Club. We are delighted to have Lexus Cork continue as the title sponsor.

The format for the day will be a 4 Person Champagne Scramble. This event is always a fun, exciting day out - perfect for socially distanced team-building, informal networking, corporate entertainment or just a really enjoyable round of golf. This is a popular event so please register your team early to avoid disappointment and to secure your preferred tee time.

4 Person Champagne Scramble: €400
Sponsor a Tee Box: €150+VAT

More Details & Booking
Cork Digital Marketing Awards - Entries NOW OPEN
Closing date for entries is Wednesday, 28th July at 4pm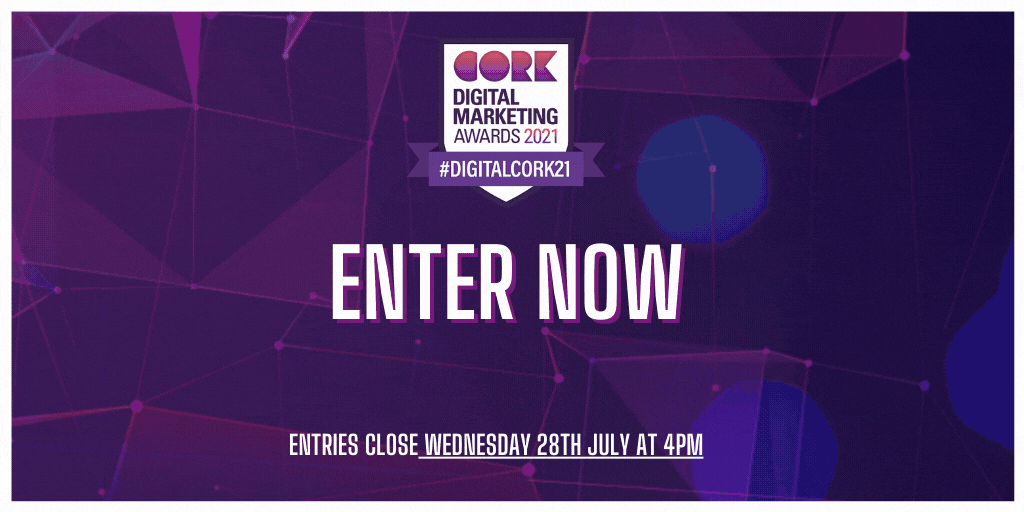 Calling Cork's Digital Marketing Legends!
Cork Digital Marketing Awards are open for entries.These awards celebrate success and recognise the strategic, innovative and creative approaches that businesses are bringing to all digital platforms.
With 19 different categories spanning across all digital platforms, and allowing for various sized companies to enter, Cork businesses can showcase their digital innovations and achievements over the past 12 months while demonstrating the impact of digital marketing on business growth.
Media Partner:

ENTER NOW
SDG Toolkit for Business

Thurs 15 July | 2pm-2.30pm

Join Chambers Ireland as they launch their Toolkit for Business on the UN Sustainable Development Goals.This practical guide is for businesses of all sizes across Ireland who wish to begin incorporating the Goals into their company or are looking for inspiration on how to expand on their engagement with the SDGs.

Register FREE Here
Cyber Security Training for Business Owners

Member Price: Free

Tues 27 July | 9:30am – 11:30am | 2 Hours

Are you concerned about the Ransomware incident that has affected the HSE? Do you know how you should respond if you were to be impacted by Ransomware?

In this high-level presentation for business owners, discover how to handle such an incident and also how to keep yourself safe and secure from other online threats.

Find out more
We Need Your Help

Your opinion counts!

Cork Chamber Skillnet, with the support of Real Insights, are conducting research into Sustainability Training needs for SMEs.

By completing this 4-minute survey, you will help us analyse trends, identify obstacles that businesses face on their sustainability journey, and explore the sustainability training currently on offer.

Complete the survey
| | |
| --- | --- |
| Transforming Cork | |
"Our latest trends, saw a marked increase in business confidence, up to 90% from 84% in the previous quarter - a very positive ascent on the 73% for the same period last year. Without question, we're at a pivotal point in our economic recovery, and it is absolutely crucial that the Government support businesses with practical information on the next steps, and the path ahead. We must protect our progress to date, and while certainty is difficult, timely communication, engagement and a clear plan with vaccine milestones is key in this support." Paula Cogan, President of Cork Chamber

Sponsored by:

Browse Latest Economic Trends
Pathways to Work Strategy 2021-2025

Working for jobseekers and employers

Pathways to Work 2021-2025 is the Government's national employment services strategy with an aim to assist people back to work as the economy and labour market recovers from COVID-19.

It aims to ensure that as many job opportunities as possible are filled by people who are unemployed and to make it easier for employers to recruit unemployed jobseekers, including young people. Through Pathways to Work 2021-2025, strengthening engagement with employers will be key.

Read More
Phased reopening of indoor hospitality agreed


A phased approach to reopen the hospitality sector in a cautious but progressive manner has been agreed by Government.


Restrictions on indoor restaurant and bar services will be eased for those that are fully vaccinated or recovered by COVID-19 in the previous six months.

Read More
Cork City Council Survey of Industry 2021

Cork City Council will shortly be embarking on a survey of a sample of businesses. Behaviour & Attitudes will be conducting the survey on their behalf and may be in contact with you by telephone.

More detail in this letter from Cork City Council <HERE>
Enhancing Your Environment
TEST SITE

TEST SITE is a collaborative art & architecture project happening on Kyrl's Quay this July and August. From Sunday July 18th you are invited to to join in the public events programme - seminar discussions, live music, performance and film events, workshops and more.

Explore and uncover the built heritage and ecological diversity of this vacant site right in the heart of Cork City Centre. Cork Chamber is delighted to support TEST SITE through the sponsorship of the Choill Bheag, a small forest of 300+ native species which will be donated out to community groups once the project closes. For event information follow TEST SITE on social media @testsiteproject.

Visit the Website
| | |
| --- | --- |
| Growing your Business | |
Life Science and Engineering - new connections

Virtual B2B meetings - 15 September

This event is focussed on supply chain diversification in Ireland's life science and engineering sector. It provides an opportunity for Irish companies to meet and connect with Austrian companies specialising in the supply of medical technology, pharma, biotech, digital and engineering solutions for the life science and engineering sector.

Enterprise Europe Network Cork is a supporting partner of Advantage Austria, the trade promotion organisation of the Austrian Federal Economic Chamber for an Austrian-Irish for this online B2B matchmaking event.

Participation is free, registration below required.

Register FREE here
European Innovation Procurement Award

The first edition of the European Innovation Procurement Awards recognises powerful cases of public and private buyers using innovation procurement practices across Europe and emphasises the importance of close buyer–supplier cooperation in bringing the innovative solutions to market.

The 2021 edition features three categories: Innovation procurement strategy; Facing societal challenges; Procurement leadership. Each category will reward a winner with €75,000 and one runner-up with €25,000. Closing date is 29th July 2021

Read More
Ready for Customs Grant

There is still time to apply for The Enterprise Ireland Ready for Customs Grant. This grant provides companies with financial assistance to cover the costs of taking on much needed additional customs clearance staff, which is required when Brexit became a reality on the 1st January 2021.

The grant is open to enterprises that are currently engaged in the movement of goods to, from, or through the UK and which will require new or increased customs clearance capacity.

Find Out More
Rescue framework for small and micro companies in final stages

The Rescue Process for Small and Micro Companies Bill 2021 amends the Companies Act 2014 to provide for a new dedicated rescue process for small and micro companies.

The framework - Small Company Administrative Rescue Process (SCARP) provides an alternative to examinership for viable small and micro companies which is more accessible and cost efficient and capable of conclusion within a shorter period of time.

Read More
| | |
| --- | --- |
| Members Area | |
Keep Discovering Cork

We continue to support our members in the hospitality, tourism, leisure and retail sectors over the coming months by enjoying staycations, relishing new gastro experiences, soaking up the atmosphere in the city, exploring the great outdoors and supporting local.

Check out the official tourism website for Cork - www.purecork.ie

Here are some members' news and offers in this sector
New Members

A very warm welcome to our new members who joined us in June
permanent tsb

At permanent tsb, Business Banking is about supporting our customers on an individual basis. Our dedicated Business Banking team in the South is led by Tom Leahy who has over 35 years of experience supporting the needs of business customers both in Ireland and the UK. He is also Regional Executive Member with Ibec and formerly CEO of BDM Boylan Solicitors in Cork. The team in the South includes Business Banking Managers, Anna Buckley and Maurice Fitzpatrick alongside Ian O'Regan, Business Banking Specialist. Find out more about how our dedicated team can support your needs and book an appointment in your local permanent tsb branch today.

Book an appointment here
Published by Cork Chamber
© 2021 All rights reserved.