Together making Cork the
best place for business
| | | |
| --- | --- | --- |
| Empowering you | Growing your Business | Transforming Cork |
| | |
| --- | --- |
| Transforming Cork | |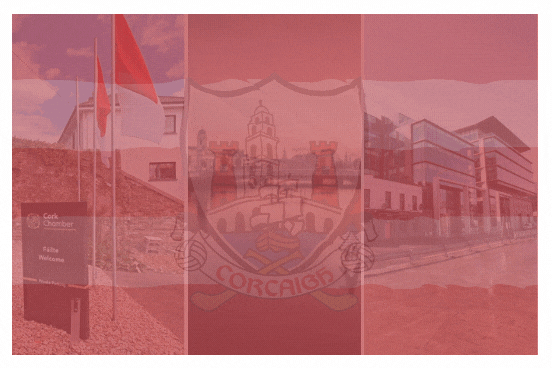 Only a few days left to GO RED FOR CORK ahead of Sunday's All Ireland Final! Join the challenge and show your support for the Cork team by proudly flying flags, lighting your workplaces in red, wearing jerseys or however else you would like to show your support!
Post your pics online this week in the build up to the match using #LimerickvCork and tagging @CorkChamber and @LimerickChamber
From all of us at Cork Chamber and our members, we wish the Cork Hurling team the very best of luck!
#LimerickvCork #UptheRebels
| | |
| --- | --- |
| Empowering You | |
Cork City Development Plan: A Discussion with Fearghal Reidy, Director of Strategic & Economic Development Cork City Council

Thurs 26th Aug | 12pm | Online

The draft Cork City Development Plan 'Our City, Our Future' has been launched by Cork City Council. It aims to provide a transformative blueprint for Cork as the city embarks upon an exciting phase of growth and change – with sustainability, quality of life, social inclusion, and climate resilience aiming to be at the plan's core.

Fearghal will share a presentation, thoughts, and insights on the future direction of Ireland's ever evolving and fastest growing City. Following this discussion members will have the opportunity to ask questions during the Q&A.

Register FREE Here
Golf Classic 2021 in association with Lexus Cork

Thurs 2nd Sept | 7am | Lee Valley Golf & Country Club

Limited Tee Times Remaining

Cork Chamber's Golf Classic will be held at the picturesque, championship golf course Lee Valley Golf and Country Club, located only 15 minutes from Cork City. We are delighted to have Lexus Cork continue as the title sponsor.

The format for the day will be a 4 Person Champagne Scramble. This event is always a fun, exciting day out - perfect for socially distanced team-building, informal networking, corporate entertainment or just a really enjoyable round of golf. Register your team now to avoid disappointment and to secure your preferred tee time.

4 Person Champagne Scramble: €400

More Details & Booking
Business Breakfast Live: In Conversation with Minister for Public Expenditure and Reform, Michael McGrath T.D

Thurs 9th Sept | 8am | Online

Join us bright and early as Minister for Public Expenditure and Reform, Mr. Michael McGrath T.D discusses his role, the global economic landscape, his perspectives on a fruitful economic model for Ireland, and his vision for the development of Cork.

In this time of extreme adversity including a pandemic, Brexit and climate change assailing economic and societal norms we are creating a legacy with every decision made. With a brief that cuts across all government departments and aspects of state led investment, the Minister holds a position that is nothing short of defining for our short and long term future.

Register FREE Here
Sustainable Cork Programme: Design for Sustainability - Future Ways of Living

Fri 24th Sept | 11am | Online

This webinar will look to local examples of the New European Bauhaus concept in action - the European environmental, economic and cultural initiative launched in January 2021 which seeks to combine innovative design with concrete actions tackling climate change, to make our future living spaces more sustainable, affordable and accessible.

This conversation is timely as Cork city embarks upon an exciting phase of growth and change with sustainability, quality of life, social inclusion, and climate resilience aiming to be at the core of the recently published Cork City draft development plan.

Register FREE Here
Project Management Essentials

Member Price €330

Wed 8 Sept | 9am-12.45pm | 4 mornings

This course provides you with a foundation in professional project management principles. Based on the Project Management Institute's Guide to the Project Management Body of Knowledge, you will be taken through the entire project lifecycle and will be introduced to the knowledge areas needed to manage any project effectively.

More details & booking
Employment Wage Subsidy Scheme – Clarification on turnover requirement

The Department of Children, Equality, Disability, Integration and Youth has clarified that the Revenue EWSS for businesses will be in place until 31 December 2021.


The exemption from the 30% reduction in turnover requirement for Early Learning and Care (ELC) and School Age Childcare (SAC) providers is in place until 30 September 2021.

A decision on the continuation of the exemption after 30 September will be made in the coming weeks.
| | |
| --- | --- |
| Growing your Business | |
Call for ACORNS 7 applications

The call for applications for ACORNS 7 is now OPEN. This initiative is supported by the Department of Agriculture, Food and the Marine and is focused on early stage female entrepreneurs in rural Ireland. ACORNS has developed into a real grassroots movement and has supported over 300 female entrepreneurs over the last five years.

They are currently looking for another 50 female entrepreneurs, who will benefit over the next six months from the peer support offered.

Find Out More
New EU Dual-use Regulation and Ireland

Business and industry representatives are invited to join The Department of Enterprise, Trade and Employment (DETE) online event on 14 September 2021 to mark the commencement of the recast EU Dual-use Regulation.

This event will provide a background to the recast and discuss the changes enacted. The focus will be on relevant implications for exporters, in particular, concerning cyber-surveillance technologies.

An e-invite will issue to attendees prior to the event. If you would like to attend, please confirm by <email> by Monday, 6 September 2021.
| | |
| --- | --- |
| Members Area | |
Keep Discovering Cork

We continue to support our members in the hospitality, tourism, leisure and retail sectors over the coming months by enjoying staycations, relishing new gastro experiences, soaking up the atmosphere in the city, exploring the great outdoors and supporting local.

Check out the official tourism website for Cork - www.purecork.ie

Here are some members' news, offers and events in this sector
Cork Chamber Spotlight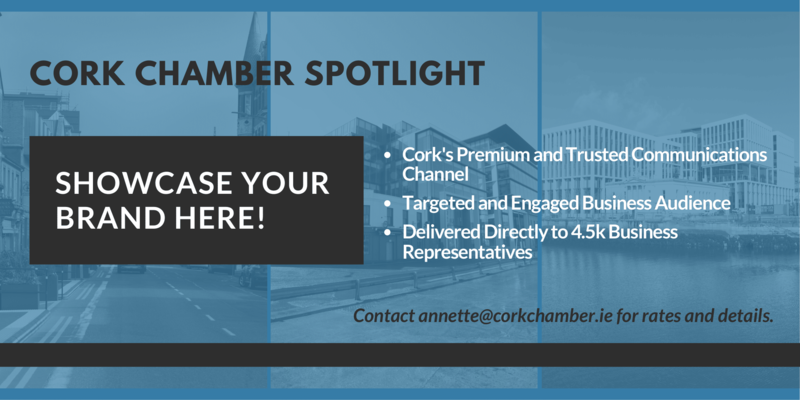 Published by Cork Chamber
© 2021 All rights reserved.