Together making Cork the
best place for business
| | | |
| --- | --- | --- |
| Empowering you | Growing your Business | Transforming Cork |
Supporting You

Dear Chamber Member,

I hope that you and your colleagues are keeping well. Many of you who have been working remotely for the last 18 months have been getting reacquainted with your offices again this week, and having some long overdue in-person meetings. I wish you all a safe and happy return.

For businesses and employees alike, this new post-Covid era offers an opportunity to redefine and reshape our workplace norms, and it is in all our interests that we embrace the positive learnings from the past 18 months and move ahead with confidence and optimism. In this transition, it is important that employers are proactive in adapting to..

Read more ›
| | |
| --- | --- |
| Empowering You | |
BOOK NOW: Cork Digital Marketing Awards 2021
Fri 1st Oct | 12pm | Online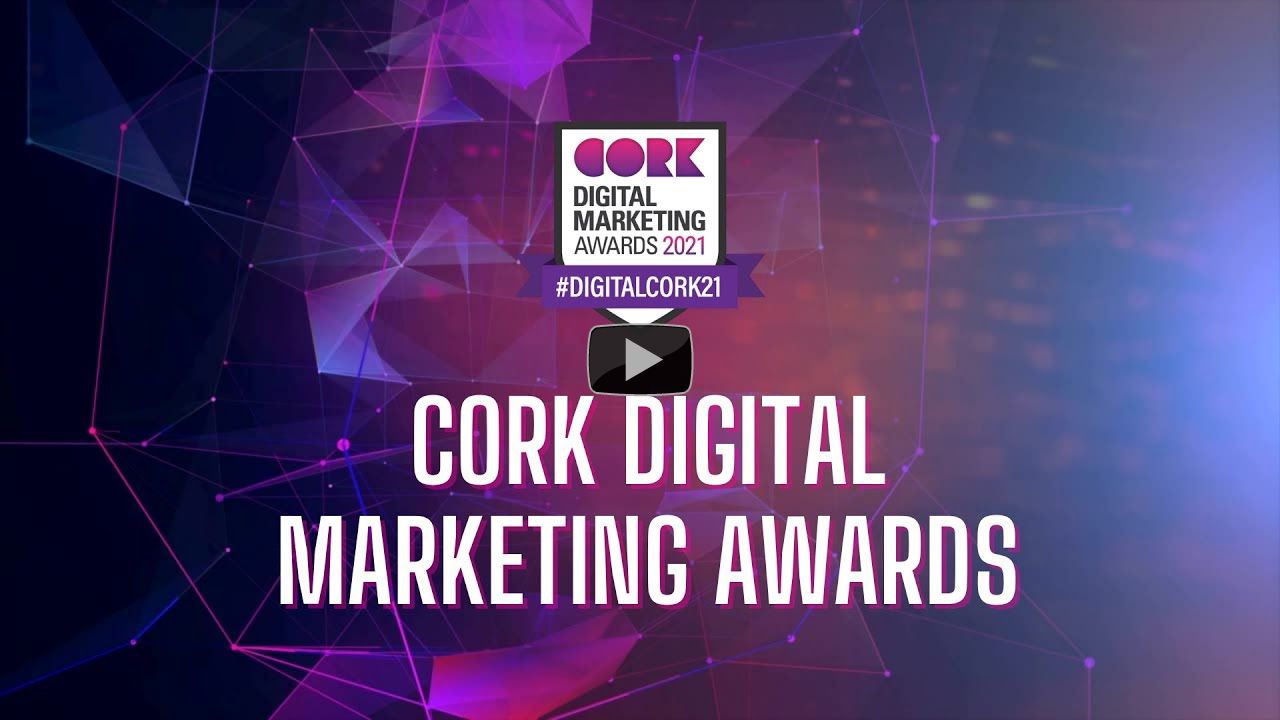 Congratulations to all of this year's Finalists! View the full list HERE!
Join host Sinead Kennedy to mark the very best in digital marketing in Cork as she announces the winners of each category along with the Overall Digital Marketing Legend 2021!
Media Partner:
Book your place HERE
Sustainable Cork Programme: Design for Sustainability - Future Ways of Living


Fri 24th Sept | 11am | Online

Join us this Friday as Fiona Kearney, Director, The Glucksman, Ailbhe Cunningham, Registered Architect MRIAI, Printmaker and Photographer, TEST SITE, Kyrl's Quay, Amy Keogh, Architect, Founding Director & Creative Director, Design POP and Garrett O' Rourke,Training Network Manager, Cork Chamber Skillnet look to local examples of the New European Bauhaus concept in action - the European environmental, economic and cultural initiative launched in January 2021 which seeks to combine innovative design with concrete actions tackling climate change.

Register FREE Here

Greening Our City - How will the Cork City Development Plan Green Our City?


Tues 28th Sept | 2.30pm | Online

Cork City Council has started the preparation of a new Cork City Development Plan 2022-2028. This is a 2-year process, which evolves through various stages in line with Planning and Development Legislation.

This webinar will provide an opportunity to hear from Fearghal Reidy, Director of Strategic & Economic Development, Cork City Council as he shares his thoughts, and insights on the future direction Cork City!

Register FREE Here
| | | |
| --- | --- | --- |
| | | |
| | | |
Enabling the Future Workplace


Tues 5th Oct | 1pm | Online

This webinar run in partnership with Vodafone Ireland will look at the Future of Work, Hybrid Working and the Importance of Connectivity in this ever-changing environment.

Speakers will include Dermot Bannon, Architect, Author and TV Broadcaster, Jacqui Hurley, Irish Athlete, Sports Manager, Sports Broadcaster and Chat Show Host, Anne O'Leary, Chief Executive Officer, Chair, Vodafone Ireland and Paula Cogan, President, Cork Chamber and Chief Executive Officer, Cognate Health.

Register FREE here

How the Pandemic is Shaping the Future of Work


Thurs 7th Oct | 11am | Online

Join Patrick Gallen, Partner, People and Change Consulting at Grant Thornton for this informative session on the future of work!

This session will look at how remote working is here to stay with most organisations transitioning to some form of hybrid model along with the implications for leaders when organising and managing their team and how organisations need to prepare for this going forward.

Register FREE Here

Hybrid Working Model – Free Webinar

Member Price Free

Fri 1 Oct | 9.30am-11pm

This 90 minute webinar will look at the current trends around remote working and "return to office", how this hybrid model can result in improved productivity, lower costs, refreshed managerial roles and a
strengthened cultural fabric as a positive future outcome.

More Details & Booking
MS Powerpoint


Member Price €150

Fri 2 Oct | 9:30am-11am | 4 mornings

These online webinars have been designed to replace classroom-based training whilst people are required to work from home. Participants have the option of either attending the live webinars at the scheduled date and time or alternatively can view a recording of the webinar at a time that suits them.

More Details & Booking

Cert. In Supervisory Management (QQI Level 6)

Tues 5 Oct | 9.30am-1pm | 8 mornings

The Certificate in Supervisory Management Programme is to equip learners with the tools and techniques necessary to effectively manage a team. Participants will acquire a range of supervisory and management skills, in addition to improving their interpersonal and communication skills.

Find out more
| | |
| --- | --- |
| Growing your Business | |
New Member Service - Human Resource Management

We are delighted to share the news of our new partnership with Adare Human Resource Management, one of Ireland's leading HR, Employment Law and Health & Safety consultancies.

The partnership gives Chamber members access to free events and webinars along with continuous expert human resource management and employment law advice. The expert-led team at Adare Human Resource Management understands that each of our members' HR needs are different and will provide a tailored HR solution specific to members' requirements.

Under the HR Partnership Programme, members can access a range of HR & Employment Law Supports.

Find out more
Enterprise Europe Network matchmaking event within UAV Show 2021

This international brokerage event is organised in the framework of the 10th birthday of UAV Show - the meeting point for stakeholders in the field of unmanned aerial vehicles (UAV) for professional purposes and related technologies.

The online event will take place on the 19th and 20th Oct 2021. If you would like more information about this event or to register please email <leighdelaney@corkchamber.ie>
The New Era for Prevention & Diagnostics - Opportunities for SMEs and Corporates

The Enterprise Europe Network Healthcare Sectoral Group is co-organising a 1-day clinical diagnostics event focused on SME-Corporate cooperation on Tuesday October 12. The event will take place online and information sessions include the following themes, among others: IVDR (New diagnostics regulation); Reimbursement/market access and SME cooperation with large Medtech/Diagnostics

The event will include a short B2B meeting session. Detailed agenda and free registration here or contact <katherine@corkchamber.ie.>

Smart Agrifood Summit B2B meetings




FOC Matchmaking Event

This online matchmaking event, taking place from 30th Sep -1st of March 2021 will be mainly focused on innovation and digitalisation of the Agrifood sector. It will provide participants to meet with companies (SMEs, large companies, start-ups,...), entrepreneurs, research organizations and public administrations active in research and technology to discuss through bilateral meetings on topics such as Ideas for joint research projects, production and distribution agreements and Internationalisation. If you would like to register for this event please email <ldelaney@corkchamber.ie>

| | |
| --- | --- |
| Transforming Cork | |
Economic Trends Member Survey Launched

Quarter 3 2021

Cork Chamber's Quarterly Economic Trends survey is now open to member responses. Responses from senior business managers and owner managers at the close of Q3 (July, August, September) are valuable to measure business sentiment, responses to the changing business environment and to informing Chamber policy priorities and strategy into the future.

As we emerge from the pandemic, connectivity to the Cork region remains critical and your sentiment towards air and rail travel for you and your business is also measured.

Take the survey below or copy this link to your browser: https://www.surveymonkey.com/r/FF9MFQR. Our Economic Trends are sponsored by permanent tsb.

Take the survey here
Annual Shine a Light Night

Paula Cogan - Sleep Out

413 people are currently without a home in Cork. On October 15 Paula Cogan will join other business leaders for the Annual Shine a Light Night, sleep-out event on Spike Island to help raise funds for Focus Ireland.

Support for Shine a Light Night is so important, as demand for Focus Ireland's services has increased over the past year since the Covid-19 outbreak. This demand is expected to grow further as the economic impact of the virus continues to hit the country and impact the 8,132 people currently homeless in Ireland, including 2,129 children and 930 families in emergency accommodation. You can donate directly via the link below.

Donate Here
| | |
| --- | --- |
| Members Area | |
Keep Discovering Cork

We continue to support our members in the hospitality, tourism, leisure and retail sectors by enjoying staycations, relishing new gastro experiences, soaking up the atmosphere in the city, exploring the great outdoors and supporting local.

Check out the official tourism website for Cork - www.purecork.ie

Here are some members' news, offers and events in this sector:
Published by Cork Chamber
© 2021 All rights reserved.