The Business of Energy

Dear Chamber Member,

I hope you, your colleagues and families are keeping well and have enjoyed the summer season.

The Chamber team have continued to deliver our events, training and export services, all the while advocating on matters that affect your business, your industry and our city region.

In recent times, businesses across our membership are telling us they are facing increases of four and five times in their normal energy bills which is just unprecedented and not something that they can just absorb and keep going. In our budget submission we ...

Read More
It's Back! Cork Chamber Dublin Dinner 2022
Tues 22nd Nov | 7pm-11pm | Clayton Hotel Burlington Road, Dublin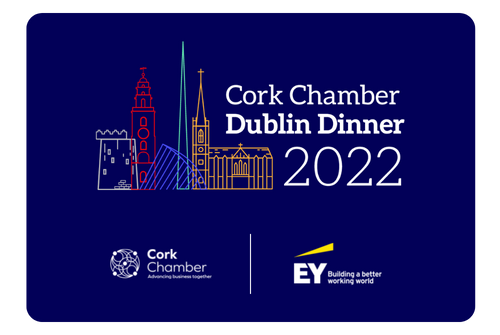 Join over 600 business leaders, key political decision makers and stakeholders as we gather to celebrate the relationship between Ireland's two largest city regions, Dublin and Cork.

On the night, we will announce the winner of our Outstanding Contribution to Business Award for 2022. This award is recognition of an individual's exceptional career and their instrumental role, not just in their organisation, but in their industry, region and beyond.
Our keynote speaker will be announced shortly.
In association with EY
More Details & Booking
Sustainable Cork Programme: Electric Mobility - Redefining our City

Fri 16 Sept | 11am-12.15pm | Online

This SCP Webinar will explore the untapped potential for urban sustainable mobility, sharing resources and the role of innovation and e-mobility in creating opportunities for cleaner and greener travel to help reduce congestion.

You will hear speakers from Smart Mobility for the City of Amsterdam, Future Mobility Campus Ireland (FMCI) and Oliver Wyman Automotive & Manufacturing practice.

Register FREE Here
Employment Law Updates: Planning for Compliance, Preparing for Change

Wed 21 Sept | 10am | Online

With so many changes to the HR & Employment landscape in 2022, it has been difficult for employers to keep up. Don't miss this opportunity for a quick recap on the key changes to date in 2022 and a look ahead on further changes expected in 2023.

Join leading senior HR, IR and Employment Law specialist, Sarah Fagan, Managing Director, Adare Human Resource Management as she discusses this topic in detail exploring practical considerations, answer key questions and provide guidance for businesses in this area.

Register FREE Here
Business Breakfast with Norman Crowley, Group CEO, CoolPlanet

Tues 4 Oct | 7.30am-9am | The Metropole Hotel

In association with RDJ & Media Partner Irish Examiner

Join us for this in-person Business Breakfast to hear from Norman Crowley, Group CEO, CoolPlanet, a family of cutting-edge companies working with global industry to cool the planet as fast as possible.

With energy, inflation and climate crises creating a perfect storm of challenges, Norman will discuss how businesses can navigate this new world, how it's a win-win for businesses to transform their operations on to a climate-friendly path, and how harnessing innovation, efficiency, and clean energy can put them at the leading edge of their industry.

More Details & Booking
Networking at Noon at Grant Thornton

Thurs 6 Oct | 12pm-1.30pm | Grant Thornton

Join us at Grant Thornton's new office at Penrose Dock. Make valuable connections in this funky space overlooking the city and the River Lee.

This is the ideal opportunity to break away from your desk to see Grant Thornton's impressive office space in the City while networking with fellow Cork Chamber members. Catch-up with those you already know, meet new faces and create long-lasting connections.

Limit of two representatives per company

Register FREE Here
How To Reduce Low Level Conflict in the Workplace


Member Price Free

Wed 21 Sept | 10am-11:30am | Online

This course will help you proactively identify and manage conflict at work and life in general. It covers the people management skills you need to become part of the solution to resolving workplace conflict – not the problem.

Register FREE here

Cert in CPD in Workplace Change: Practice and Skills


Member Price: €800

Start Date Wed 21 Sept | Hybrid

The world of work has undergone seismic shifts in the last couple of years. Workplace practices that have existed for decades are now being challenged. Organisations require their staff to be increasingly agile to respond to such change, while also demonstrating sufficient personal resilience to be able to cope with ongoing change. This course will provide learners with the key skills and tools to not only survive, but to thrive in times of change.

More details & booking
Dale Carnegie Programme – High Impact Presentations


Member Price €950

Tues 27 Sept | 9am-12:30pm | 3 mornings | Online

The experience in this programme is as close as you can get to having a personal coach. You begin presenting from almost the moment you begin session 1. You present at least six times over the course of 3 full half-days. Your presentations are recorded and evaluated. You get expert, one-on-one coaching privately at the end of each presentation.

More details & booking

IMI Essential Skills of Management


Member Price: €1250

Tues 4 Oct | 9:00am-5:00pm | 6 sessions, 2 per month from Oct - Dec | Online

Essential Skills of Management is one of IMI's most popular executive development programmes. This IMI highly interactive six-day programme is designed to enhance your existing management skills. We will help you develop new competencies within a framework of identified essential skills. It is comprised of 6 full days divided into 3 modules of 2 consecutive days each. Grant funding for this course is prioritised specifically for management development in SMEs with less than 250 employees.

More details & booking

Public Consultation on Ireland's 4th National Biodiversity Action Plan

Open now until 9th Nov.

Cork Chamber will be making a submission on Ireland's 4th National Biodiversity Action Plan. Cork is home to beautiful natural systems with a wide range of flora and fauna. Working with nature and protecting our ecosystems is an important piece of the puzzle towards building climate resilient communities, protecting human health, and making our region more attractive to locals and visitors. We encourage our members to engage with this important consultation and welcome feedback <HERE>.

More info here
European Research and Innovation Days

Enterprise Europe Network are delighted to share that at this years European Research and Innovation days online event, gives you the opportunity to discuss and shape new solutions to strengthen Europe's resilience and it's strategic autonomy.

Find out more
Adare Human Resource Management

What are the main HR priorities for HR Practitioners as we head into 2023?

Staff Retention, Recruitment, Employee Engagement, Increasing Salaries were some of the challenges Irish employers have been managing this year.

By taking part in the next round of our HR Barometer Survey, we will identify the issues and opportunities for HR Practitioner as we approach 2023.

Participants will get access to the final HR Barometer Report. The survey will take less than 15 mins to complete. All responses are anonymised.

TAKE PART IN THE HR BAROMETER SURVEY HERE
New Members

A very warm welcome to our new members, who joined us in August
Spotlight

TD O'Neill

A commercially focused and long established accountancy firm.

In addition to the standard accountancy and audit services, we specialise in a number of key areas: advising on strategic and business planning, raising, restructuring and rescheduling of business debt, business reviews and valuations. We provide regular business reporting.

Call to us at 5 Lapps Quay or call us on 021-4276605.

Further details can be found here
Published by Cork Chamber
© 2022 All rights reserved.