Together making Cork the
best place for business
| | | |
| --- | --- | --- |
| Empowering you | Growing your Business | Transforming Cork |
| | |
| --- | --- |
| Empowering You | |
A New Era

Welcome to issue 4 of Chamberlink Magazine.

In this issue we bring you up-dates from our 202nd AGM, our Financial Services showcase and other recent events. News from our members, updates on developments, and views on realising the vision held for our city region.

We look forward with optimism to 2022 with a line up of activities designed to help our members stay connected, informed, upskilled and growing.

Enjoy reading our quarterly magazine and log on to www.corkchamber.ie to find more about how we support our 1,200 members.

Read More
Cork Chamber Christmas Cracker
Thurs 16th Dec | 12pm | Online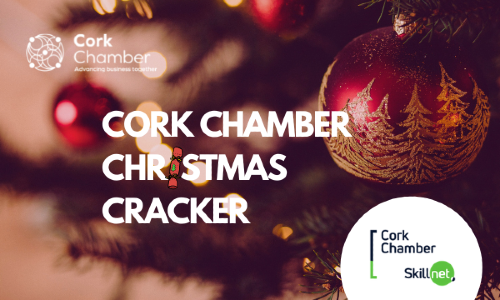 Invite your colleagues for some festive fun, games, prizes and much more all from the comfort of your home or office! We will be joined by Zoom Party's Steve Cummins, headliner in every major comedy club in Ireland and has regularly performed on BBC, RTE, Channel 4 and TG4. Steve will keep everyone entertained with his great line up of interactive games with minor challenges and major laughs!
As well as fun and games you can be sure you will be making a real difference.This year Cork Chamber will donate €10 for each attendee that tunes in on the day, with all proceeds going to a Chamber member charity randomly selected on the day.
Register FREE Here
Masterclass: Networking in a Changed World


Thurs 20th Jan | 12pm | Online

Start 2022 the right way with this interactive Masterclass with Networking Expert Kingsley Aikins. Kingsley will break down the fundamentals of networking and set out a precise Four Step Process on how to build a strong and diverse network. Following this session you will be ready to take on any virtual interaction or face to face meeting.

If you would like to improve your networking skills, learn how to make meaningful business connections or simply want to start the new year on a positive note, then this masterclass is for you!

Register FREE Here

Cork Chamber & MII Cork: Mintel – 2022 Consumer Trends


Thurs 27th Jan | 10am | Online

Join us for this virtual event in collaboration with the Marketing Institute Cork where you will hear from Simon Moriarty, Director of Trends EMEA at Mintel. Looking ahead to 2022, Mintel's market trend analysis and prediction research are grounded by observations of the key drivers of consumer behaviour and backed by their robust data sets.

Don't miss this informative session to get an insight into new Consumer Trends to ensure your marketing strategies are on track for 2022!

Register FREE Here

Unlocking Innovation Through Talent

Cork Chamber Skillnet can support you to upskill your workforce via funding from Skillnet Ireland into 2022 and beyond. In an increasingly different business environment workforce planning, people development and strategic innovation has never been more important.

We facilitate funded:

Virtual Training Delivery
Bespoke Online Training
Public Online course offerings
Free Learning and Development Online Webinars

More Details & Booking
Discover Your Best: Cultivate Resilience, Transform Your Mind, & Live Unbound

Member Price €500

Wed 2 March 2022 | 11am-12.30pm | 5 mornings

Learn the science of a resilient & high performing mindset and engineer your life to become your very best every day. Reveal your unlimited potential and achieve the impossible with Stephen McDonnell, a leadership, resilience and peak performance consultant who is committed to helping ambitious individuals, teams and organisations develop the skills, mindset, belief and drive needed to achieve transformational performance

More Details & Booking
| | |
| --- | --- |
| Growing your Business | |
Trading with GB - Customs and Controls

This webinar hosted by Bord Bia on tomorrow 16th December, will provide a practical and holistic view of the custom and control measures that food and drink companies need to operate to to export their product to GB.

Damien Flynn, Head of Brexit Unit at Department of Agriculture, Food and the Marine, will present on known SPS requirements and IPAFFS notifications. There will also be an oppertunity for Q&A at the end of the event .

Register Here
Cork's Place in Europe

Next Generation EU

Many of the challenges and opportunities that we face today are global and it is evident that we cannot address these on our own.

Cork Chamber's recent Communicating Europe Initiative 'Cork's Place in Europe - Next Generation EU' supported by the Department of Foreign Affairs received valuable feedback on what is needed to improve and sustain public dialogue on the EU in Cork - a thriving European city driven by an international outlook.

Read More
| | |
| --- | --- |
| Transforming Cork. | |
Ireland Risks Sleepwalking into Energy Obscurity

In a climate crisis, renewable energy should be progressed with all the urgency that was so successfully brought to bear at the beginning of the pandemic.

The Equinor debacle cannot be repeated or forgotten. Without any malice, there is every potential that Ireland will sleepwalk into obscurity on energy, as global capital finds a home elsewhere.

Read More
Diversity & Inclusion

Cork Chamber's Sustainable Cork Programme is designed to set a vision for a more sustainable and resilient Cork, empowered by a thriving business community. As part of this initiative, we have committed ourselves to furthering five of the UN Sustainable Development Goals (SDGs).

Ensuring diversity, equality and inclusion (DEI) in the workplace is an integral aspect of several SDGs. While DEI is a much discussed topic in the business community, we wanted to understand the true progress being made by companies in the DEI space. The results of this research inform how we can better support our members on their own DEI journeys.

See the results
Increase to National Minimum Wage

From 1st January 2022 the National Minimum Wage will increase from €10.20 per hour to €10.50 per hour.

To ensure that this increase does not result in employers attracting a higher level of PRSI solely due to the increase, the employer PRSI threshold will increase from €398 to €410 on 1 January 2022.

Find out more
Enhancing Your Environment
Dunkettle Interchange Upgrade Scheme

A great deal of work has been undertaken on the Dunkettle Interchange Upgrade Scheme throughout the course of 2021.

Traffic volumes have increased with the wider reopening of society in the last quarter of this year and the public are being reminded of the availability of the "Dunkettle Live" traffic app. In addition to live camera feeds, real time journey duration information is also available for all of the main routes approaches to the Dunkettle interchange Roundabout.

The latest news and progress updates can be found HERE
Part 8 Carrigtwohill to Midleton Inter-Urban Cycleway Phase 1

Plans and particulars of the proposed development are now available for inspection

Part 8 Carrigtwohill /Midleton cycle way (Phase 1) is now on public display.

The closing date for submissions is Friday January 21st, 2022 at 5pm.

More details can be found HERE
Climate Toolkit

Zero carbon journey

The recently launched Climate Toolkit 4 Business aims to support businesses seeking to address their climate impact. The Toolkit provides a clear and accessible starting point and signposts to useful climate action resources and relevant help that is available from Government, through agencies such as Enterprise Ireland, the Local Enterprise Offices and the Sustainable Energy Authority of Ireland.

The tool also allows SMEs to input simple information, such as their energy bills, and get an estimate of their carbon footprint, and to receive personalised action plan to reduce it.

More here
| | |
| --- | --- |
| Members Area | |
Member Christmas Gift Guide

It's that time of year again! We would like to encourage our Cork Chamber members to support local businesses and jobs when doing their Christmas shopping this year. Here is our weekly one-stop Christmas Gift Guide of offers, services and events available to you to shop local.

See All Gift Ideas
Metropole Hotel invites people of Cork to celebrate Christmas together
Cork's most iconic hotel is inviting the people of Cork to celebrate the festive season at The Metropole Hotel
The hotel has launched special festive lunches, dinners and afternoon tea that can be enjoyed with colleagues, loved ones or friends.
Roger Russell, General Manager of the Metropole Hotel said: "Christmas is a wonderful time at The Metropole Hotel. There is a really special atmosphere and we're looking forward to welcoming friends old and new to celebrate Christmas with us. We also want to take the stress out of Christmas shopping. A gift voucher for The Metropole Hotel can be redeemed on many indulgent experiences throughout our hotel, such as a staycation, dining in The MET Restaurant or Afternoon Tea in our Tea Room."
Gift cards are presented in a luxury gift box and can be used in any of Trigon hotels. Order online at TheMetropolehotel.ie or call 021 464 3700
Published by Cork Chamber
© 2021 All rights reserved.