AIB announced as new sponsor of Cork Chamber Annual Dinner
Cork Chamber has formed a new partnership with AIB. A long-standing member with over 200 years of interwoven history, AIB has been announced as the new official event sponsor of the Cork Chamber's Annual Dinner.
The dinner, which takes place in February is Cork Chamber's flagship event and the largest business event in the region bringing together 1,000 business leaders, elected representatives and key national and regional stakeholders.
Read more
Christmas Lunch 2022 in association with Osborne
In partnership with The Marketing Institute Cork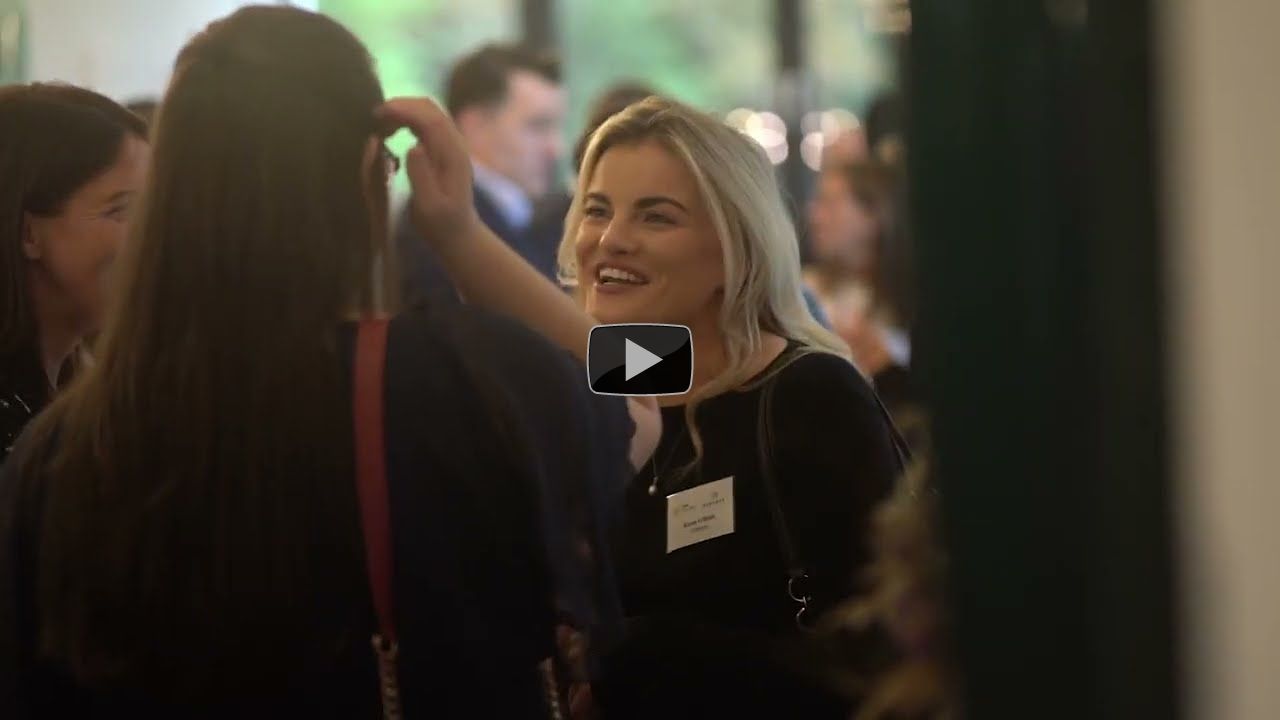 Our Christmas Lunch 2022 in association with Osborne took place Friday, 2nd December at Vienna Woods Hotel with over 300 in attendance. Guests were full of cheer and goodwill as they enjoyed a festive drinks reception and lunch. We were delighted to have Reggie from Blackrock Road who brought plenty of laughs and red faces to the audience!
Another highlight was our Christmas charity raffle, the success of which is due to the outstanding quality of prizes received from generous Chamber members! We have helped many member charities over the years and this year was no different with the generous donation of over €9,000 shared between Cork Cancer Care Centre, Special Olympics Ireland and Mercy University Hospital Foundation.
To see more of the festivities view the photo gallery here.
Cork Chamber & MII Cork: Putting Social Back into Social Media


Wed Jan 18th | 6.15pm-8pm | Clayton Hotel Cork City

Join us for this event in collaboration with the Marketing Institute Cork where we will welcome Cian Corbett, Digital and Innovation Marketing Manager, AIB.

Cian will detail these connection opportunities by showcasing some of AIB's Sustainability content examples from the past 12 months.

More Details & Booking

Save the Date: Annual Dinner 2023


Fri 3rd Feb 2023 | Cork City Hall

In association with AIB

Cork Chamber Annual Dinner is the region's largest flagship event of the year, bringing together business leaders, political decision makers and influencers for this black tie corporate event.

Tickets will go on sale this Friday, 9th December at 10am.

More Details here

TRAINING & DEVELOPMENT
Kingsley @ The Kingsley: Networking 2.0

Member Price Free

Wed 25th Jan | 11am-1pm | In Person

The hidden cost of the last few years is that our networks have shrunk. We have to get back out networking to refresh our networks and build new ones. This in person workshop/presentation with Kingsley Aikins will show you how and why.

More details & booking
Empowering You: Empowerment from Within

Member Price €400

Weds 8 Feb | 10am-12pm | Blended

Empowerment starts with recognising that life is all about choices. We have a lot more choice than people realise. Our unique 3 part empowerment series starts with recognising that life is all about choices.

More details & booking
CRU's First Mover Disadvantage Consultation

Open until 12th Jan.

The Commission for Regulation of Utilities is now accepting submissions on the First Mover Disadvantage i.e., where domestic/non-domestic developers who wish to connect to the water network pay Irish Water for a connection extension and other developers make use of the asset that the original developer funded.

Cork Chamber will be making a submission on behalf of our members and encourage you to have your say directly or get in touch with us <HERE>.

Find out more
The Enterprise Europe Network

Are you looking to grow your business internationally? We can help through the Enterprise Europe Network (EEN). The EEN is the largest support network for SMEs with international ambitions. It brings together experts from across the globe who are renowned for their excellence in business support. This is a free service open to Chamber members as well as the wider Cork business community.

Find out More!
Christmas Gift Guide

It's that time of year again! We would like to encourage our Cork Chamber members to support local businesses and jobs when doing their Christmas shopping this year. Here is our weekly one-stop Christmas Gift Guide of offers, services and events available to you to shop local.
Published by Cork Chamber
© 2022 All rights reserved.