Together making Cork the
best place for business
| | | |
| --- | --- | --- |
| Empowering you | Growing your Business | Transforming Cork |
Representing You

Dear Chamber Member,

I hope you are all well and that those of you returning to the office/workplace environment are once again enjoying the company of your colleagues.

Last week we enjoyed the Cork Digital Marketing Awards, which saw the winners of each category announced, and the overall Digital Marketing Legend was announced as Crawford Art Gallery. Congratulations to all the winners on the day who have shown outstanding resilience and vision in supporting their brands and companies through a changing business environment.

This week, the much anticipated publication of the..

Read more ›
| | |
| --- | --- |
| Transforming Cork | |
Go on ye Legends!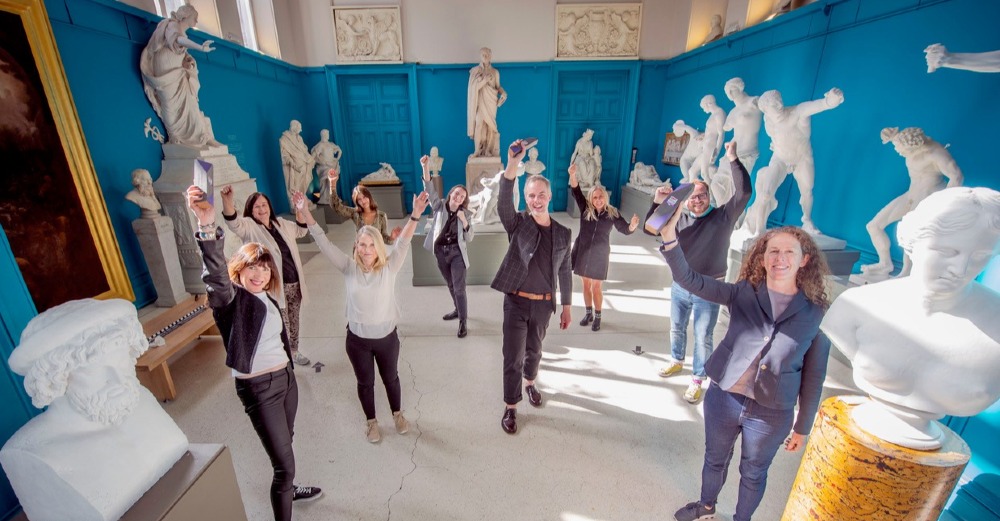 Last Friday we celebrated the best in Cork's Digital Marketing with host Sinéad Kennedy. These awards recognise the responsive, strategic and creative approaches that businesses are bringing to all digital platforms.
Congratulations to our Overall Digital Marketing Legend, Crawford Art Gallery! View the full list of winners HERE!
Commenting on the awards which were hosted digitally, Paula Cogan, President of Cork Chamber said:
"These awards recognise the incredible feats of some of the country's finest digital marketing professionals and it is inspiring to see how their mastery has helped businesses and brands to realise their potential, and to be more dynamic and responsive in a business environment that has been more demanding than ever before."
Thank you to everyone who joined us for our awards ceremony, don't worry if you missed it you can watch back at the link below!
Media Partner:
Watch Back Ceremony HERE
| | |
| --- | --- |
| Empowering You | |
How the Pandemic is Shaping the Future of Work


Thurs 7th Oct | 10am | Online

LAST CHANCE TO REGISTER!

Join Patrick Gallen, Partner, People and Change Consulting at Grant Thornton tomorrow for this informative session on the future of work!

This session will look at how remote working is here to stay with most organisations transitioning to some form of hybrid model along with the implications for leaders when organising and managing their team and how organisations need to prepare for this going forward.

Register FREE Here

Against All Odds – Staying Ahead in a Post Pandemic World


Thurs 14th Oct | 9.30am | Online

We are delighted to partner with the National Recruitment Federation for 'Against All Odds – Staying Ahead in a Post Pandemic World'.

The event will be chaired by Bryan Hyland, Regional Chair and Donal O'Donoghue, President, National Recruitment Federation with an overview of Cork Business by Paula Cogan, Cork Chamber President. Speakers will include Peter Cosgrove, Managing Director, Futurewise Ltd, Bettina Schaller, President, World Employment Confederation, Greg Savage, Author of 'The Savage Truth',and Jimmy Sheehan, Managing Director, Contracting PLUS.

Register FREE Here
| | | |
| --- | --- | --- |
| | | |
| | | |
Cork's Place in Europe - Next Generation EU


Tues 19th Oct | 11am | Online

Join us for this informative session which will look at the role the EU plays and Cork's role as a thriving European city!

Speakers will include Moderator, Noelle O' Connell, CEO of European Movement Ireland, Billy Kelleher, Member of European Parliament (MEP) for Ireland South, Kieran McCarthy, Independent Cork City Cllr, and Member of EU Committee of the Regions and Emmy Coffey Nguyen, Ireland's Alternate Citizen Representative to Conference on the Future of the European Union.

We also ask that you complete this SURVEY which will help inform our Communicating Europe initiative.

Register FREE here

Sustainable Cork Programme: Leadership in Sustainability


Fri 22nd Oct | 11am | Online

This session will highlight how Irish SMEs are really grasping the business case for sustainability and are engaging in transformation and leadership for action to achieve change across all aspects of business operations.

Speakers include a representative from Gas Networks Ireland, James McManus, Managing Director, Earth's Edge, certified B Corp and first SME winner of Chambers Ireland Business Impact Awards 2021 and Sinéad Hickey, Chair of Chamber's Ireland Sustainable Business Council and Head of Sustainability Ireland & Europe, John Sisk & Son (Holdings) Ltd.

Register FREE here

Growth and Opportunity – Showcasing the Financial Services Cluster in South-West Ireland

Fri 5th Nov | 7.45am | Clayton Hotel Cork City

Ireland's South-West region is home to a significant and growing cluster of international financial services (IFS) companies, representing multiple sub-sectors of financial services (FS) complemented by a robust supporting environment which includes a significant presence of audit, accountancy and legal firms.This in-person event will showcase some of the many successful financial services companies operating in the South-West and will highlight certain areas where the sector is particularly strong and growing, such as funds and fintech.

Keynote speakers will include Michael McGrath, TD, Minister for Public Expenditure and Reform and Deirdre O'Connor, Managing Director, BlackRock followed by an impressive panel of industry experts!

Register FREE Here
Dale Carnegie Programme – High Impact Presentations


Member Price €950

Wed 27 Oct | 9.30am-12:30pm | 3 mornings

The experience in this programme is as close as you can get to having a personal coach. You begin presenting from almost the moment you begin session 1. You present at least six times over the course of 3 full half-days. Your presentations are recorded and evaluated. You get expert, one-on-one coaching privately at the end of each presentation

More Details & Booking
MS Excel Advanced

Member Price €150

Thurs 21 Oct | 9.30am-11am | 5 mornings

This course is designed to follow-on from MS Excel Intermediate. Having already familiarised yourself with the most efficient way of performing everyday tasks and now that you have mastered the more commonly used Intermediate topics, it is now time to build on that knowledge. A large proportion of the course is dedicated to managing and manipulating lists of information from working with tables & slicers up to creating and working with Pivot Tables.

Find out more
Cork Commuter rail service improvements

New signalling to enhance safety, and facilitate future

Iarnród Éireann has advised customers that it is set to commission a new signaling system, controlling services in Kent Station, Cork and on the approaching lines, this October. Essential track works will also take place at a number of locations between Mallow and Cork during this time, to minimise overall service disruption.

Resignaling works and track works to result in service impact:

Cork to Mallow replaced by bus transfers 16-26 October and Cork to Cobh/Midleton replaced by bus transfers 23-26 October.

View more here
COP26 - Let's Power Change Together

8 October, 11. 00am

This event will see political leaders on the island of Ireland join together to discuss efforts to tackle climate change. First Minister, Paul Givan and deputy First Minister, Michelle O'Neill will be joined by An Taoiseach Micheál Martin to address a business audience ahead of COP26.

The event will also feature a panel of business leaders, including Ian Talbot, who will discuss 'green' opportunities for business and what global agreement on climate action means for companies on the island of Ireland.

Register FREE here
Eurochambres Economic Survey

29th Annual Business Survey with Chambers Ireland

Together with sister chambers throughout Europe, Chamber members are asked to complete an annual economic survey to understand the European business environment and how it differs regionally.

Take survey HERE
New tariffs for Irish Water business customers

A new non-domestic tariff framework for Irish Water's business customers went live last week.

Irish Water is encouraging businesses to visit www.water.ie where they can assess the impact of the new charges on their future bills using our online calculator tool available on water.ie.
| | |
| --- | --- |
| Growing your Business | |
Discover Your Supply Chain

Northern Ireland Chamber Digital 'Meet the Buyer' Event

Thurs 4 Nov | 9.30am-2pm

Would you like the opportunity to save time and money by meeting suppliers matched to your procurement needs all within one morning? This Meet the Buyer event offers you the opportunity to meet suppliers selected by you, based on your current procurement needs. All you have to do is be available online on Thursday 4 November 2021 to meet with the chosen suppliers for a morning of scheduled appointments. This Meet the Buyer event is designed to provide buyers with a simple and straight forward approach to meeting qualifying local suppliers.

For more information, or to become a buyer, please email Phil Murray <HERE>.
| | |
| --- | --- |
| Members Area | |
Keep Discovering Cork

We continue to support our members in the hospitality, tourism, leisure and retail sectors by enjoying staycations, relishing new gastro experiences, soaking up the atmosphere in the city, exploring the great outdoors and supporting local.

Check out the official tourism website for Cork - www.purecork.ie

Here are some members' news, offers and events in this sector:
Brink's Cash Services (Ireland) Ltd

Introducing Brink's Complete®

The all-in-one solution that combines the best of Brink's hardware, software, and services. A turnkey solution engineered to make accepting cash easier and less expensive from one single-provider. The smart solution for smart businesses.

Visit our website or call our sales team to find out more.

Phone 1890 474 000

Visit us here
Published by Cork Chamber
© 2021 All rights reserved.