Together making Cork the
best place for business
| | | |
| --- | --- | --- |
| Empowering you | Growing your Business | Transforming Cork |
Cork Together

Dear Chamber Member,

I hope you, your families and colleagues are keeping safe and well.

In the last week Urban Regeneration and Development Funding was announced for Cork City and County Councils, totaling €405 million. This is significant funding and is to be allocated across four projects: Cork City Docklands (€353.4m), Grand Parade Quarter (€46.05m), Mallow Town Centre Regeneration (€4.7m) and Passage West - Ringaskiddy - Carrigaline Harbour Cluster (€817.5m).

Government must be commended for aligning the vision set out for Cork in Ireland 2040, as Ireland's fastest growing City Region with the funding set for regeneration. It is a proportionate allocation that will deliver not just for Cork, but for the state. It is essential that the announcement now quickly shifts to investment on the ground and...

Read more ›
| | |
| --- | --- |
| Empowering You | |
Cork Chamber CONNECTS Series
Connect with Limerick Chamber Members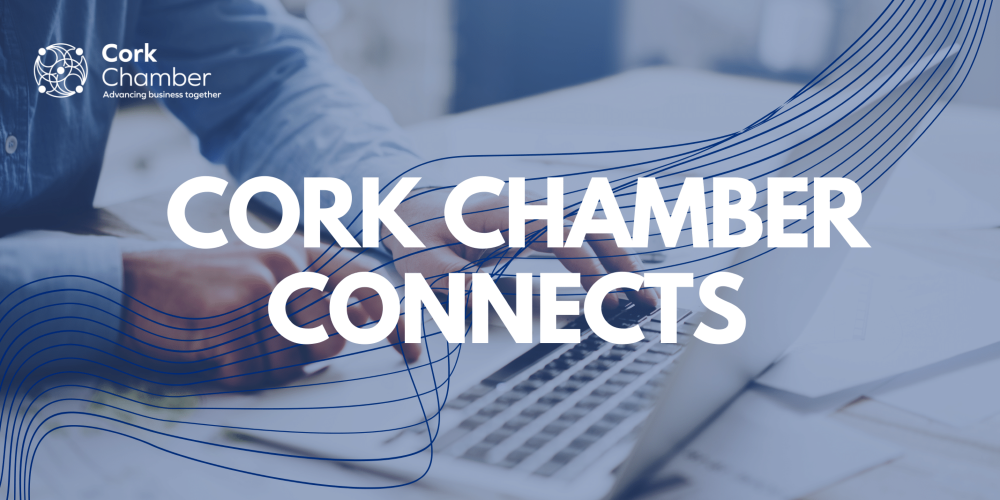 Join us on our new Cork Chamber CONNECTS Series, as we go on tour virtually, broaden our horizons and connect with other businesses nationally and internationally.
Over the coming months we will team up with Chambers of Commerce and other organisations to provide you with new experiences and valuable contacts who are now just a click away!
The first event of the series takes place 22nd April, when you have the opportunity to meet other Cork Chamber members as well as connecting with Limerick Chamber members.
Book Now
Cyber Security is Everybody's Business: From Health to Quantum

Fri 26 Mar | 9.30am-10.30am

This informative virtual event will touch on 5G, 6G, Cyber Security, Quantum and Healthcare.

Speakers will look at the advancements, initiatives and in particular the cyber security challenges that both Ireland and Finland face and how to address them to ensure the advancement, growth and protection of our businesses, economies and societies.

Book Now

Greening Our City: Considering Our Biodiversity in Cork City – Flora and Fauna

Tues 30 Mar | 2.30pm-4pm

This session will outline the status quo with regard to biodiversity in Cork City – both the current state of it and the possibility of creating spaces within the city for biodiversity niches. Speakers, Dr. Eoin Lettice and Dr. Paul Holloway form UCC will outline realistic measures needed in order to make it more feasible, whether there are examples in other cities of where this has been successful and refer to the research areas they are currently progressing.

Book Now

MS Excel Intermediate


Member Price €150

Mon 19 Apr | 14:30pm-16:00pm | 5 afternoons

This course is suitable for those who are currently using MS Excel regularly but may not have attended formal training recently or may never have attended the training. This online course is for those with a busy schedule and is adaptable to the challenges of every lifestyle.

Find out more

MS Powerpoint


Member Price €150

Thurs 22 Apr | 09:30am-11:00am | 4 mornings

This course is suitable for those who are totally new to MS PowerPoint. We will cover the essential functionality of PowerPoint at a pace that is suitable for total beginners. All participants will be given access to a recording of the webinars by way of an email along with relevant files and user reference guides.

Find out more
| | |
| --- | --- |
| Transforming Cork | |
Enhancing Your Environment
Champion Green

#ChampionGreen is a national movement designed to help drive the recovery of our communities and economy post-Covid.

As a Champion Green supporter we support local whenever possible. You too can join the movement and access the new toolkit of resources HERE.

There is also a webinar on Thurs 25 March to help business owners get ready to re-open over the coming months.

Event details here
CNG Vehicle Grant Scheme

The CNG Vehicle Grant Scheme has been created to assist Irish fleet operators and hauliers in funding the transition to new, cleaner Compressed Natural Gas (CNG) vehicles. The scheme will support the purchase of up to 400 new CNG vehicles, which will support the decarbonisation of Ireland's transport sector and provide an affordable, proven and viable alternative to diesel for Irish fleet operators.

Find out more
International Tourism Conference

Developing the Future Cork Destination and Visitor Experience

Fáilte Ireland is developing a Destination Experience Development Plan for Cork City, Cork Harbour and the East Cork region. As part of the process, Fáilte Ireland is hosting a conference on Thursday 25 March (10am–12pm) which will feature tourism experts to share their insights on how international tourism destinations are preparing for the future and give their views on global tourism best practice.

Find out more
Supports for Business Guide

The Department of Enterprise, Trade and Employment has updated the comprehensive guide to all the supports available to businesses impacted by COVID-19. The Guide is divided into 6 sections and also includes an Appendix which contains a COVID-19 Business Continuity Checklist which outlines some of the key risks to businesses as well as preparatory actions that can be taken to respond.

Browse and download here
| | |
| --- | --- |
| Growing your Business | |
EENGINEX 2021 - Engineering Meet the Buyer & Matchmaking Event

Enterprise Europe Network in conjunction with the Local Enterprise Offices in Ireland is hosting EENGINEX, the engineering "Meet the Buyer" event which takes place virtually on Thursday, 15th April 2021. The event which offers participants a unique opportunity to engage in face-to-face sales meetings with senior buyers from throughout Ireland and the EU.

Additional Information Here
The Export Webinar Workshop

Enterprise Ireland is inviting Irish microbusinesses and SME companies, who are looking to take the first steps on the export journey, to attend this virtual workshop that will explore how to overcome challenges most businesses are experiencing in the current environment such as the pandemic and Brexit.

Register Here
| | |
| --- | --- |
| Members Area | |
Murphy Geospatial

At Murphy Geospatial, we provide critical surveys and data our clients need to work with confidence and maximise efficiencies across the project lifecycle. Murphy Geospatial recognise the logistical challenges posed by large-scale complex facilities. Our teams have extensive experience working in these environments to the highest standards. Our innovative approach and use of technology ensure we can always deliver geospatial certainty.

Our validated processed data is hosted on accessible digital platforms to enable remote access by multiple stakeholders so that design and operations can proceed without the need for costly and risky site visits. Our geospatially accurate data enables better informed planning and means that operational decisions can be made quicker.

Contact us today at our Cork office: 021 4895704 or email us HERE

Visit murphygs.ie
Published by Cork Chamber
© 2021 All rights reserved.