Together making Cork the
best place for business
| | | |
| --- | --- | --- |
| Empowering you | Growing your Business | Transforming Cork |
A New Era for Cork

Dear Chamber Member,

I hope you, your colleagues and families are keeping well. This week we celebrated a number of good news stories for the Cork region, not least of which was the reopening of Cork Airport. It was wonderful to see the improvement works complete and the first arrivals and departures on the new runway. Continued investment in our infrastructure and connectivity is a key element in enhancing the economic growth of our region. The team at Cork Airport have been exemplary in demonstrating that major infrastructure works can be delivered efficiently and quickly.

Today's news of plans for the €350m...

Read more ›
| | |
| --- | --- |
| Empowering You | |
Cork Chamber Christmas Cracker
Thurs 16th Dec | 12pm | Online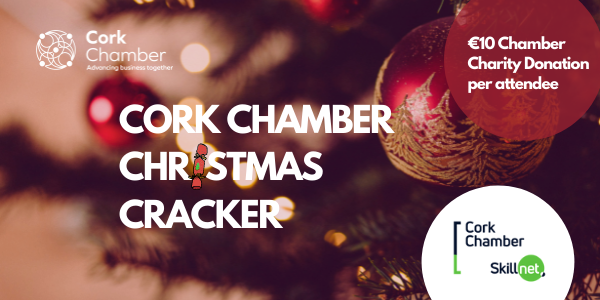 With plenty of festive fun, games, prizes and much more, this is the perfect seasonal event for you and your colleagues to attend, all from the comfort of your home or office! We will be joined by Zoom Party's Steve Cummins, headliner in every major comedy club in Ireland and has regularly performed on BBC, RTE, Channel 4 and TG4. Steve will keep everyone entertained with his great line up of interactive games with minor challenges and major laughs!
As well as fun and games you can be sure you will be making a real difference.This year Cork Chamber will donate €10 for each attendee that tunes in on the day, with all proceeds going to a Chamber member charity randomly selected on the day.
Register FREE Here
Sustainable Cork Programme: Climate Action - From Global to Local


Fri 26th Nov | 11am | Online

In this session we will bridge the gap between global commitments and targets from COP26 and the Climate Action Plan and will share what this means locally, on the ground and in your business.

Speakers will include Shane O' Reilly, Director Sustainable Futures, KPMG Ireland, David Joyce, Director of Services, Operations Directorate, Cork City Council and Paul Murphy, Climate Action Solutions Lead, Climeaction - a Leading Edge Group company.

Register FREE Here

Greening Our City - Can Cork Feed itself?


Tues 30th Nov | 2.30pm | Online

With a rising focus on food poverty and concerns about food security linked to climate change, food growing and urban agriculture are often cited as solutions. This discussion will explore the systemic social and economic structures in Cork City that contribute to our food system and how Cork can aspire to develop a sustainable and healthy food system for all.

We will be joined by Colin Sage, a retired Senior Lecturer in the Department of Geography at UCC who now works as an independent scholar based in Portugal.

Register FREE Here

Business Breakfast Live with Niall MacCarthy, Managing Director, Cork Airport

Wed 8th Dec | 8am | Online

Join us for this timely Business Breakfast Live to find out what the future holds for Cork's international connectivity following a pandemic that has devastated the international aviation sector.

Niall will discuss how Cork Airport used the Covid downturn to invest over €40 million in its business and leave it poised for strong recovery and address the challenge of how sustainable the sector can become.

Register FREE Here
Discover Your Best: Cultivate Resilience, Transform Your Mind, & Live Unbound


Member Price €500

Wed 2 March | 11-12.30pm | 5 mornings

Learn the science of a resilient & high performing mindset and engineer your life to become your very best every day. Reveal your unlimited potential and achieve the impossible with Stephen McDonnell, a leadership, resilience and peak performance consultant who is committed to helping ambitious individuals, teams and organisations develop the skills, mindset, belief and drive needed to achieve transformational performance

More Details & Booking

Linkedin for Business


Member Price Free

Thurs 2 Dec | 9.30am-11am

This webinar will empower participants with the skill, tools and knowledge to be able to use LinkedIn effectively to develop brand awareness and for customer acquisition. Participants should have gone through the basics of setting up a LinkedIn account and verified their account in advance of this webinar.

More Details & Booking
| | |
| --- | --- |
| Transforming Cork | |
Cork Bus Connects

Public consultation until 10 December

Bus Connects Cork is the National Transport Authority's plan to improve Bus Services throughout the city and suburbs. A second Public Consultation on the Draft New Network is now underway to hear your views on the amended bus network proposals.

It is envisaged to include benefits like; an increase of over one third in bus services in Cork; a new frequent network that paves the way for Luas; shorter waits and more direct routes and additional services at weekends.


Cork Chamber is making a submission to Bus Connects on behalf of members. If you or your company have feedback to share, get in touch with mkelly@corkchamber.ie The closing date for submission to the consultation is 10 December 2021.

More info here.
Cork City Road Traffic (Special Speed Limits) Bye-Laws 2021

Cork Chamber Submission

The proposed Special Speed Limits Bye-Laws 2021 aim to create a safer environment for communities while promoting sustainable modes of transport such as walking and cycling.

Cork Chamber fully support the proposals and we hope that it will result in similar action being taken in other areas of the city in the future.

Browse submission online
Little Island Update

An update to members

On November 18th our members based in the Little Island area were updated on the ongoing and planned developments in the area.

Read more ›
| | |
| --- | --- |
| Growing your Business | |
Shop Local, Gift Local

The Cork Chamber Gift Card

The Cork Chamber Gift Card is a great way to support local, as this gift card is specifically for the Cork region and provides hundreds of options of where it can be spent.

The Cork Chamber Gift Card has proven to be very popular among corporate customers who purchase the card as staff rewards and corporate gifts.

Order or find out more
HR Barometer Report

Key insights and considerations to support HR in 2022

2022 will be another challenging year for Employers; Recruitment & Talent Acquisition and Employee Retention remain key challenges and priorities. But what else should Employers be considering as they look to attract and retain talent? What are other Organisations doing in relation to Pay & Benefits, Diversity & Inclusion, Retirement & Pensions and Work Practices?

The HR Barometer Report answers these key questions and more relating to HR and Employment Law.

Find out more
Fintech Bridge - Ireland and Canada

With the support of the Canadian Trade Commissioner Service and the Embassy of Canada to Ireland, Fintech Ireland is delighted to host another excellent Fintech Bridge Event, this time with Canada.

Join this free online webinar on the 30th Nov 2021 and take a deeper look at Fntech in Canada and Ireland and the opportunity for the industry in each other's country.

Line up of Speakers Include:

Nancy Smyth, Ambassador to Ireland; Peter Oakes, Fintech Ireland; Meena Bhullar, Vice Consul & Trade Commissioner, Embassy of Canada in Ireland; Jennifer Reynolds, President & CEO, Toronto Finance International.

Register Here
Doing Business with GB Video Series

With the practical impact of Brexit on trade with our nearest neighbour becoming more apparent, Bord Bia have worked together with BDO (with the support of Department of Agriculture Food and the Marine & The Office of the Revenue Commissioners) to develop a comprehensive set of videos - Doing Business with GB - to help Irish food, drink & horticulture companies navigate this new trading environment.

These 11 short videos provide detailed information on what Brexit means for Irish food producers in practical terms, when importing from, or exporting to, GB.

View Here
| | |
| --- | --- |
| Members Area | |
Member Christmas Gift Guide

It's that time of year again! We would like to encourage our Cork Chamber members to support local businesses and jobs when doing their Christmas shopping this year. Here is our weekly one-stop Christmas Gift Guide of offers, services and events available to you to shop local.

See All Gift Ideas
Trócaire

Support Trócaire this Christmas

Trócaire's sustainable ethical gift range includes favourites like beehives for drought-stricken farmers in Kenya and hot school lunches for children in Somalia. Trócaire have added a range of new gifts that help women and girls worldwide. This includes the Gift of Menstrual Dignity (€10) to provide girls with supplies for a safe and hygienic period and a Mental Health Lifeline Gift (€50) which provides the women and children of Gaza access to vital mental health care.

Please support here
Published by Cork Chamber
© 2021 All rights reserved.