CORK DIGITAL MARKETING AWARDS 2022
The Nominees are...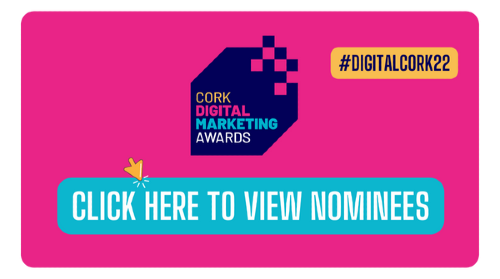 The Nominees for this year's Cork Digital Marketing Awards are out now.
Find out who made the shortlist and share the good news using #DigitalCork22.
Semi-Finalists will be announced on the 21st September!
In association with
AB Sales, ClickDimensions, Cork Chamber Skillnet, Grant Thornton, Munster Technological University
Osborne, Radius Technologies, Velo Coffee Roasters
Media Partner
Irish Examiner
View Nominees HERE
Sustainable Cork Programme: Electric Mobility - Redefining our City

Fri 16 Sept | 11am-12.15pm | Online

This SCP Webinar will explore the untapped potential for urban sustainable mobility, sharing resources and the role of innovation and e-mobility in creating opportunities for cleaner and greener travel to help reduce congestion.

You will hear speakers from Smart Mobility for the City of Amsterdam, Future Mobility Campus Ireland (FMCI) and Oliver Wyman Automotive & Manufacturing practice.

Register FREE Here
Lunch on Board the Brittany Ferries Pont Aven

Sat 17 Sept | 12pm-3pm | Ringaskiddy Port

Join us for our annual lunch aboard the Brittany Ferries flagship vessel the 'Pont-Aven'. This event will provide you with an exclusive opportunity to explore the fantastic facilities on board the luxury ferry as you enjoy a charming afternoon in Cork Harbour.

We will welcome representatives from the French Embassy, including H.E. Vincent Guérend, Ambassador of France to Ireland and a number of guests from Brittany Ferries and various diplomatic circles.

More Details & Booking
Employment Law Updates: Planning for Compliance, Preparing for Change

Wed 21 Sept | 10am | Online

With so many changes to the HR & Employment landscape in 2022, it has been difficult for employers to keep up. Don't miss this opportunity for a quick recap on the key changes to date in 2022 and a look ahead on further changes expected in 2023.

Join leading senior HR, IR and Employment Law specialist, Sarah Fagan, Managing Director, Adare Human Resource Management as she discusses this topic in detail exploring practical considerations, answer key questions and provide guidance for businesses in this area.

Register FREE Here
How To Reduce Low Level Conflict in the Workplace


Member Price Free

Wed 21 Sept | 10am-11:30am | Online

This course will help you proactively identify and manage conflict at work and life in general. It covers the people management skills you need to become part of the solution to resolving workplace conflict – not the problem.

Register FREE here

Dale Carnegie Programme – High Impact Presentations


Member Price €950

Tues 27 Sept | 9am-12:30pm | 3 mornings

The experience in this programme is as close as you can get to having a personal coach. You begin presenting from almost the moment you begin session 1. You present at least six times over the course of 3 full half-days. Your presentations are recorded and evaluated. You get expert, one-on-one coaching privately at the end of each presentation.

More details & booking
Certificate in CPD in Workplace Change: Practice and Skills


Member Price: €800

Start Date Wed 21 Sept

The world of work has undergone seismic shifts in the last couple of years. Workplace practices that have existed for decades are now being challenged. Organisations require their staff to be increasingly agile to respond to such change, while also demonstrating sufficient personal resilience to be able to cope with ongoing change. This course will provide learners with the key skills and tools to not only survive, but to thrive in times of change.

More details & booking

IMI Essential Skills of Management


Member Price: €1250

Tues 4 Oct | 9:00am-5:00pm | 6 sessions, 2 per month from Oct - Dec | Online

Essential Skills of Management is one of IMI's most popular executive development programmes. This IMI highly interactive six-day programme is designed to enhance your existing management skills. We will help you develop new competencies within a framework of identified essential skills. It is comprised of 6 full days divided into 3 modules of 2 consecutive days each. Grant funding for this course is prioritised specifically for management development in SMEs with less than 250 employees.

More details & booking

Cork Clean Air Together

Call for citizen science participants

The joint citizen science EPA and An Taisce project, Clean Air Together, is seeking 1,000 participants residing in Cork city to sign-up to measure levels of traffic pollutant nitrogen dioxide across the city with the goal to improving air quality. Online registration is now open until 22nd September.

Find Out More
World Green Building Week

Tour of Mahon Point Shopping Centre

In advance of green building week, the Irish Green Building Council will host of tour of Mahon Point on Thursday September 8, 12pm-1pm. Mahon Point Shopping Centre was the first in Ireland to achieve The BREEAM in use certification. Since then their scores have improved every year through their many sustainability initiatives, with solar panels, a ground water well and more.

Join the tour to find out more about the sustainable initiatives that have helped save 75 tonnes of carbon emissions.

Register free here
Exporting and Legalisation

What you are exporting and where you are exporting to will play a major role in determining the export documentation you require. Our export documentation service team has years of experience supporting companies to ensure the safe passage of goods, this includes legalisation services that requires documents legalised by the appropriate embassy. Speak to our export documentation team to discuss your requirements and minimise your worries

Find out More
ICOE-OEE 2022 - Ocean Energy Brokerage Event

The Enterprise Europe Network would like to share the Basque Energy Cluster and Ocean Energy Europe joint event on ocean energy, taking place on 18-20 October 2022. The event will combine the International Conference on Ocean Energy (ICOE) and Ocean Energy Europe's (OEE) annual event.

Read More
Published by Cork Chamber
© 2022 All rights reserved.