Together making Cork the
best place for business
| | | |
| --- | --- | --- |
| Empowering you | Growing your Business | Transforming Cork |
Dear Chamber Member,

I hope you, your families, friends and colleagues are all well.

Bike Week 2020 is upon us, and offers a rich and valuable celebration and promotion of everything bike. The city, county and indeed the country is spinning with cycling activities. Everything from bike workshops and 2-wheeled meet ups to bicycled inspired documentaries means that there really is something for everyone in Bike Week.

There is, however, a proverbial elephant in the cycle lane...

Read more ›
| | |
| --- | --- |
| Empowering You | |
Your Business: Planning for Exit and Succession

Wed 30 Sept | 11am-12pm | Online

This webinar has been specially organised for members by Chambers Ireland in partnership with AIB. On foot of recent research showing that approximately 32% of all Irish SMEs and their owners are likely to exit the business within the next five years (Ipsos MRBI/AIB). Don't miss this informative session which will bring together a panel of experts to provide key insights on exit and succession for business owners across the country.

Register here

Keeping the Show on the Road... and the Sea!

Thurs 01 Oct | 2.30pm-3.30pm | Online

We are delighted to be partnering with the Irish American Business Chamber Network in hosting a discussion with panelists Conor Mowlds, Chief Commercial Officer, Port of Cork Company, and Jeffery L. Culbertson, CPE, Chief Commercial Officer, PSA Penn Terminals, LLC, to discuss connectivity, export infrastructure and the new, direct ICL shipping route between Cork and the USA.

Register here
| | | |
| --- | --- | --- |
| | | |
| | | |
Sustainable Cork Programme with Reddy Architecture + Urbanism

Fri 2 Oct | 11am-12pm | Online

Our second webinar of the series titled 'Living in the Heart of Our City' will feature Tony Reddy, Chair of Academy of Urbanism and Sean Kearn, Director of Reddy Architecture + Urbanism. They will discuss best principals of urbanism at this pivotal time, including discussions on City Centres, the pandemic, and the City Development plan.

Register Free here

Measuring Social Media Activity & The Benefits For Your Business

Tues 6 Oct | 11am-11.45am | Online

Join Marian Murphy, Head Socialite & Trainer, Flourish With Social Media, as she gives you and your business an overview of what you can measure on Facebook, LinkedIn, Twitter & Instagram and the benefits of measuring activity on these platforms. Social media is an important part of a business now more than ever.

Register here
Cork Digital Marketing Awards 2020

Fri 9 Oct | 3pm-4.30pm

Join host Sinead Kennedy to mark the very best in digital marketing in Cork as she announces the winners of each category along with the Overall Digital Marketing Titan 2020! All facets of digital marketing will be recognised, with awards including Best in Content Creation, Best Digital Marketing Team and awards for individual channels from Website to Instagram. #DigitalCork20

Register here
Increase your Personal Impact


Member Price €150

Fri 16 Oct | 9:30am-12:30pm | 2 mornings

This course is designed to enable you to develop the essential skills required to navigate the future of work and continuous change.

Build and maintain professional relationships and networks. Communicate with greater impact, purpose and confidence.

More Details & Booking

Project Management Essentials


Member Price €330

Wed 14 Oct | 9am-1pm | 4 mornings

Enter the world of project management by acquiring the core skills of the role. Become confident in managing a complex project by learning how to integrate its conflicting facets into a manageable entity.

It is especially suitable for people new to Project Management or project Team Members who need to interact more efficiently with the Project Manager and Project Stakeholders.

More Details & Booking
| | |
| --- | --- |
| Growing your Business | |
The Future EU-UK Partnership

Yesterday marked 100 days until the end of the transition period. While a deal has not been concluded, all businesses should focus on minimising potential operational impact post-Brexit.

Supports and Advice
HSA Brexit Webinar Series

The Health and Safety Authority will host a series of webinars, starting on 2nd October, focusing on accreditation, the use of notified bodies and implications for those businesses involved with transportable pressure equipment, machinery and chemical products.

Register Here
| | |
| --- | --- |
| Transforming Cork | |
Enhancing Your Environment
We-Bike Cork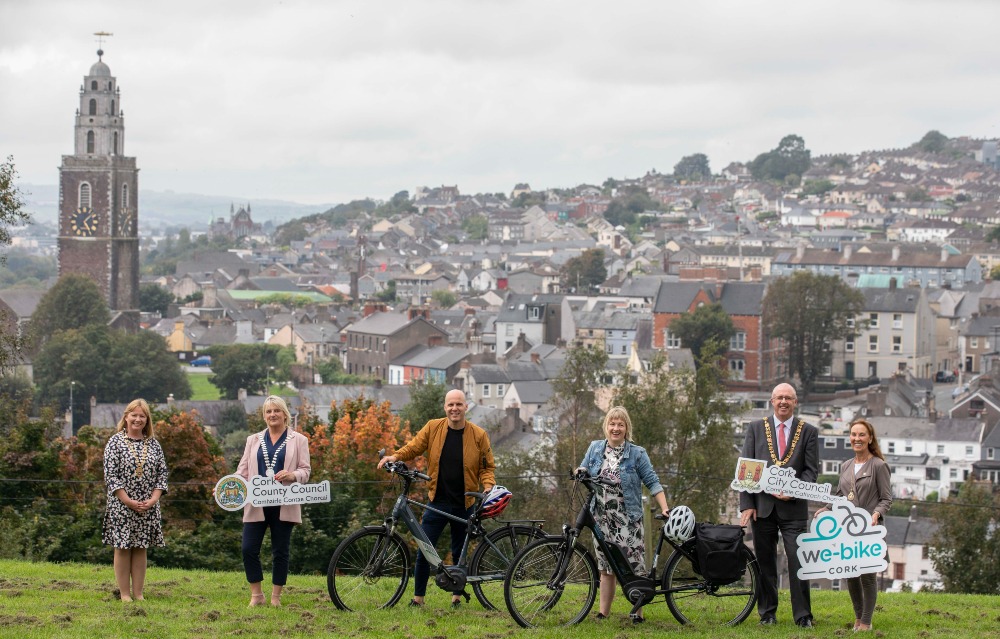 It's not all about pedal power this Bike Week 2020. e-bikes help many go further, climb higher and make biking more accessible. Cork Chamber is supporting We Bike Cork, the first dedicated e-bike campaign in Ireland.

Now, for the first time ever, e-bikes will be covered under the Bike to Work Scheme (saving you up to €800).
If you need financial help to get your wheels rolling, Credit Unions across Ireland have a plan.

Find out more
Climate Hub for SMEs

The SME Climate Hub for small and medium-sized enterprises (SMEs) provides a one-stop-shop to make a climate commitment and access best-in-class resources — by business, for business. These resources will help you measure, set targets, reduce your business' emissions, track and communicate progress, and free up your time to focus on driving your business forward.

Find out more
Mapping skills in Cork County

Cork County Council and Abodoo have teamed up to map the skills of Cork County. It is intended that this ongoing live heat map of skills will influence future policy developments that will stimulate economic growth in the county, support the opening of future digital hubs and highlight the talent pool for FDI as well as expansion by indigenous Irish companies and sectors.

To learn more and to participate please <Click Here>.
Apprenticeship Roadmap for Ireland to 2025

Have Your Say

The Regional Skills Forum have prepared a 6 question survey to seek employer perspectives and recommendations on what the Apprenticeship Roadmap for Ireland to 2025 should look like.

Please take a brief moment to guide the Forum and Department of Education in the formulation of this plan.

Submit your responses
Sustainable Business Impact Awards 2020
The Chambers Ireland Sustainable Business Impact Awards 2020 will take place tomorrow, Thurs Sept 24, hosted by Mary Kennedy.
You can browse all the finalists and tune in for to the virtual ceremony at 3.30pm.

Tune In
| | |
| --- | --- |
| Members Area | |
Save €9000 on a nearly new Hyundai EV with Kearys

Kearys Hyundai has just launched its Business Grant on nearly new Hyundai Electric Vehicles (EVs) plus an additional €250 discount for Cork Chamber members. There couldn't be a better time to buy an EV for your business!

SAVE €9,200 on the nearly new IONIQ EV range

SAVE €8,582 on the nearly new KONA EV range

No BIK - 0%

Low Running Costs

Far less maintenance

20% of VAT Reclaimable

€600 Grant for a Home Charger

Only €120 Annual Road Tax

WPLT Range of 449km KONA Electric & 312km IONIQ Electric

Visit www.kearys.ie
Published by Cork Chamber
© 2020 All rights reserved.