Cork Digital Marketing Awards 2022
Fri 21st Oct | 6pm-11pm | Carrigaline Court Hotel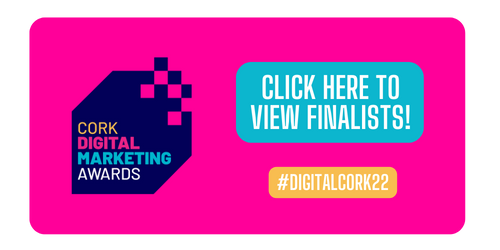 Congratulations to all our finalists! Winners and the Overall Digital Marketing Legend 2022 will be announced at the Cork Digital Marketing Awards ceremony on Friday, 21st October 2022.
In association with
AB Sales, ClickDimensions, Cork Chamber Skillnet, Grant Thornton, Munster Technological University
Osborne, Radius Technologies, Velo Coffee Roasters
Media Partner
Irish Examiner
View Finalists HERE
Cork Company of the Year Awards 2023

Open for Entries

Now in their 25th year these awards recognise the diversity and vibrancy that exists in the Cork business community. These awards are highly competitive but offer entrants a valuable platform among peers, stakeholders, customers as well as employees.

Find out more
Lunch on Board the Brittany Ferries Pont Aven


Sat 15th Sept | 12pm-3pm | Pont Aven, Ringaskiddy Port

This event will provide you with an exclusive opportunity to explore the fantastic facilities on board the luxury ferry. Enjoy a charming afternoon in Cork Harbour with lunch prepared by the best of French chefs and served with specially selected French wines. All served while you network with the France-Irish business community in Cork.

More Details & Booking
Business Breakfast with Eamonn Crowley, CEO, Permanent TSB


Tues 25th Oct | 7.30am-9am | Clayton Hotel Cork City

In association with RDJ & media partner Irish Examiner

Eamonn Crowley joined Permanent TSB as Chief Financial Officer and Executive Director in 2017 and was appointed CEO in 2020. Before joining Permanent TSB, he held a number of senior executive roles including, Chief Financial Officer of Bank Santander Poland and Chief Operating Officer of AIB's Central and Eastern Europe Division. Don't miss out on the chance to hear from Eamonn.

More Details & Booking

Cork Chamber Dublin Dinner 2022


Tues 22nd Nov | 7pm-11pm | Clayton Hotel Burlington Road, Dublin

In association with EY

Join over 600 business leaders, key political decision makers and stakeholders as we gather to celebrate the relationship between Ireland's two largest city regions, Dublin and Cork. This year's guest of honour and keynote speech will be delivered by Minister for Public Expenditure and Reform, Mr. Michael McGrath T.D and on the night, we will honour the winner of our Outstanding Contribution to Business Award for 2022.

More Details & Booking

MS Excel Intermediate

Member Price: €150

Tues 11 Oct | 2:30pm-4pm | 5 sessions | Online

Suitable for those who are currently using MS Excel regularly but may not have attended formal training recently or may never have attended the training. This online course is for those with a busy schedule and is adaptable to the challenges of every lifestyle.

Register FREE here
IMI Essential Skills of Management

Member Price €1250

Tues 8 Nov | 9am-5pm | 6 sessions, 2 per month over Nov/Dec/Jan | Online

Essential Skills of Management is one of IMI's most popular executive development programmes. This IMI highly interactive six-day programme is designed to enhance your existing management skills. We will help you develop new competencies within a framework of identified essential skills. It is comprised of 6 full days divided into 3 modules of 2 consecutive days each. Grant funding for this course is prioritised specifically for management development in SMEs with less than 250 employees.

More details & booking
Clean Air Together

The Chamber office is taking part in the Clean Air Together project to measure the air quality across Cork between Oct 3-27. It is a citizen science project where approximately 1,000 participants are recording levels of Nitrogen Dioxide (NO2) pollution in their local area. It is a joint project between the Environmental Protection Agency (EPA) and the Environmental Education Unit of An Taisce.

Find out more
Cork City Retains Purple Flag

Cork city centre retains its purple flag accreditation in recognition of the night-time economy offering covering areas of safety, ease of movement, cleanliness, and cooperation amongst stakeholders.

Read more
Shine A Light on Homelessness

In May, homelessness figures surpassed 10,500, the highest figure recorded since before the pandemic due to a lack of affordable, secure housing in Ireland. But you can make a difference.

Thia Hennessy board member and honorary secretary Cork Chamber, is asking you to help Focus Ireland raise vital funds and #ShineALight on homelessness. Donate to Thia's Sleep-Out which takes place on Spike Island Cork on Oct 14.

Donate here
Biarritz Good Fashion B2B Meetings

Are you a professional in the textile fashion industry and wish to develop new sustainable solutions? Meet potential customers, industrial or research partners, buyers and find new European customers and benchmark with other international suppliers by taking part in the above event on 21 Oct 2022.

Find Out More
International Trade and Prosperity Week

The ICC's International Trade and Prosperity week will be held virtually from 17th - 20th Oct. This year's conference theme, "Building Resilience in Global Value Chains" will explore the latest global economic trends by sharing views from international boardrooms, an expert roundtable on the roadmap for digital trade in 2023, as well as dedicated sessions on the new global biodiversity framework being agreed this year.

Find Out More
Adare Human Resource Management

World Menopause Day on 18 October is an opportunity to raise awareness of menopause and help provide an understanding of the health issues associated with the various stages of menopause.

Sarah Fagan, Managing Director at Adare Human Resource Management provides some advice on what employers can do to help support employees experiencing menopause in the workplace.

Find out more
Spotlight

ISM Training – the Leaders in Transport & Logistics Training

ISM Training Services specialise in Transport & Logistics, Working at Height, and Health & Safety Training. We are the leading provider of CPC Transport Manager and Dangerous Goods Safety Advisor training in Ireland.

CPC Transport Manager Course | January 2023 | Live Online with Expert Transport Trainers

CPC Transport Manager online course gives the knowledge and skills required to become qualified to operate a Road Haulage or Passenger Transport business within the EU.

Talk to the ISM Training Manager | Paul Kenny | 087 320 0222 | paulkenny@ism.ie

Learn more
Published by Cork Chamber
© 2022 All rights reserved.