Join South West Irish companies and stakeholders in the Midlands UK
---
Dear ,

Following its successful launch in Cork, "Joining the Dots" comes to the world class Manufacturing Technology Centre in the heart of the UK's Midlands.
You are invited to participate in a delegation, comprising companies and stakeholder from South West Ireland, to visit the Midlands region in the UK, supported by the British Embassy in Dublin and the UK Department of International Trade (DIT).
---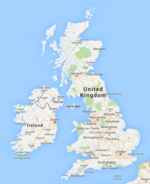 Who can participate?
Businesses from the South West region (with a particular emphasis on Agri-tech, ICT, Cyber, Precision Engineering and Manufacturing sectors) as well as stakeholder organisations including representatives from local government, academia, and enterprise and development agencies. Attendees include the British and Irish Ambassadors, local government leadership, businesses and academics.
Why participate?
Meet local businesses and stakeholders in the Midlands and learn more about the local centres of excellence including the Manufacturing Technology Centre (MTC) in Coventry (only 30 mins Birmingham Airport).  
Learn more about initiatives and opportunities for scaling companies in the Midlands region, as well as investing and buying in the UK.
Build links and new collaborations across business, research and education between Cork and South West Ireland and the Midlands, UK.
---
You are invited to select to attend one of three study tours on Thursday 4 July:
Tour of the Science Park and overview of Midlands Cyber to include soft landing offer (co-working space, public relations and industry introductions)
Meet 5G Testbed team
Learn about BetaDen -  a commercial tech accelerator
Seminar by QinetiQ - a multinational defence technology company and Clive Summerfield, founder of Auraya - the world leader in voice biometric technology
Learn about international links and cyber MOU with Maryland USA
Visit to Midlands sites facilitated by regional stakeholders including West Midlands Combined Authority and Chambers of Commerce on issues relating to regional development.

---
Programme of activity:


Wednesday, 3 July



Depart




Shannon

Depart




Dublin 

Depart Cork

 
 
06.45
 
08.10
Arrive Birmingham 
08.45
Depart airport for Coventry City Council by minibus
09.15
Working breakfast with senior representatives from Coventry City Council (Director of Business and Investment, Head of Economic Development, and senior representatives from the Chamber and growth hub).
10.30
Tour of Council Chambers and Cathedral by John Norton, Investment and International Trade Manager
 
10.35 arrive at
12.45 
Networking lunch in Manufacturing Technology Centre (MTC). The MTC develops and proves innovative manufacturing processes and technologies in an agile, low risk environment, bridging the gap between academia and industry.
11.05 arrive at
 
13.30
'Joining the Dots' event - arrival and registration
 
14.00
Panel discussions and networking opportunities with high level stakeholders from the UK's Midlands and South West Ireland
16.00
Networking Reception
16.45
Tours of Manufacturing Technology Centre (MTC)
19.30
Networking Dinner at Coombe Abbey*

    

Thursday, 4 July



09.30

Study Tours in the Midlands Region



Agritech Focus
Cyber Focus
Stakeholder collaboration

14.30
Visits conclude
17.05
Depart Birmingham
18.35
Arrive Cork




* Rooms have been reserved at Coombe Abbey and one nights' accommodation is offered to delegates by the British Embassy, Dublin, for Wednesday 3 July on a first come, first served basis. Accomodation is offered to one delegate per organisation. Delegates wishing to stay additional nights must book and pay for their own accommodation.
---
Flight options:


Departure,  3 July

Return, 4 July 

*Recommended flights which include transfer to event location on 3 July.


N.B. Flight bookings and payment are the individual responsibility of participants.

    Depart  

 Arrive 

Depart 

Arrive 

 
Cork - 06.45* 


Birmingham- 08.10
Birmingham - 17.05*
Cork - 18.35

Shannon -11.05
Birmingham - 12.45
Birmingham -15.10 
Dublin -16.20
Dublin -6.30
 Birmingham - 07.40

Birmingham 08.40

Shannon - 10.20
Dublin -10.35 
 Birmingham -11.50

Birmingham - 19.10


Dublin - 20.20