Together making Cork the
best place for business
| | | |
| --- | --- | --- |
| Empowering you | Growing your Business | Transforming Cork |
INTERNATIONAL TRADE / ACCESSING NEW MARKETS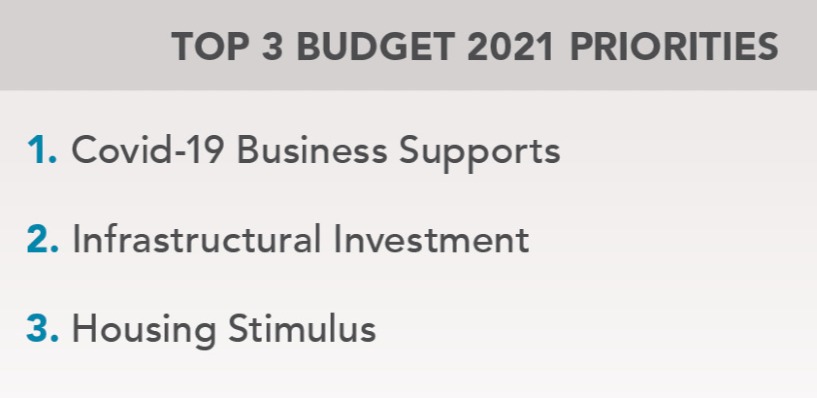 92% of respondents reported that a more sectoral approach is now needed in the expansion of Covid-19 supports.
"Challenges pre-Covid have not gone away and Government must prioritise recovery that enables a strong thriving region through investment and not austerity. Climate Action featured strongly here also, a clear indicator to us that action on climate must be a top priority in the upcoming budget."
Paula Cogan, President, Cork Chamber
The second economic trends survey of 2020 captures the sentiment of the Cork business community at a time of uncertainty during the rapidly evolving Covid-19 public health emergency. The survey which reports on member experiences during April, May and June questioned the business community on their experience of Q2 and their outlook for Q3 2020 on business confidence, the overall operating landscape, skills, threats and opportunities.
"While not in calm waters just yet, as a community we have pulled together and supported each other. And that has stood to us. We can see this in our latest economic trends results with a resurgence in those reporting business confidence to 73% from a low of 54% in the previous Q1 survey." Paula Cogan, President Cork Chamber.
1. COVID-19
2. Changing consumer spending / reduced orders
3. Managing cashflow
Covid-19 received an overwhelming consensus amongst responding businesses. Of interest, Brexit has ranked consistently since 2018 as the number 1 threat to business growth.
Thank You
Our thanks to everyone taking the time to complete this survey. Your feedback helps us build a more resilient economy for Cork.
The winner of our Q2 participants prize is Gerry Kelly of Cork Pops Orchestra Ltd who will receive a €100 Cork Chamber giftcard.
The latest survey shows an upturn in business confidence from a low of 54% in our Q1 survey, to 73% in the latest survey findings.
For context, business confidence had been at 93% at the close of 2019.
In Q2 34% of businesses reported a decrease to employee numbers
18% of businesses report that they expect to increase employee numbers over the next 12 months and 17% have open vacancies currently
International Women's Day Breakfast
Free Event
Fri 8th March | 7:30am–9.00am | The Montenotte Hotel
Cork Chamber Skillnet are delighted to partner with Gillian McGrath of Change Grow Succeed to deliver this unique interactive breakfast event. Designed to empower women by identifying 3 ways in which women can re-purpose their thoughts and behaviours to maximise their talents and take the next step in the workplace.
The theme of International Women's Day 2019 is #BalanceForBetter and is a call-to-action for driving gender balance across the world. Better Balance means Better Business.
Places are limited, so register early!
Productivity using MS Outlook
Members €175/Non-members €195
A course designed to revolutionise your productivity in your everyday work.
March Business Breakfast
Members €25/Non-members €50
Thurs 7th March | 7:30am–9.00am | Cork International Hotel
Cork Chamber is delighted to host Niall MacCarthy, Managing Director of Cork Airport as the guest speaker, in association with the Irish Examiner.
Networking at Noon at Glandore's New Office
Free for Cork Chamber Members
Tues 12th March | 12.00pm–1.30pm | Glandore, City Quarter, Lapps Quay, Cork
Set in the heart of Cork's central business district, Glandore's newest workspace is stylish, contemporary and ideally positioned.
Brexit & Business
Special Weekly Series: 3 of 7
Brexit and Certificates of Origin
Certificates of Origin for goods arriving in the UK coming from third countries... where to Irish companies stand?
Brexit Resources
Information, seminars and contact points to help you be Brexit ready.
Brexit and Certificates of Origin
We are informed that at present UK Customs authorities do not require Certificates of Origin for goods arriving in the UK coming from third countries. Therefore Irish goods arriving in the UK post Brexit/'no-deal' are not likely to require a Certificate of Origin. However, companies in the UK may request a Certificate of Origin depending on their individual needs (re-exporting etc). If your company exports to the UK we encourage you to register with us now for Export Documentation.
Be export ready. Discuss your requirements with our Export Documentation Manager, Imelda.
Brexit Resources
N40 | Dunkettle | N28 Progress Update
Updates on progress of the following road improvements
Dunkettle Interchange Project.

Advance Works at Silversprings.

Advance Works at Little Island Interchange.

N28 Works at Shannonpark, Raffeen Junction.

N40 Intelligent Transport System.
Latest Member Offers
All offers can be submitted through the Member's Area of our website.
Upcoming Member Events
Member News
Pure Cork Industry Day
Wednesday 27th February | 0:30am-1:30pm | Vienna Woods Hotel, Glanmire
This an open invitation to any businesses involved in tourism in Cork and will include Pure Cork's plans for 2019.
Panel discussions will be chaired by Kevin Cullinane, Head of Communications of Cork Airport.
Build Ourselves & Others
Members €1200/Non-Members €1400
Build greater self-confidence, strengthen your people skills and enhance communication skills
Leading High-Performance Teams
Members €685/Non-Members €735
This 3-day explores leadership styles central to developing high performance teams.
No-Deal preparation for Irish Businesses
The heightening uncertainty surrounding a Brexit 'deal' or 'no deal' has regrettably amplified in recent weeks. With the possibility of a no deal becoming more tangible, Chambers Ireland have developed an information factsheet for business to help you navigate this unchartered territory. Read more
Very similar to the last quarter with the only variance being the replacement of cost competitiveness with changing consumer spending/ reduced orders.
Brexit
Managing cashflow
Changing consumer spending/reduced orders



Published by Cork Chamber
© 2020 all rights reserved.