Welcome to our first Connecting Cork newsletter!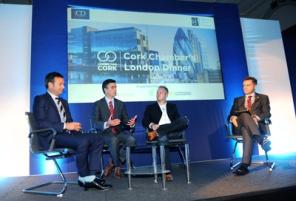 During the course of 2016, Cork Chamber started the 'Connecting Cork' initiative, in order to engage with our international business diaspora, gather feedback on peoples' perceptions of Cork, find out how we can support their interests in the region, and ultimately, to start telling the Cork story globally. A number of successful Connecting Cork activities took place in San Francisco, London and Shanghai and we are planning to continue to drive this initiative into 2017.

2016 has been a busy year in Cork, with a host of announcements of further capital investments by a number of multinationals, as well as announcements of over 750 new jobs for the Cork region, by companies that include: Hortonworks, Amarenco Solar, Netigate, Abtran, Aspira, Eventbrite, Core HR, Zevas Communications, GE Healthcare, Teamwork.com and Cylance.

In November, Cork hosted the Startup Nations Summit, which saw over 200 delegates from over 60 countries meeting in Cork to exchange ideas and best practices on developing supportive entrepreneurship policies in their respective countries. This was just one of the successful conferences that came to Cork thanks to the support of the Cork Convention Bureau. Another great success story for the region was the official launch of the Ludgate@Skibbereen digital hub, which has seen Skibbereen gain the title of a 1Gigabit community, and is transforming the way Ireland thinks about rural business communities.

This newsletter gives an overview of just some of the highlights of 2016 in Cork, but there are many more stories to tell. As a valued member of our international business network, we would like to keep you updated on a quarterly basis with news and stories from the Cork business community and all of the local stakeholders that support our vibrant region. We would be delighted to receive your feedback and you can contact Katherine Fitzpatrick with any questions or comments on any of this content.

Wishing you a happy and relaxing Christmas.

Best wishes,
Conor Healy
CEO, Cork Chamber

READ MORE +

Cork Connected Globally

Norwegian Air International announced that they will commence transatlantic flights direct from Cork to Boston commencing in Q2 2017. There are plans for an additional route direct to New York later on in the year.

WOW Air announced an all year round service operating 4 times a week to Reykjavik, commencing in Q2 2017, with onward connections to eight destinations across the US and Canada, with starting fares as low as $163.00 (€149.00) each way.

Exciting new commercial developments in Cork

One Albert Quay – Ireland's smartest building, designed to Gold LEED standards – was completed and opened in February and is already at 100% occupancy, now home to Johnson Controls, PwC, Malwarebytes, Hortonworks, Ardmore Shipping, Arup and Investec.

A stream of new commercial buildings are also due to come online in the next few years click 'read more' below for further details on these developments.



READ MORE +
| | | |
| --- | --- | --- |
| | | |
A new tourism strategy for Cork

Cork currently accounts for 17.5% of all overseas visitors who come to Ireland. The Growing Tourism in Cork: A Collective Strategy was launched in Jan 2016 and a project manager was appointed to drive a new initiative called 'Visit Cork' which has been established to promote and attract tourism to Cork. The new strategy aims to attract more than 500,000 extra tourists per year to Cork within the next five years, which will be worth an additional €214m annually to the local economy.

READ MORE +
Copyright © 2016 corkchamber.ie. All Right Reserved. Unsubscribe from this email.