Together making Cork the
best place for business
| | | |
| --- | --- | --- |
| Empowering you | Growing your Business | Transforming Cork |
| | |
| --- | --- |
| Empowering You. | |
ChamberLink Issue 1 2020
Distilling Success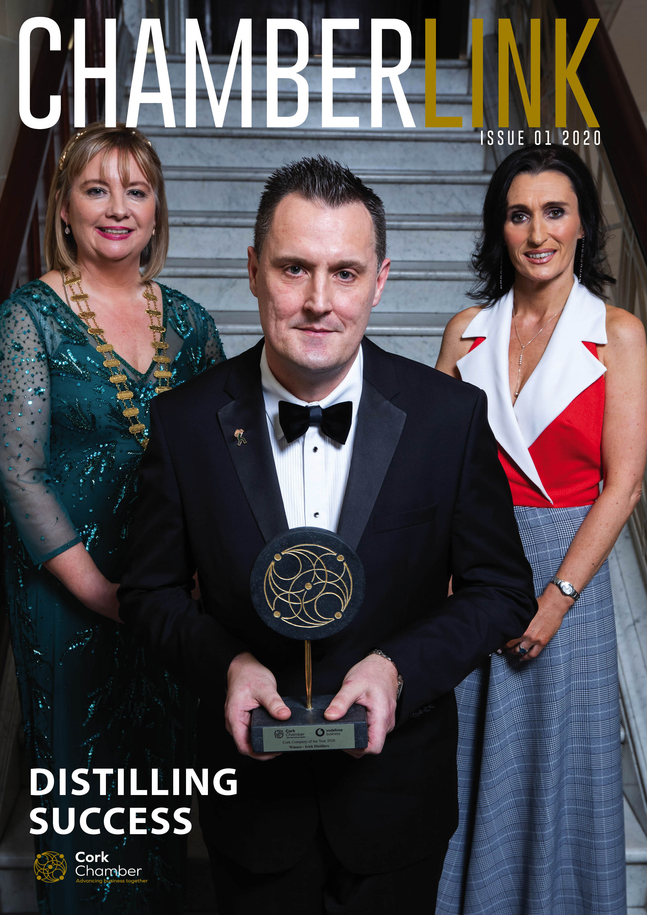 In this issue..
We celebrate the winners of the 2020 Cork Company of the Year Awards, review the Annual Dinner, sponsored by Kearys Motor Group and look ahead to the season's events, the Skillnet programme and the International Team's series of engagements. Finally, we are immensely proud to have launched the €200,000 Sustainable Cork Fund that will drive innovative social projects of value for our city region.
Browse Magazine
March Business Breakfast 2020 featuring Jane Howard, Ulster Bank

In association with RDJ

Tues 10 Mar | 7.30am-9am | Clayton Hotel Cork City

Jane Howard was appointed to CEO of Ulster Bank DAC in August 2018 and has worked in the financial services industry for more than 39 years. Don't miss out on the chance to hear the highlights of Jane's impressive career to date!

Media Partner Irish Examiner

Book Now
| | |
| --- | --- |
| Growing your Business | |
Select USA

In partnership with the US Embassy in Ireland

Friday 3 April | 7.30am – 11.30am | Maryborough House Hotel

If you are looking to expand your business internationally and the US is on your horizon, then this event will offer an overview of the US economy as well as combination of practical tips from support agencies and advice from companies that have set up US operations in recent years. Speakers from the US Embassy; US Consular and US Customs & Border Protection and OCO Global will be joined by industry panelists including:

• Sean Sheehan, CEO, Wisetek

• Andrea Doolan, CEO, Atlantia Food Clinical Trials Ltd.

• Dr Fiona Edwards Murphy, CEO, ApisProtect

More Details & Booking
| | |
| --- | --- |
| Transforming Cork | |
Enhancing Your Environment
The Future of Mobility

Getting around Cork in 2030

Thu 27 Feb | Glandore Lapp's Quay | 7pm - 9pm

Join the conversation as She is Sustainable host the first bite-size event of 2020. Panelists including our own Michelle O'Sullivan and representatives from the NTA, MaREI, Climate Ambassador among others will explore the future of mobility and travel in Cork.

More Details & Booking
Female Change-Makers Transforming Mobility in Ireland

Fri 6 March | Cork County Hall | 10am-1pm

Hosted by the Transport and Mobility Forum Cork (TMF) this half day morning seminar will begin with a series of talks followed by a panel discussion and networking. There will be 5 speakers including Keynote Speaker, Ms Anne Graham, CEO of the National Transport Authority and the President of Cork Chamber Paula Cogan.

More Details & Booking
Corporate Social Responsibility Business Workshop for SMEs

Thurs 12 March | Nano Nagle Place | 10am-12.30pm

The CSR Stakeholder Forum in association with Cork Chamber invites you to a CSR Workshop for SMEs.

Join with some of the country's leading CSR experts, award-winning businesses, Government Departments and State agencies for an expert workshop to see how your business can develop its CSR strategy.

The workshop will be followed by the launch of the Chambers Ireland CSR Awards 2020.

More Details & Booking
| | |
| --- | --- |
| Members Area | |
Radius Technologies

IT Security Audit

Radius Technologies is an ISO:9001 & ISO:27001 Quality Certified IT and Telecoms provider, with offices in Cork, Waterford and Dublin.

Does your business have the right IT security strategy to defend against cyberattacks or data breaches?

Cybersecurity is a major concern for companies today. It has been reported that a cyberattack is now an inevitable event for every business in Ireland. Cybercriminals are always one step ahead of common knowledge and are looking for new ways to compromise businesses.

If you are unsure, our security experts will review your entire IT infrastructure and identify any back doors, weak points and or process risks.

Email us to enquire about an IT Security Audit for your business.

More Details
Published by Cork Chamber
© 2020 All rights reserved.