Think Canada | 21 March, 2017
Think Canada!
Learn about business opportunities in Canada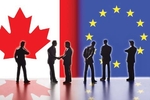 Wednesday, 29th March, The River Lee Hotel, Cork
10.30 am to 1.00 pm


The recently negotiated Comprehensive Economic and Trade Agreement (CETA) is a new trade agreement between the EU and Canada which will benefit people and businesses in both the EU and Canada. . The current total value of Irish exports to Canada is €2.3 billion per year, with total imports valued at €729 million
This seminar is aimed at companies already doing business in Canada, considering an expansion there, or interested in learning more about the Canadian market.
Speakers on the day will include:
Ambassador Kevin Vickers, Canadian Embassy Dublin

John Roxburgh, Senior Trade Commissioner, Canadian Embassy Dublin

Tom O'Brien, Chief Executive Officer, Brookfield Renewable

Kate Hickey, Executive Director, Ireland Canada Business Association

Dave Austin, General Manager, Irving Oil Whitegate Refinery

David Skelton, Chairman, Leading Edge Group
The event, which takes place from 10.30 am to 1.00 pm, is being organised by the Enterprise Europe Network at Cork Chamber, in association with the Ireland Canada Business Association.

Why should I attend?
The seminar will offer attendees the opportunity to learn about the opportunities for increased Ireland-Canada trade arising from the CETA agreement. As Irish companies respond to the outcome of the Brexit vote, many are looking to target new export markets, as an alternative to the established UK market.

A light lunch, kindly sponsored by Irving Oil, will be provided on the day. Read more about the event here or contact Eimear for further information.


© Copyright Cork Chamber of Commerce 2017. All rights reserved | Disclaimer | Privacy