Spring Speed Networking in association with Sweeney Solicitors | 13 March, 2018
Spring Speed Networking in association with Sweeney Solicitors
Spring Speed Networking
In association with Sweeney Solicitors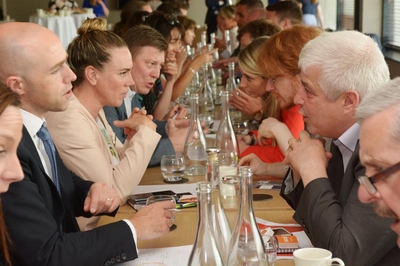 Tuesday 27th March
12:00pm – 2:00pm
The River Lee Hotel
Meeting new people, raising the profile of your business and generating leads can take a lot of time. And we know time is one of your most precious commodities.
Speed Networking is a fun, fast, effective way to meet up to 20 new people in a very short space of time.
Cork Chamber are delighted to be working with Sweeney Solicitors to host Spring Speed Networking, a fast paced, high energy event where you will make up to 20 new business contacts in the time it usually takes to have your lunch!

Not for the faint hearted, Speed Networking is a more structured form of networking where each side gets just 1½ minutes to pitch their business and make connections for both buying and selling before the bell rings and you meet a new person.

This is a great event for SMEs in particular, offering an excellent opportunity to hone your elevator pitch and make genuine new business contacts as well as receive referrals and renew existing connections.

Participation is restricted to ONE representative from each company. Places for this event are very limited and sure to sell out, so please book early to avoid disappointment!
Sweeney Solicitors are a vibrant and dynamic law firm providing the highest quality legal advice and representation from their offices in both Cork City and Dublin City. Click here to find out more.

Click here to see some highlights from a previous speed networking event.

BOOK NOW





© Copyright Cork Chamber of Commerce 2018. All rights reserved | Disclaimer | Privacy